Mumbai is the capital city of Indian western state of Maharashtra. Earlier known as Bombay this city is most populous city in India. Often known as the land of seven islands; namely Bombay Island, Parel, Mazagaon, Mahim, Colaba, Worli, and Little Colaba which constituted Mumbai. It is a cosmopolitan city and is home to fishing communities. This city is the financial, commercial and entertainment capital  housing the important financial institutions such as the Reserve Bank of India, the Bombay Stock Exchange, the National Stock Exchange of India, the SEBI and the corporate headquarters of numerous Indian companies and multinational corporations. It is also home to some of India's premier scientific and nuclear institutes like the Department of Atomic Energy. The city also houses India's Bollywood  film industry.
How to Reach Mumbai
You can reach Mumbai by Air, Land and Sea. Mumbai is the headquarters of two zones of the Indian Railways: the Central Railway at  Chhatrapati Shivaji Terminus and the Western Railway at Churchgate. Long-distance trains originate from Chhatrapati Shivaji Terminus, Dadar, Lokmanya Tilak Terminus, Mumbai Central, Bandra Terminus, Andheri and  Borivali
Buses are generally favoured for commuting short to medium distances, while train fares are more economical for longer distance commutes.
Water transport in Mumbai consists of ferries, hovercrafts and catamarans. Services are provided by both government agencies as well as private partners.  Mumbai Port has one of the best natural harbours in the world, and has extensive wet and dry dock accommodation facilities.
The Chhatrapati Shivaji International Airport is the main aviation hub in the city and the second busiest airport in India in terms of passenger traffic.
Mumbai is served by two major ports, Mumbai Port Trust and Jawaharlal Nehru Port Trust, which lies just across the creek in Navi Mumbai.
Casinos in Mumbai
Casinos are not legalized at Mumbai yet. If you love Chip and  Dice then Goa is the most popular option  The proposal to have casinos in Mumbai, and the possible tourism and revenue benefits from them, are being discussed by the government.
According Maharashtra Tourism department it is estimate, if allowed, casinos can generate an annual revenue of Rs3,000 crore across the state. Notably the Casino Act, which was framed way back in 1976, recommends that 25% of the revenue share must go to the state.
In October 2015, the Bombay High Court had asked the home department to examine the possibility of notifying the pending Maharashtra Casinos (Control & Tax) Act-1976. In the backdrop of the RM Lodha committee recommendations, the government should allow it at the earliest. It is a good Act as it has a lot of safeguards in terms of preventing under-age gambling and addictions. If allowed, it will fetch thousands of crores for the state as revenue. The Act provides for licensing of casinos, permitting certain types of casino games, taxation of the money paid or agreed to be paid by the participants by way of stakes or bets, and so on.
Amidst such chaos over the casinos there is but one casino to look forwards to when in Mumbai called the Deltin Royale Casino
Deltin Royale Casino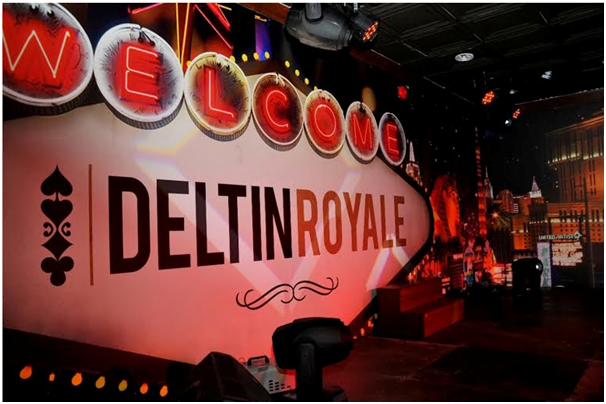 Address: 109, Bayside, 1st Floor, Opp. Sobo Central Mall, Tardeo Road, Haji Ali Mumbai
Phone +91 22 4079 4700
This casino from Delta Corp Ltd operates casinos in Goa and Sikkim as well. This casino located in the coastal city of Mumbai, Deltin Royale Casino offers a great amount of casino games in one of the premier betting facilities in the country. You can enter the casino at a fee depending on the day that you visit. You are expected to put up between 2,000 and 2,500 INR. For VIP players there is a premium service, you can expect to pay a charge of 4,0000 rupees per person.
Once you get into the casino, you will find a large gaming floor that offers the following types of games: Indian Flush, Texas Hold'em, American Roulette, Blackjack, Baccarat, Three Card Poker, War, Pontoon, Money Wheel, Sic Bo, Taash, Mini Flush, and Five Card Poker. The wide assortment of games is also met by a wide array of table limits. This casino caters to gamblers of all tax brackets, allowing low limits on some games, but also offering VIP areas that bring limits up to the certain level.
In addition to gambling, Deltin Royale Casino also offers a great series of nightly entertainment options. Entertainment includes nightly musicians, DJs, and dancers, all of which put on an excellent show. There are also two restaurants located on the casino grounds, which include the Vegas Restaurant and Whiskys. dining at the Vegas Restaurant can partake in excellent Indian and Western fare. Prices are reasonable, and you will almost find something that suits your fancy. Whiskys offer some small food that will compliment the high-end liquors that the spot offers.
If you are looking to gamble in India, your options are quite limited, but Deltin Royale Casino is a fantastic option that has several games, a high-end atmosphere, great entertainment, and filling dining options. You should definitely consider this spot if you are coming to play in this coastal area.
There are two other casinos at Mumbai but are they legalized or not that is not sure.  One is the Ace casino and the other is called Big deal casino.
But it is better either to wait for Mumbai government to open legal casinos here or you can visit casinos at Goa, Panaji which is quite near to Mumbai. If you cannot visit the real casinos you can play at online casinos and have the full fun of responsible gaming.