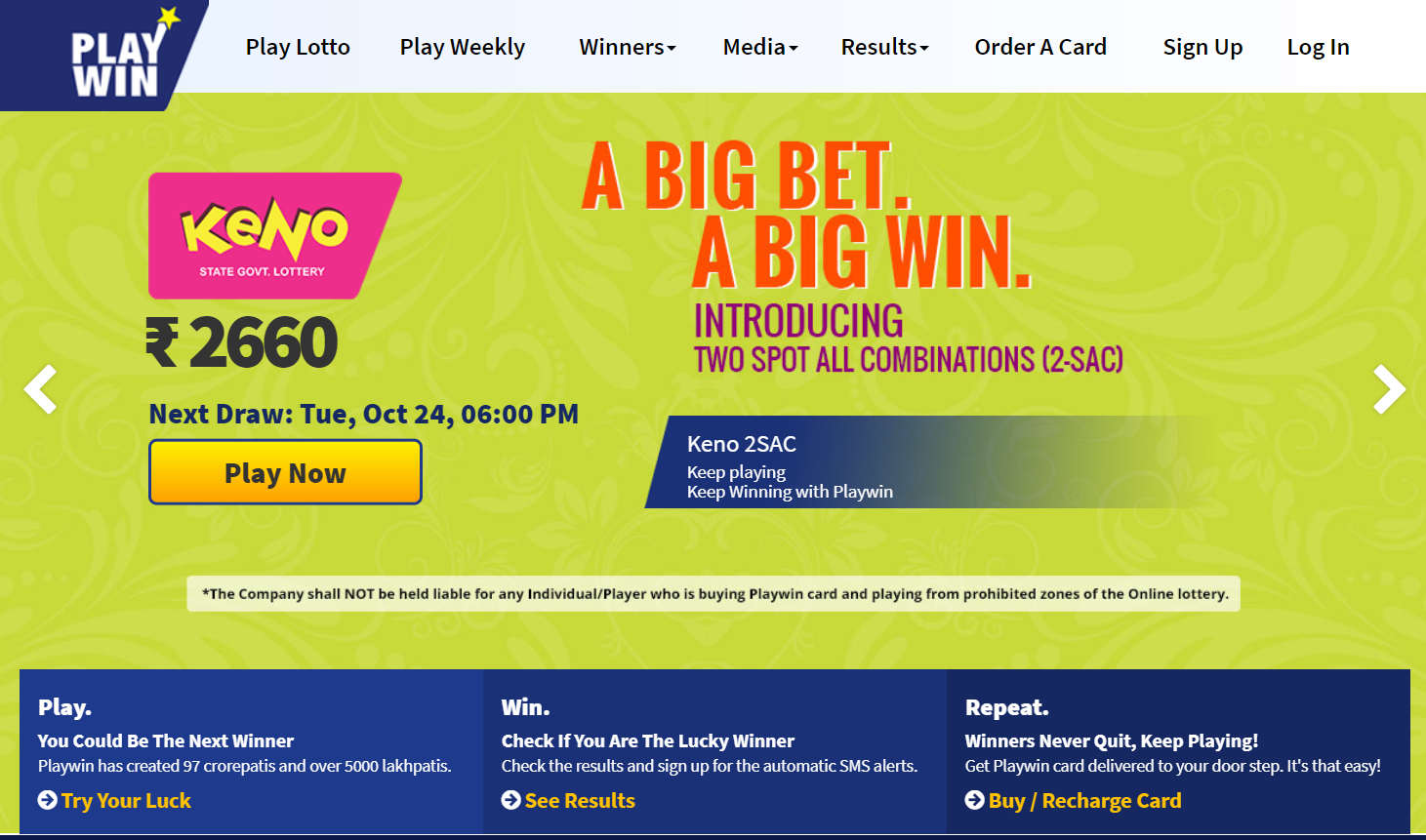 Playwin is an online lottery run by the Sikkim government. It was one of the first such lotteries to be opened in India. Established in November 2001, it has operations in many Indian towns and promoted by the Essel Group through Pan India Network Infravest Ltd. You can play the games available at playwin online either with your PC or mobile.
Playwin is operated by a Pan India Network Ltd
Pan India Network Ltd. is part of the Essel Group, one of India's most prominent business houses. Its diverse portfolio of assets is worth some 108 billion Rupees ($2.4 billion), covering operations in packaging, media, entertainment, technology-enabled services, infrastructure development and education, as well as Sikkim's online lottery.
The Group has been in business since 1976, starting out as commodity trading and export firm called Rama Associates Limited. It has since grown into a conglomerate that symbolizes the power and ingenuity of Indian entrepreneurship, now featuring a workforce of some 8,000 employees worldwide.
Headquarters in Mumbai as a division of the Essel Group, Pan India Network Ltd. provides all the infrastructure, data communication, marketing support and services required to facilitate a secure lottery network. Since the launch of the original Sikkim Super Lotto game on March 5, 2003, it has developed Playwin into a nationally recognized lottery and gaming brand.
Access to Playwin Lotto Games was initially limited to some 3,500 retail outlets where fixed lottery terminals were installed. These were developed with the assistance of California-based International Lottery & Totalizator Systems, Inc., a global leader in computerized wagering equipment and systems. However, the market was greatly expanded in 2008 with the introduction of "MyPlaywin.com Cards," which brought the experience of lottery play to the nation's online community and a new generation of Playwin Lotto Games fans.
Games offered by Playwin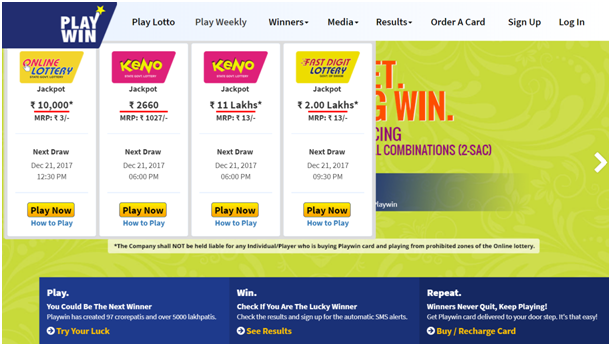 Playwin offers many games to play and win. Weekly games include Keno, fast digit lottery, online lottery. Lotto, of course, is a game of chance that has been around since the 18th century. Players wager on a certain selection of numbers being chosen at random. The jackpot accumulates until the result is correctly predicted by one or more of the players, and then winners share in the prize pool.
By the close of fiscal 2010, Playwin had announced 72 crorepatis (millionaires) and over 3,200 lakhpatis from all over India, placing its lottery games among the most successful forms of gaming in the country. It is not only a major contributor to the government revenues of Sikkim, the state where Playwin is licensed, but also the primary reason that lotteries are now widely accepted by all socio-economic classes in India today.
Playwin has five lotto games: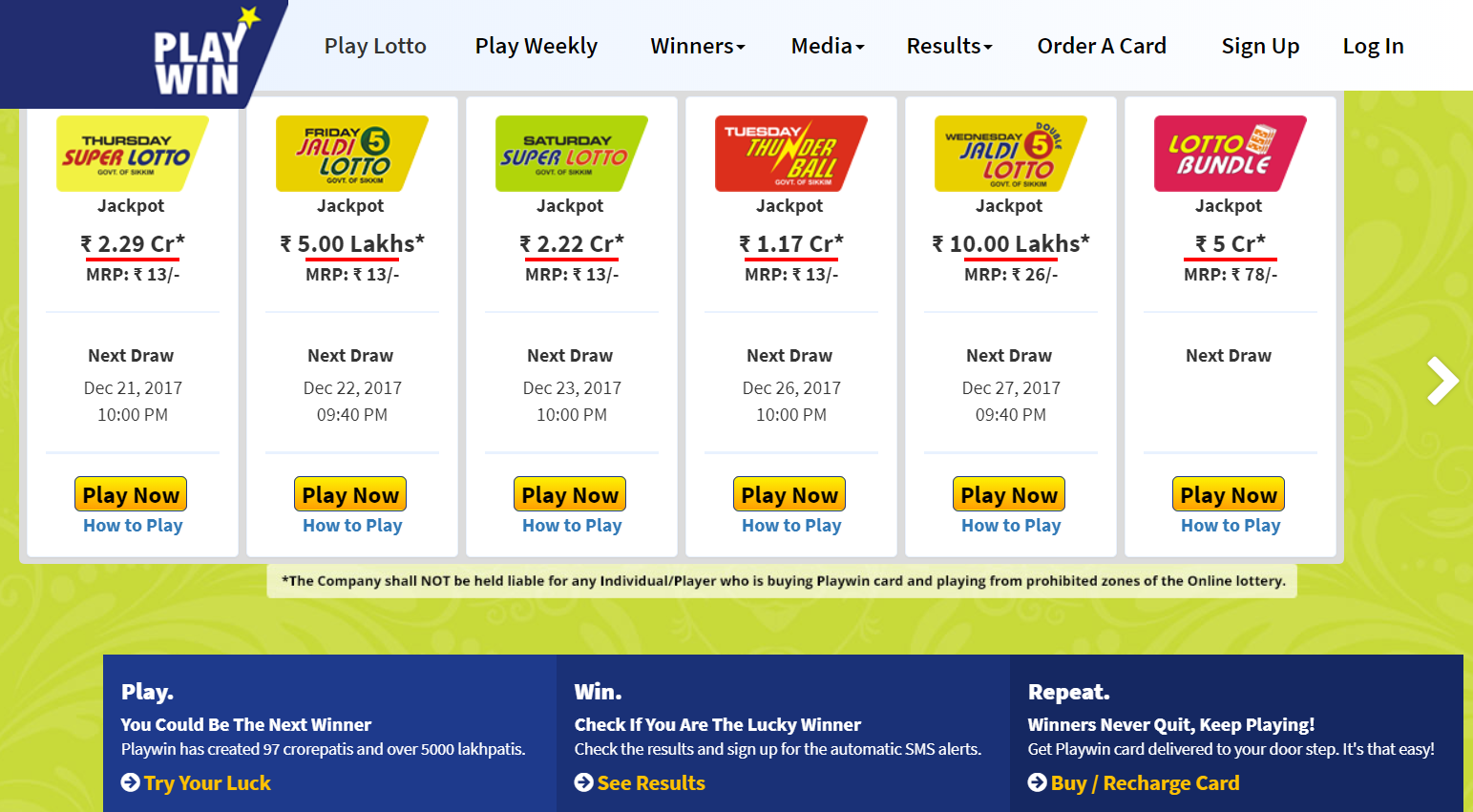 Jaldi 5 – Draw every Friday between 22:00 and 22:30.
Jaldi 5 Double + – Draw every Wednesday between 21:30 and 22:00.
Thunderball Draw every Tuesday between 22:00 and 22:30.
Thursday Super Lotto Draw every Thursday between 22:00 and 22:30.
Saturday Super Lotto Draw every Saturday between 22:00 and 22:30.
The biggest Playwin jackpot was from the Monday Super Lotto game, amounting 1.29 crore rupees (12.9 million rupees), and won by a resident of Mumbai Kishor Dande on Oct 23, 2016. In 2016, Mid Day reported  that there was no taker for a winning jackpot ticket in Pune with prize money of Rs 2 Crores. In August 2015, Playwin felicitated and handed over cheques worth over Rs 9 Crores to its jackpot winners at a grand ceremony held at hotel The Lalit in Santa Cruz, Mumbai.
How to play at Playwin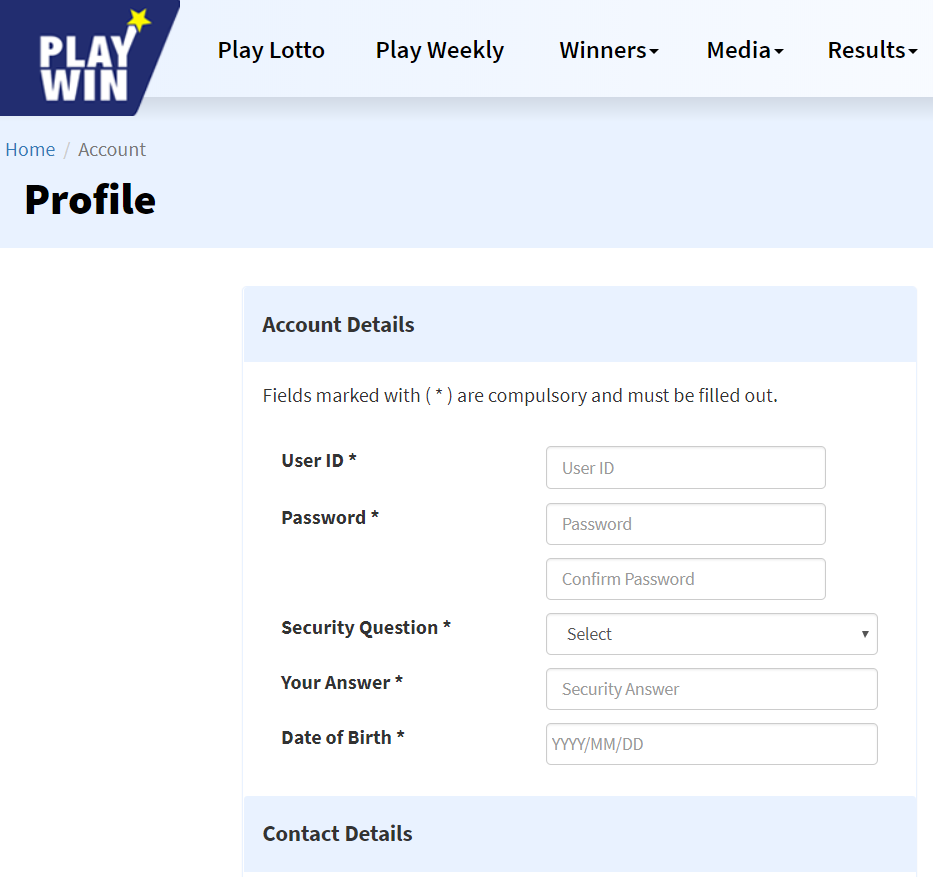 First you need to sign up at the Playwin online website
To do so fill the form to register yourself at the casino
You will receive an OTP on your registered mobile to verify yourself
You need to be 18 years of age
Also you must be from the legal jursidction to play the lottery means you must be from Maharashtra, Goa, Punjab or Sikkim state to play here.
Playwin can also be played online and by phone, with a card. These cards are sold in denominations of 200 rupees, 500 rupees, 1000 rupees and 5000 rupees.
Click here to order your card now
Each play slip allows you to play up to 5 boards each of the Sikkim Thunderball lottery game at Rs. 1 per board game. There is a separate draw for each games, You can mark your Sikkim state thunderball game by placing a heavy mark on the choosen boxes.
Note that do not use red ink on the payslip. If you make a mistake do not erase mark the void box and use another board.
To play Sikkim State Thunderball lottery game select 6 numbers per board. Strike 5 numbers from 1- 42 and strike 1 Thunderball number from 1 to 15.
To play the same numbers for more than one consecutive week mark the appropriate box under "No of weeks". You can play up to six weeks in advance with Rs 10 per board per game per draw.
If you wish to use Lucky Pick on any board simply strike "Lucky Pick" box on the board.
You will receive a ticket from the lottery terminal when you pay. You should check the draw numbers, number of selections, numbers printed on the tickets the number of draws and draw dates on your ticket before you leave the retailer to ensure they are correct.
There is also a Fast Lotto Game that is drawn four times a week (Monday, Wednesday, Friday and Sunday) with a prize pool starting at 2.0 Lakhs. Together, these games make up the Playwin "Lotto Kitty." In every case, the price of a single ticket is 10 Rupees and tickets may be purchased between 7am and 10pm daily.
For each of the Lotto Kitty games, as said above the player may choose his/her own lucky numbers by using the convenient "number selector." Just a click on a desired number and it is displayed on the corresponding lotto ball. Continue clicking until the full number of choices has been made—six out of 49 possibilities in the case of Thursday Super Lotto and Saturday Super Lotto or five out of 31 for Fast Lotto. For Thunderball, five of 42 numbers are selected, plus the Thunderball number—one out of 15.
Matching three, four or five numbers on the weekly draws will win an attractive cash prize of 50 Rupees or more. Getting one pick correct on Thunderball plus the Thunderball will pay 20 Rupees. For Fast Lotto, getting two, three or four numbers correct returns a small payout, too. To win the top jackpot, all selected numbers must be drawn. If nobody matches all of the numbers required, the jackpot rolls over to the next drawing.
How to Playwin Superlotto by phone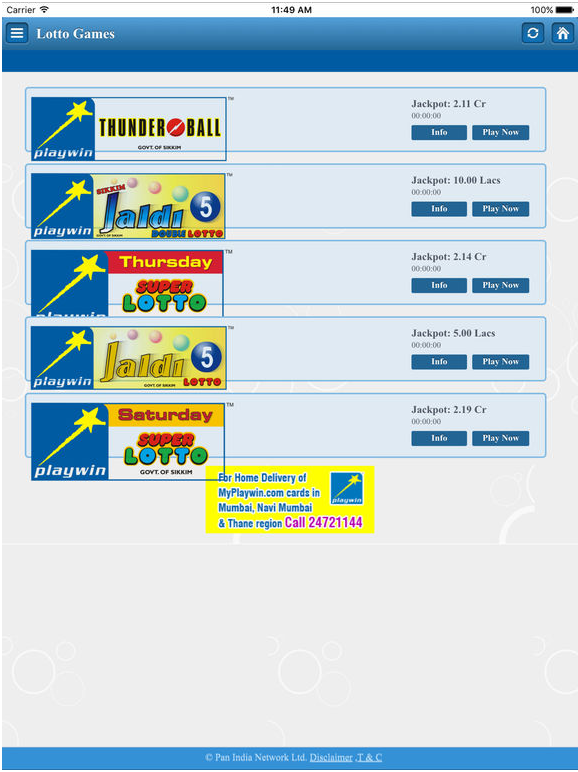 How to playwin superlotto by phone is quite easy. All you need is to download the Playwin from app stores be it Google Play or iTunes or directly from the Playwin website online.  Easily then you can play and check your Superlotto result on phone be it Android Samsung or LG, HTC, Motorola or any other such mobile. If you own an iPhone then also you can check the winners. This official Playwin Lotto App is quick and easy to install and within minutes you'll have all the latest Playwin Lotto results quite literally in the palm of your hand. You can keep up to date with the latest jackpot information, view results on the move.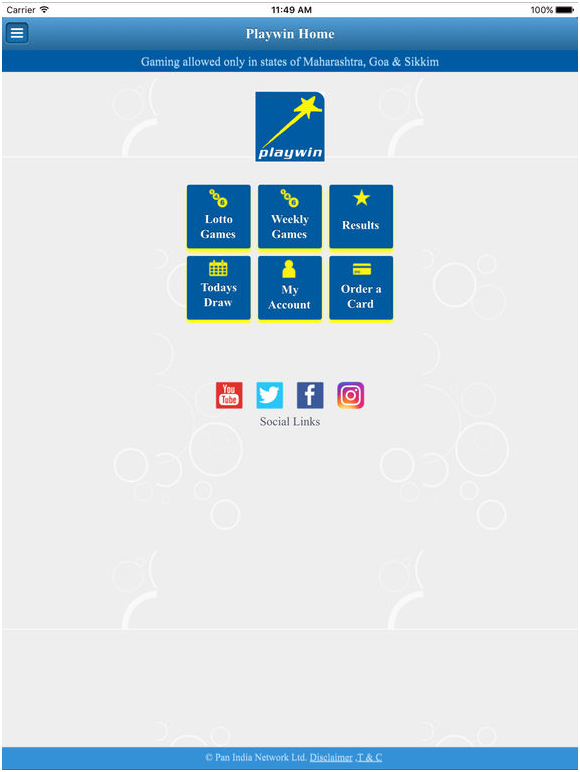 Playwin most popular lottery is Saturday Super Lotto or Thursday Super Lotto because the jackpot amount for Thursday Super Lotto starts at Rs. 2 Crores and each ticket is worth Rs. 13/-. Result draw for this game happen every Thursday between 10.00 – 10.30pm and is telecasted on Zee 24 Taas. If a Player matches his 6 numbers with the 6 numbers drawn, he will win the jackpot. If nobody matches all 6 numbers then the jackpot amount rolls over to next draw.
First register yourself with your phone to play Super lotto. Note that you need to be from the state of Maharashtra or Sikkim to play this lotto.
Once done registration now choose Super Lotto and tap or click on it.
Next select 6 numbers (between 01-49) per panel. A panel represents one game ticket. Players can choose their numbers in three different ways
Self Pick: You can choose 6 numbers as per your choice, by just clicking the number on screen.
Lucky Pick: You can opt for this option if you wish to select numbers through randomizer which will select these 6 numbers. These numbers will not visible to the Player at the time of placing bet and will have "LP" written on respective number spots.
Quick Pick: You can opt for this option if you wish to allow randomizer to select your numbers. The numbers will be selected in a random pattern and will be visible to the player. A player can either choose to keep a number or change it accordingly.
You can select up to ten tickets at one go using the 'Add to list' tab. The numbers can be selected using any of the above three methods.
Once done selecting, you can review your selected numbers. In case you want to select new numbers you can delete a complete bet panel by clicking on the remove button. In this step, you can also decide to place a bet for an advance draw by just selecting the number of draws – 1, 2 and 3. The player can only buy tickets for a maximum of 3 advance draws only.
To buy the selected tickets, you will have to click on submit button after filling your Playwin card account number & password at in respective tabs. You can also check his card balance by clicking 'Card Balance' tab and view your transaction by clicking 'View Transactions' tab.
In case you find any difficulty you can contact them at help@ playwin.esselgroup .com
How to know the results of Playwin Lotteries
Results of Playwin Lotto games are telecast LIVE on Zee 24 Taas Lotto Game Day / Time of telecast Thunderball Every Tuesday between 10:00pm & 10:30pm Thursday Super Lotto Every Thursday between 10:00pm & 10:30pm Saturday Super Lotto Every Saturday between 10:00pm & 10:30pm Jaldi 5 Double Lotto Every Wednesday between 10.00pm & 10.30pm Jaldi 5 Lotto Every Friday between 10.00pm & 10.30pm
Or for results SMS, you can give a miss-call to 9930011700 with your mobile
You can get the draw results online too at the playwin website.
How to play playwin game in Indian other state
It is not possible to play Playwin Gmes from all Indian states. Only states where lottery games are legalized to play by the Indian state government can play Playwin games specially from Goa, Mahatrashtra, Punjab and Sikkim only.
But participating in Playwin Lotto Games is not limited to Indian citizens. Anyone anywhere has access to the Playwin games via the Internet or SMS. However, payment for tickets can not be made directly via credit card or e-wallet. Instead, a prepaid MyPlaywin.com Card must be obtained.
Myplaywin.com Cards come in a variety of denominations: 200, 500, 1,000 and 5,000 Rupees. Each card is valid for twelve months from the date of first usage. These cards are identified in the system by a unique 12-digit account number and a 4-digit password, both of which appear under a scratch surface on the back of each card. Also remember you should be 18 plus of age to play these games.
Obtaining a MyPlaywin.com Card can be accomplished in one of three ways: direct purchase at a participating Playwin retail outlet; via email to help@myplaywin.com, providing a detailed address and telephone number for contact; or by SMS, texting MPHONE to 57575, and a representative will reply with instructions or by ordering online.
Winners, of course, need to get paid. Small claims of less than 10,000 Rupees may be redeemed instantly for cash at Playwin retail outlets. Those who play on the Internet or via SMS will automatically have their winnings directly credited to their MyPlaywin.com Card account.
Note that claim forms (available online) are required to receive amounts greater than 10,000 Rupees on a single ticket. It takes about 90 days from the date of claim submission to process prizes worth more than 10,000 Rupees. Cheques are issued directly to the winner. All transactions are in Indian Rupees.
Winning a Playwin Lottery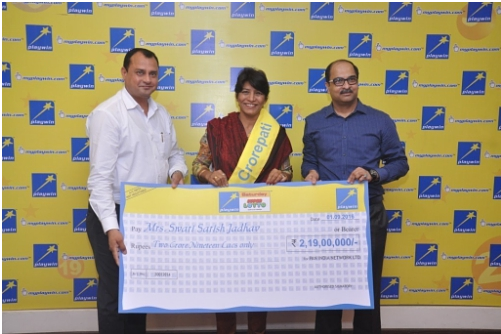 Playwin offers you the unique benefit of claiming all prizes up to Rs. 10,000/- in cash (tax free) from any authorized playwin outlet. All prizes above Rs 10, 000 will be paid by cheque (tax deducted).
For all prizes above Rs 10,000/- on a single ticket you need to fill a claim form along with all relevant details and submit to claims department at any of playwin offices or through regional distributors.
All licensed Playwin retailers will provide Claim Forms or you can visit or write to any of the Playwin offices. Alternately, you could click on  https://www.myplaywin.com/home/win/claim-form.aspx to get the claim form.
As per the government rules you need to submit your claim to the claims department at Playwin, within 90 days from the corresponding draw date. It would take approximately 90 days from the date of the claim submission to process the prizes above Rs. 10,000. The cheques are issued directly by the respective state governments for which the claim has been submitted. All the money won from the prizes, is 100% legal and is accounted as Income from other sources as per the Income Tax act and is subject to requisite tax deductions by the respective state governments.
The documents required for claim are:
Claim form
Original Playwin card and password number with original ticket and claim receipt in case lottery played in terminal
Notarized affidavit on Stamp paper in English
Three photos attested by notary stamped or by gazetted officer
Pan Card
Proof of identity like passport, Voter ID, DL
Proof of residence like ration card, electricity bill
Original cancelled cheque
Send your claim to the following address: Pan India Network Ltd, Kohinoor City 613, A- Wing. Off. LBS Road Kurla (W), Mumbai- 400070 Phone+91-22-67541400
Playwin Cash Back Card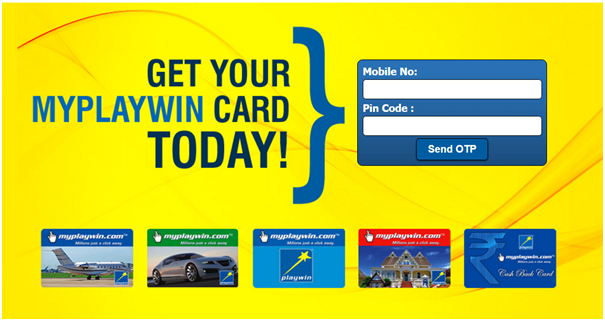 Playwin offers you lotto reward scheme where you earn 10% cash back on your favourite lotto games
Card features denomination of Rs 3000/ or even Rs 5000/– and on a play of Rs 100 on any lotto game 10% is credited to the card. Maximum cashback amount is Rs 300 or Rs 500 and this card is valid for a year from date of activation and if not activated then valid for two years. This card is not available at Playwin terminals and there is no balance transfer facility. Also cashback is not applicable on Keno and sugar games. You can order your card online from the playwin site.
Promotions offered by Playwin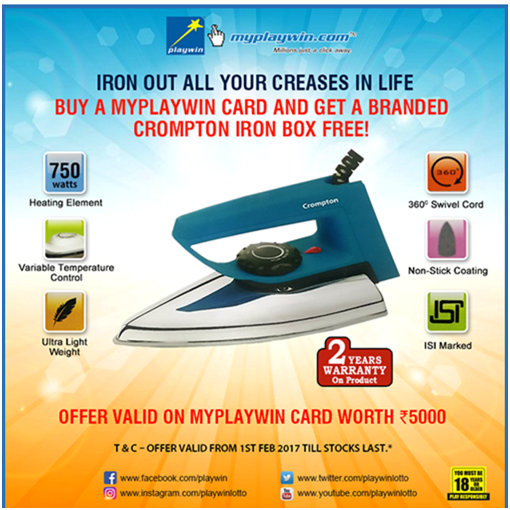 For those who like to play multiple tickets, there is an option available for up to six sets of selections per game at one go. Additionally, if the Lucky Pick toggle is selected, the computer will randomly generate numbers to fill the required spots. Tickets can also be played consecutively for up seven drawings in a row, making it easy to retain favorite numbers week by week.
Participation in Playwin Lotto Kitty games is by no means limited to retail terminals and the myplaywin.com web site. Players may also access tickets via Playwin Mobile by downloading the relevant application at http://mobile.myplaywin.com and registering an account number and PIN code via SMS. Full instructions on accessing the SMS Network are located on the myplaywin.com web site.
In addition to the four primary Lotto Kitty games, E-Play drawings have been offered in the past. When available, they take place each day of the week, every 20 minutes from 10am to 9pm with a break between 2pm and 2:45pm. Games go by the names Super Cards, Supreme Cards, Match4 Joker Lucky4, Sugar and Goa Sands, with different combinations of play and varying levels of jackpots offered. Tickets can be booked for up to 31 draws at a time.
How to play any Lottery from Around the World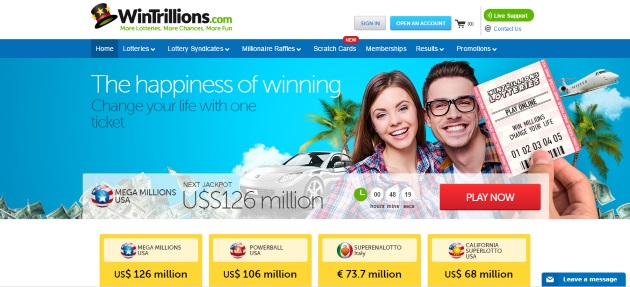 You can buy lottery tickets most European and American lotteries online at WinTrillions.com.