How To Play Live Casino Dream Catcher Online?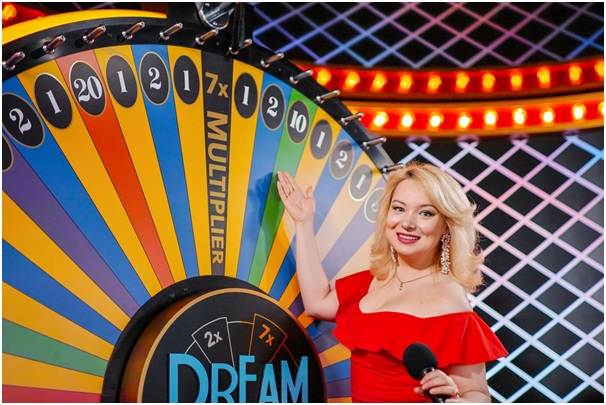 Dream catcher is new live dealer game which is attracting lots of players. As all live casino games are played in real money mode only this game too needs real bets to play. This gameshow themed live dealer casino game is basically a variant of the hugely popular Money Wheel game.
The action is brought to you in High Definition, although if your internet or Wi Fi speed isn't up to scratch or if your PC isn't as powerful as you'd like it to be, you can easily adjust the graphics quality so the streaming remains uninterrupted. You can play in the fullscreen mode which is highly recommended or you can play in a smaller window even in your cell phone online but that is entirely up to you as how much visual zoom you want.
Live casino Dream Catcher game has been developed by Evolution Gaming and is a money wheel designed to bring good fortune your way. This wonderfully entertaining game, is packed with excitement and big winning potential. Already a staple at land-based casinos around the world, Dream Catcher is engaging and rewarding at the same time. Plus, players needn't concern themselves with complicated rules and requirements – it's as easy as spinning and winning. Immersive and exhilarating, this game is peppered with the latest audio-visual technology for an unforgettable gaming experience.
Live Dealer in Dream Catcher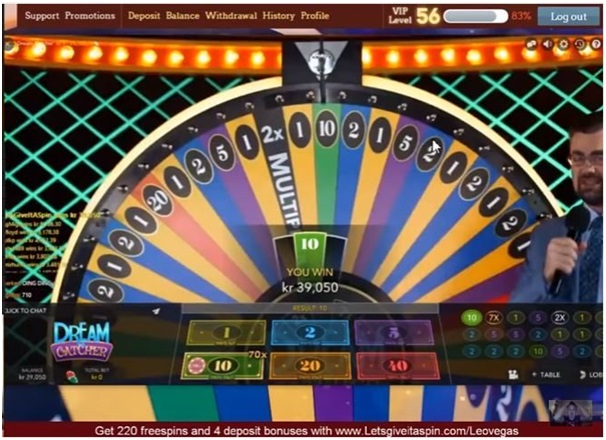 There are live dealers both male and female and you cannot select the gender as it is entirely upto your time and draw of the day which dealer might be your live host. There is currently only one Dream Catcher Game so you just have to accept the person that is dealing or close the game and wait for another dealer to take over later on. There's also an interactive and optional chat feature which puts you in direct contact with the dealer, plus you can also send messages to the other players using this fun feature.
How to play dream catcher
You can now enjoy an exciting, new and totally immersive gaming experience with Dream Catcher and the betting limits on this game are suitable for both low rollers and high rollers. You simply place a wager on the number you think the wheel will stop on. You will see all the numbers displayed in front of you on a grid. Simply make your selection and you're golden. What's great about this game is that the selection you pick equals the payouts you receive. For example, if you place a wager on 10, you will win odds of 10:1.

The live dealer will spin the wheel once wagers have been placed, and you simply wait for the pointer to come to rest on an individual number. There is enough suspense to keep you invested until the final click of the wheel. So simply pick the number you think the wheel will come to rest on. Your payout corresponds with that number, for example 2:1, 5:1, or 10:1. The multiplier positions (x2 or x7) are bonus spins that will multiply your next win.

If a multiplier segment lands, your current bets will be locked in place. The next spin's outcomes will be multiplied by the particular multiplier you landed (x2 or x7). If you land on a multiplier, the dealer will spin the Dream Catcher Wheel again. For example, if the wheel lands on a 2 and you had a x7 multiplier, you would win x14 your wager This game can dramatically ramp up your winnings.

The numbers offering payout odds on the wheel include the following: 1, 2, 5, 10, 20, 40, 2X, 7X. There are 1:1 payouts on the number 1, which appears in 23 segments. 2 appears in 15 segments and pays at odds of 2:1. 5 appears in 7 segments, and pays at odds of 5:1. 10 appears 4 times and pays at odds of 10:1, while 20 appears in 2 segments and pays at odds of 20:1. The number 40 appears just once, with a payout of 40:1.
For example the minimum bet per game is just INR 0.10 and the max bet per game is fixed at INR2,500.00.
There are different betting options available with simple rules to understand as how to play this game. As said above the aim is to try and guess where the needle will land when the big money wheels stops spinning and there are six different betting options altogether. You can bet on the 1 which pays 1x your stake. Betting on the 2 pays 2X your stake. Betting on the 5 pays 5X your stake. Betting on the 10 pays 10X your stake. Betting on the 20 pays 20X your stake and betting on the 40 pays 40x times your stake. 2X and 7X Multipliers can also increase your winnings even further.
Each round takes just 45 seconds to complete, so if you're unlucky you don't have to wait long to make amends, while if you're fortune-blessed you can potentially double up on your good luck in just 90 seconds. There are some serious sums to be won from Dream Catcher too: should one of those golden multipliers kick in, you could win up to INR500,000.
The Rules of the game
Simply bet on the number you think the wheel will stop at: 1, 2, 5, 10, 20 or 40.
Payout odds correspond to the winning number: e.g. 5 pays 5 to 1, 10 pays 10 to 1, and so on.
There are two 'multiplier' positions on the wheel (2x and 7x) that multiply the next win.
The if the wheel stops on a multiplier segment, then all bets remain in place. No new bets will be allowed and the wheel is spun again.
The outcome of the next spin (1, 2, 5, 10, 20 or 40) will determine the winning wager as usual, but the odds will be multiplied by 2x or 7x, depending on which multiplier the wheel stopped on in the previous spin.
If the wheel stops on a multiplier again, then all bets remain in place, and the multiplied payout from the last spin is multiplied again. The dealer spins again, and continues to spin until the spin ends with a result; i.e. the wheel stops on 1, 2, 5, 10, 20 or 40.
In other words, if the wheel stops on a multiplier on two or more spins in a row, then the eventual winning number is multiplied multiple times.
Consecutive multipliers are unlimited subject to a default maximum win of INR250,000
About Dream Catcher
Dream Catcher is reminiscent of the 'Big Wheel' or 'Money Wheel' games found at many land-based casinos. It's represented by a large, vibrantly colored wheel, filled with numbers and special multiplier slots. The precision engineered, bespoke wheel was built exclusively for Evolution by TCS John Huxley America, Inc., an amusement games developer out of Paradise, Nevada.
This game is designed to pleasure your senses in much the same way as slots games do. This live online game is the equivalent of the traditional casino game of the same name. Thanks to the Bonus Multipliers, you get to increase your bets big league. The game is very simple to understand and even if you are a new player at the casino you will enjoy this game and have fun. Watch your screen light up with this giant spinning wheel, and enjoy multiple close-ups and camera shots from all angles.
Dream Catcher design
This game is known as an unequal chance-based game. It is played on a vertically mounted wheel that spins up a storm right before your eyes. The Dream Catcher Wheel is divided up into 54 segments. Each of the segments is separated by pins. Each of the 52 equal segments features a special number, with a colour assigned to each number. There are 2 segments which feature multipliers. One is a silver x2 multiplier and the other is a gold x7 multiplier.
No doubt you've seen the game at Vegas casinos, but now it's available direct from the comforts of home, or on the go. Thanks to the power of live dealer gaming, this spectacular title offers feature-rich entertainment at the click of a button.

Get ready to interact with the live dealer, in real time via a secure streaming feed. Evolution Gaming has fine-tuned this game to perfection. Players stand to win prizes. Watch your wins add up as the wheel spins starts spinning.
Where to play live casino Dream Catcher online?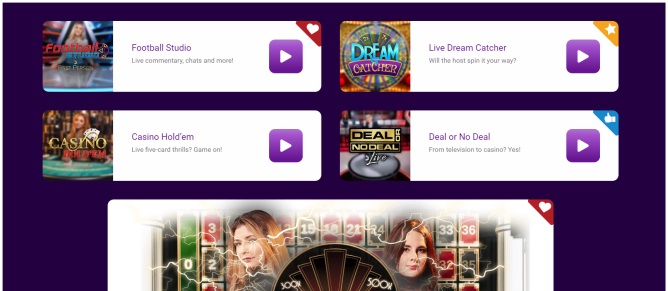 You can enjoy Dream catcher live dealer game at Live casinos. With the Evolution Gaming's ground-breaking software, you can enjoy Dream Catcher on desktop, smartphone or tablet. It runs smoothly on all devices, across mobile or Wi-Fi connections. Dream Catcher is expressly adapted with HTML 5 technology, with a live streaming feed from the studio. You get to enjoy uninterrupted gaming sessions, with crystal-clear graphics and Vegas-style audio. Whether you're playing on a horizontal interface or a vertical interface, you'll get to enjoy the ultimate Dream Catcher experience. The game designers worked extremely hard to make this the ultimate spin and win live dealer attraction.
You can try your luck at this game at live casinos like Spin Casino, Jackpot City India and various other live casinos.