'Poker Player Hunt' launched by PokerLion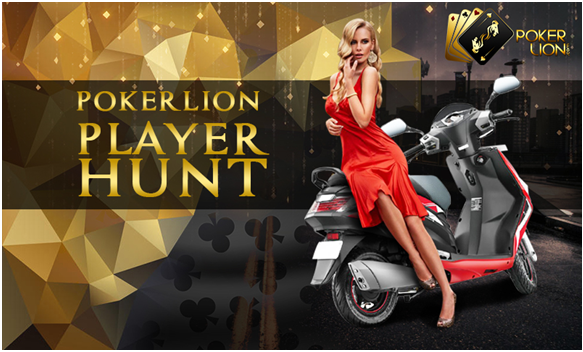 Poker Lion has recently launched a new game of poker called Player Hunt. In this game you can play poker earn raffle tickets and grab the chance to win a Hero Maestro Scooter. On this poker player hunt you could be an entitled player and secure your place as the pro poker player in the world of poker.
How to play Player Hunt?

Simply visit Poker Lion online with your mobile or PC
Create your user account Just select a Username, Valid Email ID & Password. Agree to the terms. And Click Join Now!
You will receive a verification mail. Verify the email ID. Now start to Play Poker Online.
Click on the cashier button to make a deposit
Select from one of the values flashed on the screen or enter any amount of your selection.
On successful payment, you will be redirected to the PokerLion window which will show your transaction ID. You're now set to play the online poker games.
What you need to do to secure your place is:
Play 1 MTT (Multi Table Tournament)
Play 50 cash game hands (Omaha 1/2 or above and Texas Hold'em 5/10 or above)
Play 5 Fish Party SNGs
Also 3 raffle tickets every day. The more you play, the more you get good at the game. The better you are at the game, more you win raffle tickets. The more you win raffle tickets, you are closer to win a Hero Maestro Scooter.
As part of this poker player hunt, starting June 4 through June 24, players logging onto PokerLion and playing the Multi Table Tournament (MTT), cash games and Fish Party SNGs will collect as many as raffle tickets all through the dates. One lucky poker player will win the grand prize and the winner will be declared after 30 days of the offer closing day.
About Poker Lion
PokerLion is the brainchild of Navneet Makharia and other poker enthusiasts,and was formed with one goal and that is to capture the Indian Poker scene to the next level and further. Launched in 2018, PokerLion has covered loads to be amongst the best online poker site in India. Known for their amazing programmes and highly rewarding promotions, PokerLion has become a name synonymous with good poker in a little time span.
PokerLion's player hunt is a first-of-its-kind endeavour to recognise the best of poker talent in India.
Navneet Makharia, the director of PokerLion explains, "We always wished to accomplish more for the Indian poker scene. Now we recognize that to change the game and to change the mindset of Indian common people, you have to play with the best. Our attempt is to give the decent poker players in India the recognition they deserve and the chance to prove their talent. Hence, we have brought this chance for them and as the prize of demonstrating talent; we are giving away Hero Maestro Scooter to the lucky one."
PokerLion player hunt will give a platform to poker talent across the nation, who has distinctive talent to show at the tables.