Poker Dangal is the India's fastest cash out poker online site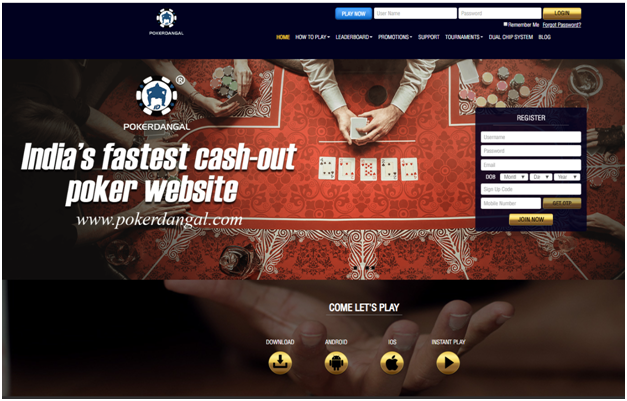 Poker Dangal is an online site launched by Xeta Networks Pvt Ltd where you can play a variety of exciting tournaments and cash games in a safe game playing environment. You can even play poker with their app on your mobile even on the go.
This fastest cash out poker site allows you to withdraw all your winnings in your bank account at any time by placing a cashout/withdrawal request. You can now make three instant withdrawals of maximum INR 9999 / transaction in a 24 hour clock (12:00 midnight – 23:59:59) If any player wants to request a withdrawal which is greater than 9999 in a single transaction, he/she will be liable to pay 30% TDS and the request will be processed within 24-48 hours.
The TDS Policy at Poker Dangal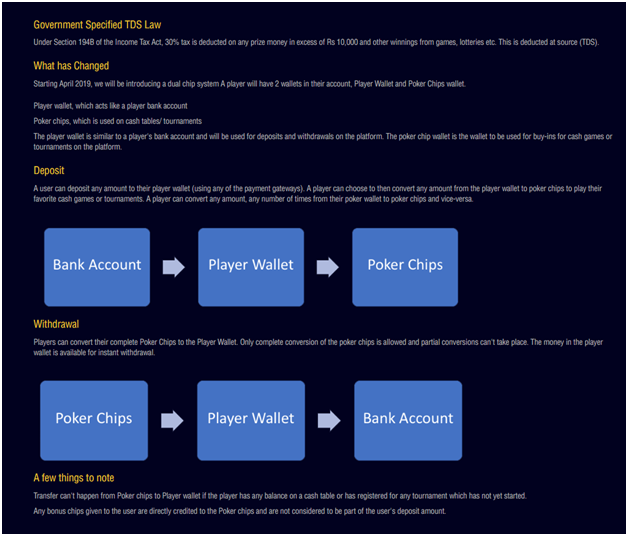 Recently Poker Dangal came out with what can best be described as one of the best TDS policies in the industry at the moment. Announcing the change, Poker Dangal's co-founder Karan Gandhi, clarified that w.e.f August 8th 2019, players on the site would be allowed to instantly withdraw less than ₹10,000 three times in a day without attracting any TDS. The change essentially means that players content with cashing out up to ₹29,997 in a day at Poker Dangal, will not have to worry about TDS at all. However, that does not absolve them of their responsibility to pay income tax according to their total earnings at the end of the financial year.
Like many of its peers, PokerDangal too has a Dual Wallet system which consists of a "player wallet" and a "poker chips wallet." The player wallet acts similar to a player's bank account while the poker chips wallet's balance can be used to play cash games or tournaments on the site.
Previously, on Poker Dangal, the TDS was applicable on wallet transfers, but since August 8th 2019, TDS gets calculated only on withdrawals. A player will, however, need to convert the "entire poker chips balance" to the Player Wallet before placing a withdrawal request. It`s important to note that while the smaller withdrawals do not incur TDS, a flat 30% TDS is applicable on all withdrawal requests over ₹9,999 regardless of whether the player in question is in profit or loss on the platform.
Games to play at Poker Dangal site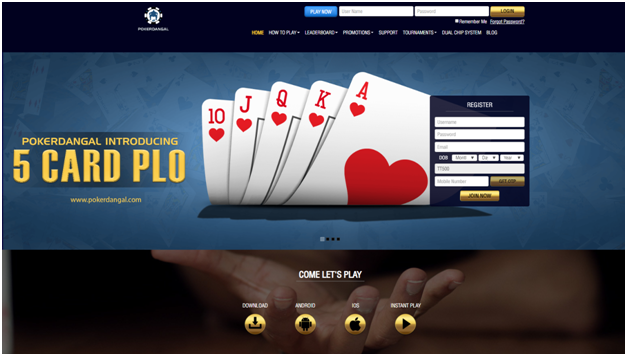 Poker Dangal offers online poker games like Texas Holdem, Pot Limit Omaha and various other poker tournaments with real INR.
When you register yourself at Poker Dangal site with your mobile or PC and make a real money deposit of minimum INR 100 you are offered first deposit bonus of 150%. You can use coupon code WELCOME150 to avail 150% locked bonus up to INR5000. After the deposit 150% amount will be credited to you as locked bonus. For every 100 Dangal points generated, INR 100 Locked bonus will be unlocked. Note that Poker Dangal accept payments via Debit Cards, Credit Cards, PayTm and Net banking.