Online team Poker League launched by Viaan Industries with Rs.13 crore prize money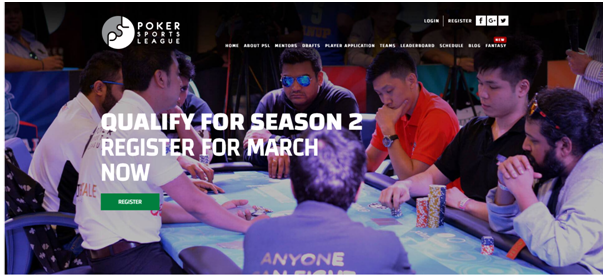 Viaan Industries  have launched the Online Team Poker League. It will be a national event in multiple countries worldwide starting with India. The wining team will represent their country in the World Online Team Poker League to be held in December every year. Season one will be a six month tournament starting in July 2018. Viaan Industries projects to generate a revenue of ₹ 75 crore from OTPL five year license fees rights just from India.
Raj Kundra promoted Viaan Industries has announced the launch of a new Online Team Poker League (OTPL) in a bid to promote e-sports and online poker in the country.
OTPL India, which will feature 30 city-based teams that will be given out to franchisees, will be played in the No Limit Texas Hold 'em format of poker on a special app designed by Viaan Industries.
Viaan Industries is selling franchisee rights for each team by charging an annual license fee of Rs. 55 lakhs, of which Rs. 10 lakhs is payable upfront and the balance payable quarterly. As per news reports,  15 teams have been sold by Viaan Industries till date and the company claims that the remaining 15 teams will be sold soon.
As per the format of the game announced by the company in a press release, every team will have eight players who will play Sit-N-Go tournaments online, twice a month, to top the leader board. The collective chip count of all team players will be added up, giving the monthly rankings of teams and monthly prizes. The team with the most chip count at the end of the season in November will win the cup and a prize money of ₹. 6.6 crores will be shared among the top eight teams.
Besides the annual prize money, there would be a monthly prize money of ₹. 60 lakhs each for all 11 months (totaling to ₹ 6.6 crores) of the tournament, which will be shared by the top six teams of the month.
While the first season will start in July and end in November, from the next year, it will be spread over January to November. The winning team will represent the country in the World Online Team Poker League to be held in December every year.
The company has claimed that besides India, it will be launching similar city-based OTPL events in other countries like USA, UK, Israel etc.
Besides OTPL, Viaan Industies already operates Match Indian Poker League (Match IPL) in collaboration with the International Federation of Match Poker (IFMP), where 10 city based teams compete against one another in the 'match poker' format for prize money and to win a spot to play in IFMP's International leagues.  The second season of the league was recently held in Kolkata.
Commenting on the launch of OTPL, Raj Kundra, the Chairman and Managing Director of Viaan Industries said in a statement,  "After seeing the success of Match Indian Poker League we at Viaan Industries Ltd, created this IP to have a year long poker event to give the opportunity to more poker players to come forward and use this platform to showcase their skills. We have designed the app to support and promote OTPL worldwide. It will create an exciting Poker in a team format that's never been seen or done before. In December we will have the World Online Team Poker League (WOTPL) where the league winners of every country will play against each other in a one-day online world cup event."
The format of the game will see each team starting with 50,000 chips every match day, which will go on for four hours. At the end, collective chip count will be added to the league rankings.
The app will offer in-app purchases for teams to create their own rooms and practice for the upcoming tournaments. The technology will facilitate every element of the sport from gameplay to administration of competitions and record keeping.
Other Ventures
Apart from the sports ventures, Viaan Industries is also present in segments such as wellness, entertainment and licensing technology. Listed on the BSE, Mumbai-based Viaan Industries also has Kundra's wife Shilpa Shetty as a non-executive director. For the first nine months of this fiscal (April to December), the company reported a standalone revenue of ₹ 77 crore and a profit of ₹ 39 lakh. Kundra is bullish on the gaming, content production and animation verticals.
At present, he is busy working out a deal with a broadcaster for an animation series, The Adventures of Ali & Baba. "We are in talks with some of the international OTT players for broadcast of the animation series. Going forward, we may look at more animation projects," he said.
In the gaming space, it launched a live digital game show, iQ Live, Domestic Diva and Sniff . The company has also integrated TV and digital and has offerings such as Aunty Boli Lagao Boli and Chase Bid.