Is it legal to play International Lottery in India?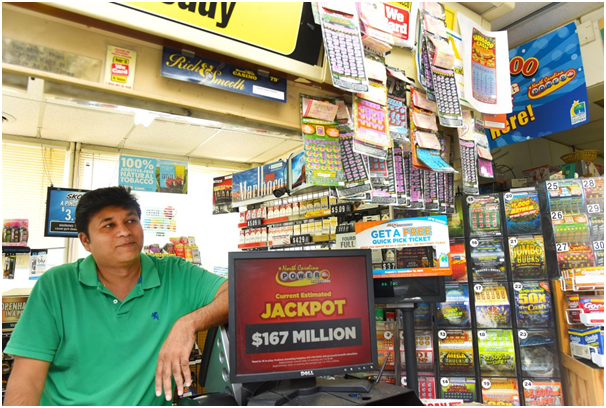 It is legal to play international lotteries as they take place not in India but in some other country offshore where gambling is not an offence. It will not be treated as a crime in India but the winning amount brought in India will be taxed.
Many Indians want to play lotteries in the hope to become a millionaire. As only 13 Indian states like Kerala, Goa, Maharashtra, Madhya Pradesh, Punjab, West Bengal, Assam, Arunachal Pradesh, Meghalaya, Manipur, Sikkim, Nagaland and Mizoram allow lotteries, in rest of the Indian states it is considered illegal.
With the coming of the internet there are so many online lottery sites that sell international lotteries to play. Not all but few of these online websites allow players from India to play International lotteries. The  most popular international lotteries played worldwide are US Poweball, Megamillions, Euromillions and so many more biggest world lotteries.
When it comes to legal issue Indians can play and win at these off shore lotto sites as they are not subject to the usual Indian gambling laws as the draws take place outside the country allowing residents of all Indian states to play regardless of the gambling laws in any particular state.
But depositing INR money to play these international lotteries and withdrawing your winnings can cause an issue.
As in India when you win a local or state lottery you need to pay some percentage to Indian government in the form of tax, similarly for International lotteries if you bring home winning amount you need to pay tax.
What are International Lottery sites that accept Indian players?
There are many international lottery sites that allow players to buy and play lotteries around the world. Here are few online offshore sites that allow Indians to play international lotteries.
PlayHugeLottos.com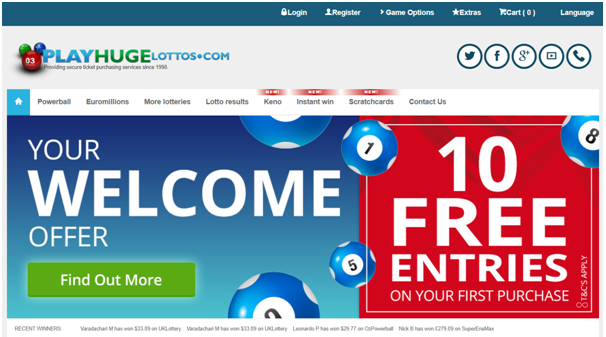 PlayHugeLottos.net is an online lottery ticket purchasing service offering entries into the biggest lottery jackpots from around the world. This safe and secure service is available to lottery players from across the globe.
You need to be 18 years to play lottery here.
All you need is to register an account and wait for confirmation on your email or mobile
Once done Pick your lotto numbers
Now submit payment details
Wait for the winning numbers to be announced
Besides European lotteries you can play International lotteries like Mega Millions, Mega Sena, Oz Lotto, Oz Powerball, Powerball, Instant win and Scratchcards.
To make a deposit or to buy the lotto you can choose any payment mode that is Indian friendly. You can use credit cards, Neteller, Skrill, EntroPay, Astropay or pay by EFT/Bank Transfer. To know other payment methods click here.
Your INR will be converted into Euro or GBP and you need to pay the exchange fees.
There are promo codes and bonuses to grab when making a deposit which will give your more free credits to play lotteries.
In the event that your funds have not cleared within 2-5 working days, you can contact info@playukinternet.com and attach a copy of the proof of payment and they will query the payment for you.
The Lotter.com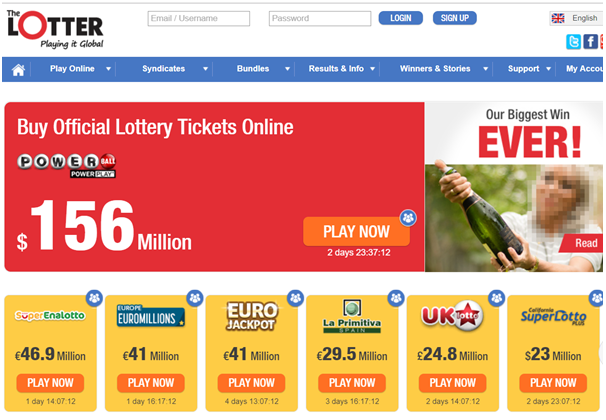 Lotter.com is another international lottery website that accepts players around the world. They are an independent ticket purchasing service with over 20 local offices worldwide. Their local office staff purchases lottery tickets from official lottery retailers on the users' behalf.
Anyone, regardless of nationality, can purchase official lottery tickets through theLotter.com. Starting an account is all it takes to start playing your favourite global lotteries online.
You need to be 18 and over years of age
Register yourself at the site with an email and password
Choose from 53 official lotteries, no matter where you live!
See a scan of your ticket before the draw in your 100% secure, online account
Receive automatic email & SMS winning notifications, and take home commission-free prizes!
There are over 51 international lotteries to play like US Powerball, US Mega millions, Australian lottos, Euro Millions, Euro Jackpots, Canadian lotteries like Ontario 49, Lotto 649, Lotteries from Italy, Greece, France, UK, Spain and more.
Deposit to buy lottery ticket with Indian friendly deposit methods like VISA, Neteller, Skrill or bank transfer. Now more payment details here. Your INR will be converted into Euro or GBP and you need to pay the exchange fees. In case you need to know your payment status or any doubt contact them by clicking here.
Lotto.in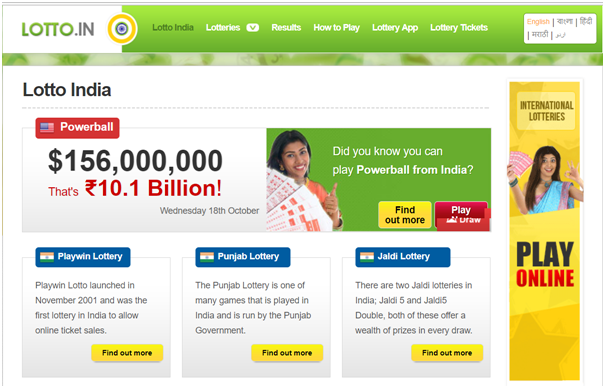 Lotto.in is owned and operated by The Lottery Company Limited, a registered company in England and Wales and offers International lotteries to Indian players. You can play Powerball, Eurobillions and Mega millions lotteries besides Indian lotteries at this website.
Click on any of the banners or Play Nowbuttons on Lotto.in either from mobile app or with PC.
Choose the lottery you wish to play
It will take you to a third party website called Jackpot.com where you can play international lotteries.
Select your numbers manually by using the number selector grid or generate a random set of numbers using the Quick Pick button.
Click the Continue button to confirm your purchase.
After receiving your order, you can view your numbers in your online account.
In the event that you win a prize, you will be notified by text/SMS or email to the email address provided when you registered your account. You can also view the results for each lottery on the lottery pages shortly after each draw has taken place.
Winnings are paid directly into your online account. The prize winnings can then be withdrawn or used for future ticket purchases.
You can also visit directly https://www.jackpot.com and play. Making a deposit is Indian friendly using Neteller, Skrill and other many payment options.  Jackpot.com currently accepts pounds sterling (GBP) and Euro. Your payment method will be charged in one of the supported currencies. Click the Deposit tab to add funds to your account and follow the instructions. If you have any problems trying to make a deposit, contact at email support@jackpot.com, have a live chat or whatsapp them or even call them at international number +441515414507
If you win a prize at the above metioned offshore sites, you will receive a text message or email informing you of your win. Prizes are automatically paid into your online account soon after the draw has been made and you can choose to withdraw your winnings or use them to fund future ticket purchases.
You can transfer the money you have won to your bank account in India as when you set up your online account, you will be required to choose one of the many methods available for funding your account. You can use a variety of methods to withdraw your winnings including Visa, Mastercard and Neteller. Alternatively, the winnings in your player account can be used to buy more tickets for future draws. Winnings are paid in full to the player, although you should check if your prize makes you liable for income tax in India.
Playwin.com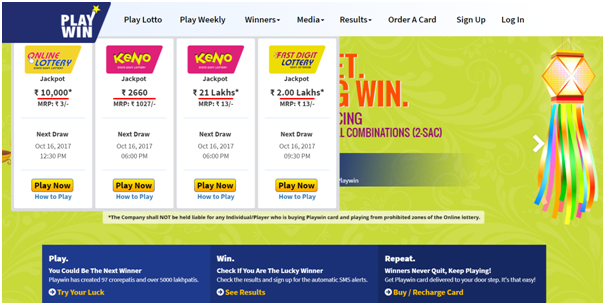 Playwin.com is the best Indian site that offers International type of lotteries right to you even on your mobile all with INR deposits and withdrawals.
It is backed by Pan India Network Ltd., a part of the 4.1 Billion Dollar Essel Group. Pan India Network Ltd. is in the business of providing infrastructure, data communication, marketing support and service to facilitate a secure online lottery network. Supported by the Government of Sikkim, Playwin is the first to introduce the world's most popular gaming format Lotto to India.
You can purchase Playwin lottery tickets online from the website or mobile apps or offline from an authorised retailer nearest to you. Playwin offers you games: Jaldi 5 , Jaldi 5 Double , Thunderball , Thursday Super Lotto , Saturday Super Lotto.
You need to visit the website with your PC or mobile app
Now simply log on to www.myplaywin.com
Select the game you want to play
Enter your choice of numbers or choose the lucky pick or quick pick option
Enter the 12 digit account number and 4 digit password displayed at the back of your card.
Now you can play or check your card balance, favorite numbers and past transactions.
You can also log in to 'My Account' to see your card details.
Currently gaming is only allowed from the states of Maharashtrac & Sikkim.
Results of Playwin Lotto games are telecasted LIVE on Zee 24 Taas Lotto Game Day / Time of telecast Thunderball Every Tuesday between 10:00pm & 10:30pm Thursday Super Lotto Every Thursday between 10:00pm & 10:30pm Saturday Super Lotto Every Saturday between 10:00pm & 10:30pm Jaldi 5 Double Lotto Every Wednesday between 10.00pm & 10.30pm Jaldi 5 Lotto Every Friday between 10.00pm & 10.30pm Or for results SMS, you can give a miss-call to 9930011700.
Playwin games utilise latest technology to ensure completely transparent draws. The entire hardware and software for these games has been provided by International Lottery and Totalizator Systems (ILTS), USA. The draws are performed through an automated draw machine that's patented by Smart play International, Inc., USA, and imported into India specifically for Playwin. All the games are legal, assuring you of a fair playing ground.
While it is legal to play International lotteries online from websites that are offshore  remember that you may take a bit of time in depositing and withdrawing or will be charged currency conversion fees. Also always check the authenticity of the online website to play such lotteries. These websites should be licensed and offer Indian friendly deposit methods. Check out whether they payback to you your winnings or not and remember you need to pay tax too on your winning amount.