Can I play Kerala online lottery from West Bengal?
Yes you can play Kerala lotteries from West Bengal. But there are no government authorized online sites that sell Kerala online lotteries. Only private owned lottery retailers have build up their online sites and offer online Kerala lotteries to buy. These lottery tickets are send by courier or speed post to you.
Kerala is one of the Indian states that is legally authorized to sell lotteries. Indian players from the legal authorized states like Punjab, West Bengal, Kerala, Sikkim and Goa can play lotteries and claim the wins.
Kerala offers Weekly, Bumper, New Year and many daily lotteries all the year through.The Kerala lotteries department which came into existence on September 1, 1967, released its first lottery ticket on November 1st and the ticket valued at Re. 1 carried first prize money of Rs. 50,000. The first draw took place after more than 60 days i.e., on January 26.
The department now rolls out seven weekly lotteries viz. Pratheeksha, Dhanasree, Win-Win, Akshaya, Bhagyanidhi, Karunya and Pournami lotteries and six bumper lotteries. The department, comesunder its Directorate located at Vikas Bhavan at Thiruvananthapuram, 14 District Offices and a Regional Deputy Directorate at Ernakulam. More over three Taluk Lottery Offices are also functioning one each at Punalur in Kollam District, Kattappana in Idukki District and Thamarassery in Kozhikkode District. The department which was initially under the Department of Finance was later brought under the Taxes Department.
How to play Kerala lotteries from WestBengal?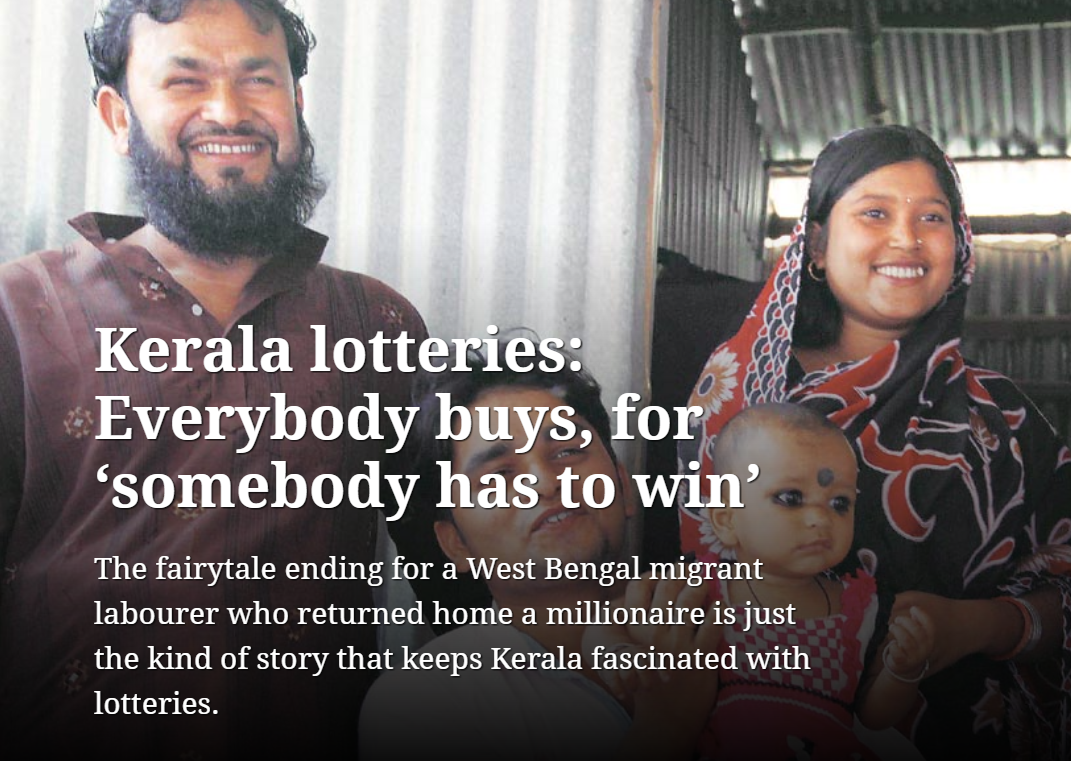 If you reside in West Bengal you will find many road side lottery vendors or lottery retailers and lottery booths selling Kerala lottery tickets. Even you can find lottery tickets in Bus stands and railways stations or metro stations.
Once you get the ticket or buy a lottery ticket you should write your address, name and sign the ticket so that it proves you are the owner of that ticket.
Kerala State Lottery is famous for its draw procedure. A clear and transparent procedure, it has always attracted people's participation. So note that draws are conducted at various parts of the state. Anyone is welcome at the draw venue. Information on the venue can be had from Agents or through media.
The results will be published in all leading dailies, the very next day after the draw. Results can be had from agents also. The same will be available over the net at www.kerala.gov.in andwww.keralalotteries.in or in local newspaper.
Also in West Bengal you can contact the lottery dealer from where you bought the ticket to know the results.
Important Points to consider when playing Kerala lotteries from West Bengal
Always buy lottery from an authroized lottery vendor or retailer or from a lottery shop that is authorized to sell lotteries in West Bengal. This is because many lotto vendors sell old tickets or tickets that are duplicate copy of the original ones and thus they are invalid to use.
Avoid buying lotteries online. Online buying is risky as you may get tampered ticket by speed post or may not receive ticket at all.
In case you win Kerala lotteries from West Bengal, you need to prove yourself that you are legal resident of West Bengal by submitting your Adhaar card, Ration Card, ID proof, PAN Card or Driving licensed or Electricity bill for your legal status being resident of Bengal.
Remember you need to also show the name and location of the retailer from where you purchased your ticket. So always check for the retailer or lottery dealer stamp on the back side of the lottery tickets. In case of your wins you need to produce your ticket to show this stamp and prove the fact that you bought an authentic Kerala lottery ticket.
Read the winning story of West Bengal Lottery player who won Kerala lottery.
You need to produce the winning ticket with all necessary documents within 30 days of the draw date.
Prizes up to Rs. 1 Lakh may be claimed from the District Lottery Offices concerned. Prize winning tickets above Rs.1 Lakh and up to Rs.20 Lakhs shall be passed for payment by the Deputy Director (Prize) and that above 20 lakhs by the Director.
Prize winning tickets above Rs.1 Lakh shall be surrendered before the Director of State Lotteries after affixing the signature, name and address of the prize winner on the back side of the tickets with the following documents:
A claim application along with a Photostat copy of both sides of the ticket, self attested.
Two Passport size photographs of the prize winner duly attested by a Gazetted Officer/Notary.
A receipt for the prize money in the prescribed form affixing a revenue stamp worth Rs.1/- with full address of the prize winner
If the prize winner is a minor, Guardianship certificate from a competent authority.
In case of joint claims, one of the prize winners should be authorized to receive the prize money and a 'Joint Declaration' in stamp paper worth Rs. 50/- should be executed.
Self attested copy of the PAN Card.
Attested document to prove identity (Attested copy of Ration Card, Driving License, Passport, Election ID Card etc).
Also the Prize amount can also be claimed through Nationalized, Scheduled or Co-Operative banks. The prize winning ticket should be surrendered to the bank with all the above documents, if necessary.
For prize moneys more than Rs. 10,000, income tax at prevailing rate will be deducted and credited into the central government account.