How To Make A Deposit At Online Casino With PhonePe?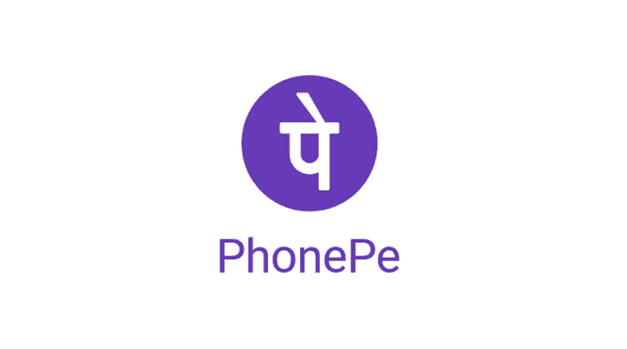 PhonePe is a payment option to fund your online casino account from India. Like Paypal, Google Pay and Paytm it is a digital wallet and the company is based in Bangalore. PhonePe was found in December 2015 by  Sameer Nigam, Rahul Chari and Burzin Engineer. As an app form PhonePe based on the Unified Payments Interface (UPI), went live in August 2016. PhonePe is accepted as a payment option at over 10 million offline and online merchant outlets across 400 cities in India covering food, travel, groceries, medicines, movie tickets etc.  The company launched the PhonePe ATM in January 2020 that allows neighbourhood Kirana stores to dispense cash in real-time to customers.
Features of PhonePe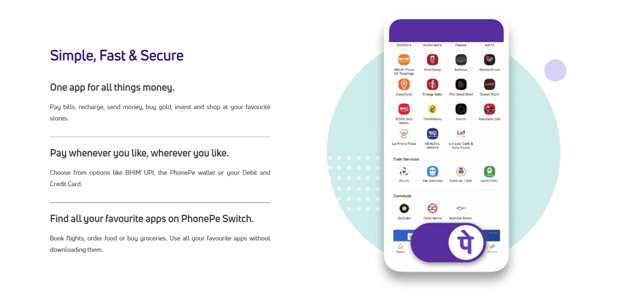 The PhonePe app is available in over 11 Indian languages mainly English, Hindi, Telugu, Tamil, Kannada, Malayalam, Marathi, Bengali, Gujarati, Odia and Punjabi.
Using PhonePe, you can send and receive money, recharge mobile, DTH, data cards, make utility payments, pay at shops or casinos, invest in tax saving funds, liquid Funds, buy insurance and mutual funds and gold.
PhonePe also allows users to book Ola rides, pay for Redbus tickets, order food on Freshmenu, eaf, fit and avail Goibibo Flight and Hotel services through Switch platform.
PhonePe is licensed by the Reserve Bank of India for issuance and operation of a Semi Closed Prepaid Payment system thus is a legit platform for payments.
How to make a deposit at online casino with PhonePe?
PhonePe is used to make a deposit to play slots and casino games or place a bet at any Indian bookie online. Many of the offshore online casinos accept PhonePe deposit and this method of payment can be found at their banking page or at the cashier when you attempt to fund the casino account online even with your mobile.
The RBI (Reserve Bank of India) requires that PhonePe users complete standard verification to use the payment mode. You will see a banner at the top of your PhonePe app, notifying you about your pending verification.
You will have to use your Aadhaar card to complete this process. The app asks you to enter your 12-digit Aadhaar card number, after which you will generate a one-time-password (OTP.)
The OTP is sent to your registered email address, and once you've entered it and accepted the process, your account is verified!
So first step is set up a PhonePe account and add your bank account to it.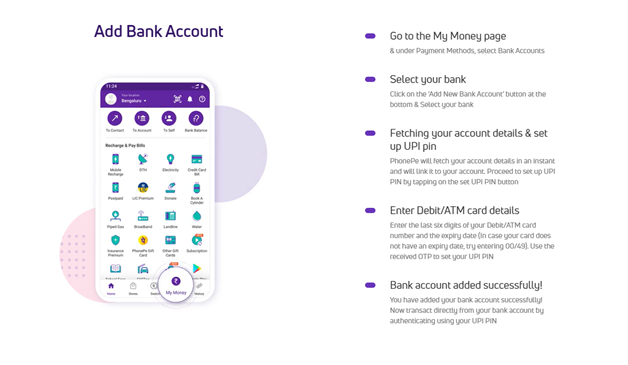 For this either download the PhonePe app and get started or simply visit PhonePe website on your web browser and do it.
After registering yourself go to the My Money page & under Payment Methods, select Bank Accounts
Now select your bank
Click on the 'Add New Bank Account' button at the bottom & Select your bank
PhonePe will fetch your account details in an instant and will link it to your account. Proceed to set up UPI PIN by tapping on the set UPI PIN button
Now enter the last six digits of your Debit/ATM card number and the expiry date (In case your card does not have an expiry date, try entering 00/49). Use the received OTP to set your UPI PIN
You have added your bank account successfully! Now transact directly from your bank account by authenticating using your UPI PIN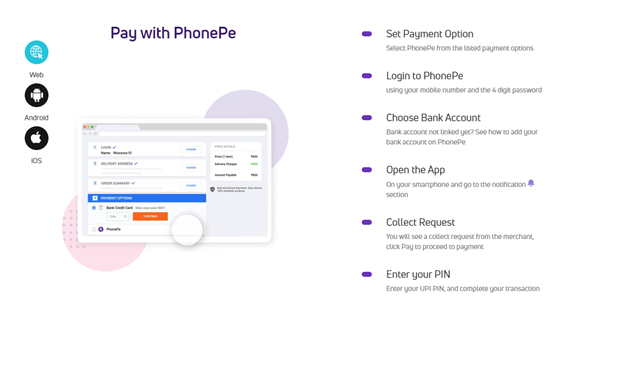 Head to your favourite Indian friendly online casino
After login to the online casino go to banking section of the online casino
Select PhonePe as deposit option
Next Login to PhonePe or using your mobile number and the 4 digit password
Now Choose Bank Account You will see a collect request from the merchant, click Pay to proceed to payment
Enter your UPI PIN, and complete your transaction
To set or reset UPI PIN enter the last six digits of your Debit/ATM card number and the expiry date (In case your card does not have an expiry date, try entering 00/49). Use the received OTP on your mobile to set your UPI PIN
In the next screen, enter the OTP and the new UPI Pin you want to set for the account, and click submit
You have successfully set a UPI Pin for your bank account! You can now send money and make payments directly from your bank account in the PhonePe app by authenticating using your UPI Pin.
Note you won't have to verify your casino account to use the method for deposits. Simply head on over to the casino cashier, enter the amount you wish to deposit, follow the instructions, and you are ready to play!
Since PhonePe is used via the UPI payment gateway; it will be free of extra costs. Only few of the casinos sites add a fee to deposits, but this is uncommon. In most cases, 100% of your deposited amount will be available for you to play with.
Deposits made with PhonePe are instant, which means that you will not have to wait for the funds to show up on your online casino account. 
The smallest deposit you will be able to make depends on the online casino you choose. Each online casino has different minimum deposits like Jackpot City allows ₹ 500 to ₹ 1000 as deposits. Generally the minimum deposit range from ₹500, ₹1000, or ₹2000.
PhonePe Casinos
Here are few of the best PhonePe Casinos in India
1. Jackpot City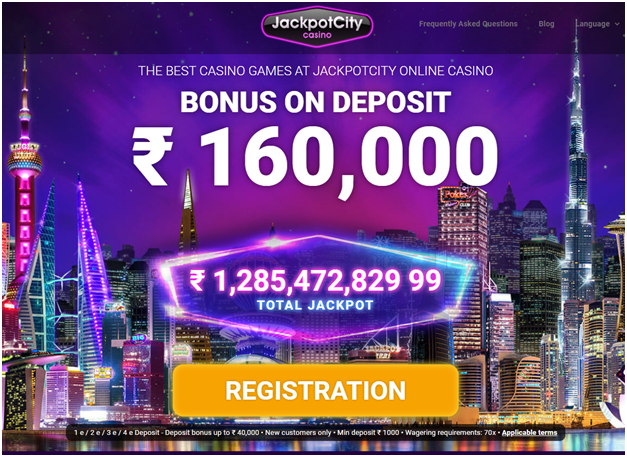 Jackpot City is fantastic online casino in India that offers ₹16000 as welcome bonus to new players. With over 700 outstanding games you can choose from a wide variety be it slots, table games, live caisno, Keno, Bingo and more.
2. Royal Vegas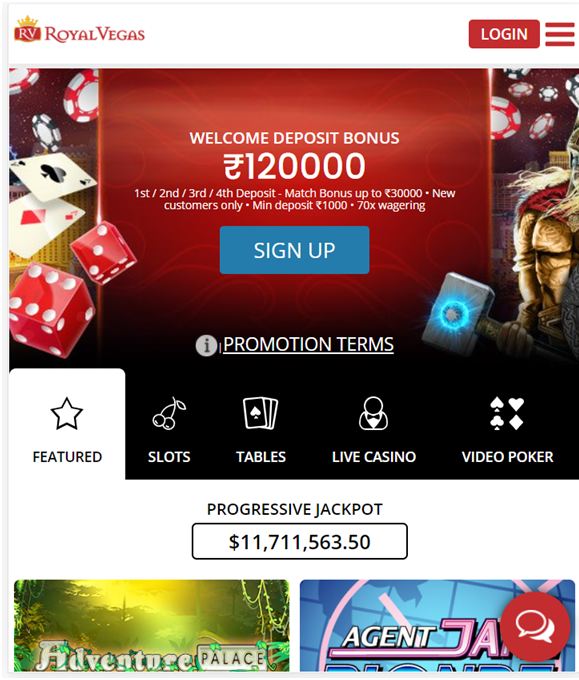 Royal Vegas is another beautiful online casino that allows Indian players to play awesome casino games online. Get ₹120000 welcome bonus as a new player. Play slots, table games, live casino, video poker, card games of rummy and teen patti, progressive games, Keno and Bingo.
3. Gaming Club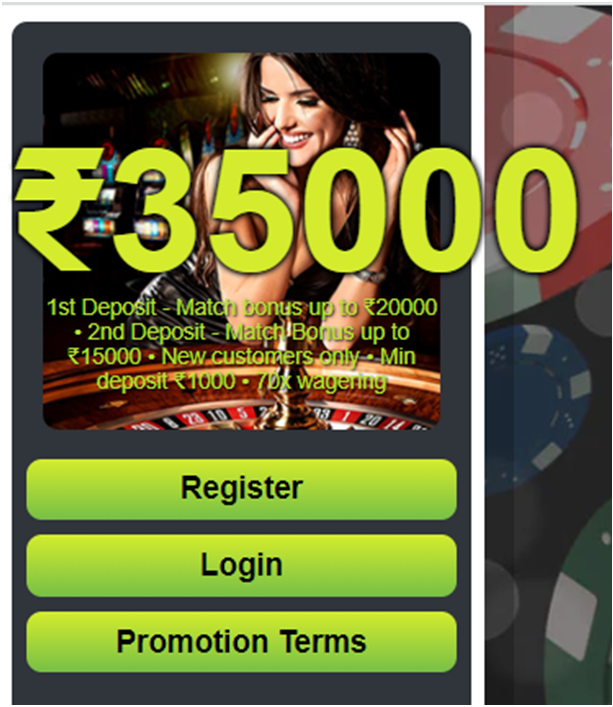 With more than 500 online Slots, table games, card games, speciality games, and more, there is no shortage of riveting action, entertainment, and suspense at Gaming Club. You will not find a shortage of lavish jackpots up for grabs, either.
Browse through their Video, Classic, and Progressive Slots, online Blackjack, online Craps, online Roulette, online Video Poker, and other casino games at leisure, and find the ones you love. Gaming Club's premium software is powered by renowned provider Microgaming, which means you can play with total confidence and ease. Get ₹35000 as new player bonus at this casino.
4. 10Cric Casino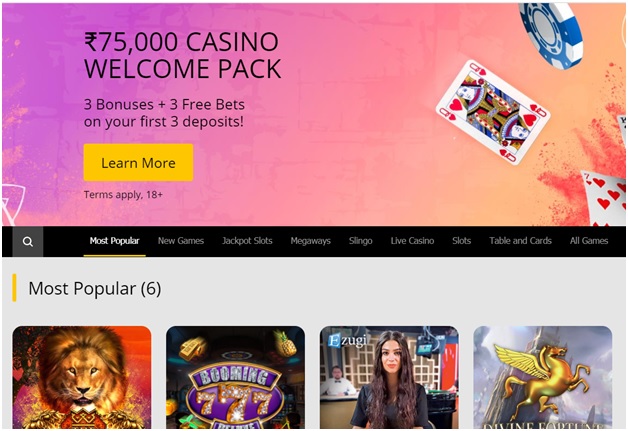 10CRIC is the leading online casino website in India, offering a multitude of quality casino games to explore, and extra funds to play with from the start. You'll also find a range of rewarding promotions and the best and most convenient payment methods in India. 10CRIC Casino brings you a wide range of internet casino games that you can play online anytime from your desktop, laptop or mobile devices.
There's an impressive selection of slot games, and a plentiful supply of Blackjack, Roulette and other card and table games.
You can even play realistic Live Dealer games online on your mobile phone too. In addition, when you're ready to start playing for real, there's a generous welcome bonus available, giving you some extra cash on top of whatever you deposit.
With three Welcome Bonuses totalling up to ₹70,000 and up to ₹5,000 in Free Bets you will love to play at this casino.
Withdrawal through PhonePe
There are few online casinos that allow withdrawal through PhonePe. But not to worry there are various other alternatives available at the online casinos site.
Most online casino sites will require a basic verification of your online casino account. This means that you'll be asked to provide a copy of an ID document, and a recent utility bill issued in your name showing your residential address.
Withdrawals made with PhonePe will be instantly processed. That said, there are exceptions to this rule, and your withdrawal can be delayed due to a pending verification, further reviews of the funds, or a large amount. The minimum amount you can withdraw will be shown in the cashier of the casino. Just as with deposits, the smallest amount might differ depending on which operator you are playing at. However, a common minimum limit used by casinos for PhonePe withdrawals is ₹2000.
Now join the online casino of your choice and start your gaming experience with real INR.