Kerala man wins Rs 17.5 crore lottery at Abu Dhabi by playing local lottery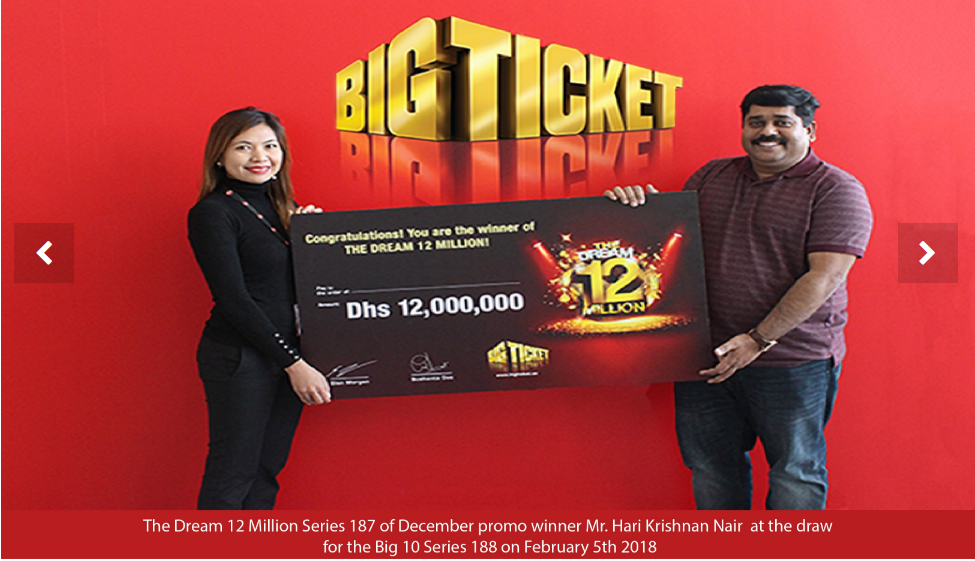 An Indian national in the UAE won a lottery worth 10 million dirhams (over Rs 17.5 crore) in Abu Dhabi this month.  According to Gulf News Sunil Mappatta Krishnan Kutty Nair, who hails from Kerala, took home the second-largest reward given away this year. Nair works as a sales executive in Abu Dhabi. He will be splitting the money (approximately Rs17,68,00,000) with three of his friends, said a colleague, who contributed to the ticket cost.
Sunil played THE BIG 10 Series lottery and was Winner of this lotto drawn on 5th February 2018 and his Ticket Number was 016299
Raffle tickets usually cost around 500 dirhams (over Rs 8,700), and it is common for participants to pitch in to buy tickets and later split the prize. Not just Sunil, nine more Indians received cash prizes up to 1,00,000 dirhams, according to the report.
With raffle tickets costing Dhiram 500, participants usually pitch in to cover the entry cost and split the prize later, the report said.
Nair, hailing from Kerala, will be splitting the prize money with three of his friends, according to a colleague who contributed to the ticket cost.
Besides these winners another Kerala player Harikrishnan V Nair, a Keralite based in Ajman won the 'Big Ticket Draw' of 12 million dirhams (Rs 20 crore) on January 7. When the winners were announced, Harikrishnan had initially thought that someone had played a prank on him. But when many people started calling, informing him of his win, he was too stumped to believe it.
Hailing from Alleppey, Harikrishnan moved to Dubai in 2002 and has been residing there since, working as a business development manager for a construction company.
When asked what he plans to do with the money he won, Harikrishnan shared that he had his thoughts on post-retirement plans. "My wife and I are very happy with our current employment. This money will be very helpful in our son's education and it is also a great opportunity for us to indulge in charity."
Well this was story of Indian winning lottery in another country. But you can play lottery in Kerala itself which offers weekly, monthly and festival based bumper lotteries and win crores of rupees.