Sikkim is a landlocked Indian state located in the Himalayan mountains. This  state is bordered by Nepal to the west, China's Tibet to the north and northeast with Bhutan to the east and Indian State of West Bengal to the south.
Sikkim is also one of the least populous state in India and is the only open land border between India and China. The capital of Sikkim is Gangtok which is the largest city and Sikkim is 25% covered by Khanchendzonga National part
Sikkim currently does not have any operational airports or railheads because of its rough terrain. However, Pakyong Airport, the state's first airport, located at a distance of 30 km from Gangtok, which is yet to become fully operational
Meanwhile the closest operational airport to Sikkim is Bagdogra Airport, near the town of  Siliguri in West Bengal. The airport is located about 124 km from Gangtok, and frequent buses connect the two. Also a daily helicopter service run by the Sikkim Helicopter Service connects Gangtok to Bagdogra; the flight is thirty minutes long, operates only once a day, and can carry four people. The Gangtok helipad is the only civilian helipad in the state.
By road the connectivity is via National Highway 31A which link Siliguri to Gangtok. Sikkim lacks significant railway infrastructure. The closest major railway stations are Siliguri and New Jalpaiguri in neighbouring West Bengal.
Foreigners cannot enter the state of Sikkim directly. They have to get an inner line permit for traveling to Sikkim. This permit is easily available with Indian Mission and embassies abroad. This entry permit allows a stay of seven days for traveling and sightseeing in Sikkim. However this limit extends to ten days in case of Group trekkers.
Real Casinos in Sikkim
There are three famous casinos in and around Sikkim that offer more than 15 slots 20 table games and gaming machines. Also there are 7 live poker tables to play and other table games like Blackjack, Baccarat, European Roulette, Mini Flush, Paplu, Russian Poker, NL Texas Hold'em, Slot machines, Flush, Roulette, Indian Flush.
Delta Casino at Welcom Heritage Denzong Regency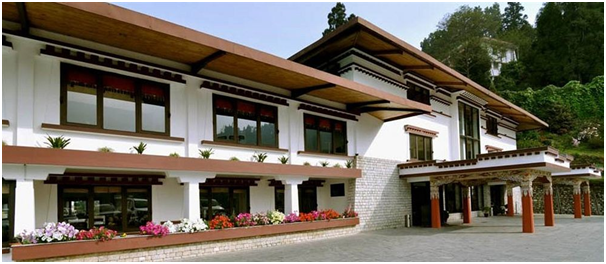 Address: Cherry Banks, Opp. Raj Bhawan, Gangtok, India
Phone: 91 3592 201566
Delta Corp has been granted a license and will open a casino at the WelcomHeritage Denzong Regency in Gangtok, Sikkim, India sometime in 2017.
Presently you can enjoy your stay at Welcom Heritage Denzong Regency  the only 5 Star Luxury Mountain Retreat at Gangtok, the capital of Sikkim, at a height of 6000 feet, situated within a 10 acre sprawling, century-old, wooded, family-owned property, which offers the finest views of the city and the pristine splendor of the undulating hills, valleys and a myriad streams that course through it, with the towering Mt. Kanchenjunga peak in the background. The hotel is nestled on top of a hillock with the residences of the Governor and the Chief Justice of Sikkim as its most immediate neighbours.
The Boutique Retreat has six Regency Suites, twleve Suites, six Deluxe Rooms and one dedicated room for guests, with comfortable heating system and individual private balconies each facing Mt. Kanchenjunga. You can book your stay here and wake up to a majestic view of Mt.Kanchenjunga and the surrounding hills, valleys and streams from every room, two Restaurants, Conference and Banquet Halls and from all around the garden and surrounding wooded forests on clear days. Also can take a leisurely walk to the city which is less than a km away along a comfortable pedestrian footpath.
Book your stay here by calling the staff +91-3592-201566,201 or email them at reservations@denzongregency.com
Casino Mahjong at Mayfair Spa Resort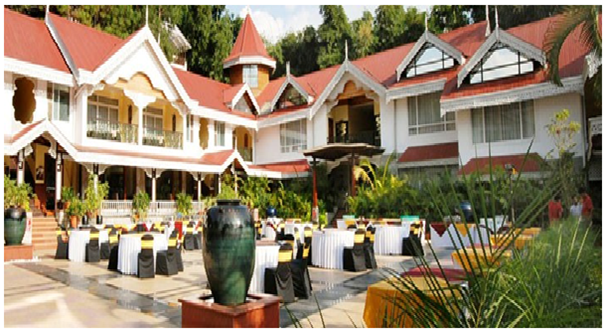 Address: National Highway 31A, Lower Samdur Block, Ranipool, Sikkim Gangtok, India
Phone: 03592-250126
Casino Mahjong at the Mayfair Spa Resorts and Casino is owned and managed by Trio Ventures, a company started by three visionary entrepreneurs from Gangtok.  Located among acres of lush green forest and surrounded by mountains, Mayfair Spa, Resort and Casino has a monastic theme with Sikkim's colonial architecture.
This luxury resort offers luxury rooms, family rooms, premium cottages and villas amidst nature and consigns comprehensive spa therapies at Asia's award winning Spa. For a perfect holiday in Gangtok, go trekking, bird-watching, mountain-biking or hire a cab for some sightseeing and top it up with a pulsating evening of gaming at the casino. So plan a holiday in Sikkim and make it an unforgettable one with a visit to Casino Mahjong.
Games you can enjoy are slots and table games like Roulette, Blackjack, Baccarat, Flush, Texas Hold'em Poker, Kitty or Russian Flush, Marriage card game, Paplu and Mini Flush. There are more than 15 live dealer tables, separate poker rooms and VVIP gaming rooms for loyal players. You can grab various promotions and series also run throughout the year. You can earn cash back for playing long hours during certain events. Also there are many entertaining events and festivals that add glamour to this casino.
You can contact the casino for bookings or more information at their Phone No : 03592-250126 or Email : 123trioventures@gmail.com
Casino Sikkim at Hotel Royal Plaza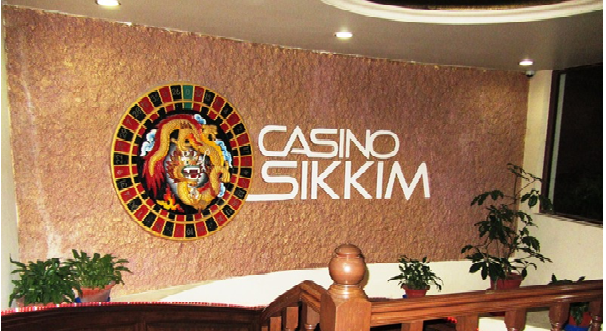 Address: Upper Syari, Gangtok, India
Phone: 91-3592-280032
The largest casino in Gangtok is Casino Sikkim at Royal Plaza Hotel in Gangtok.  Actually it is resort where you find a casino to play games with ten slot machines and five table and poker games to enjoy. A fee to enter the casino is taken at the door; but does include chips, buffet tickets and other perks. The casino is opened between 6  pm to 4 pm
You can enjoy your stay at the resort with luxurious rooms and great dine and wine. Orchid is a Multi-cuisine Restaurant offering international cuisine. Aura has an informal bar to relax with some exotic beverages, speciality Indian kebabs and an assortment of Chinese and Continental starters.
Also there is 24 Hrs Coffee Shop located at lobby with varieties of selected coffees, pastries, puffs, chocolates,etc. In addition to that it also has a cigar shop with branded cigars.
There are many ongoing events at the resort, fitness center, book shop and curio shop. For more details and bookings contact the casino on phone +91-3592-280032 /280232; or with Email trp@sarovarhotels.com
You can also visit other real casinos in India in your vacation or to play games. Even try playing casino games at online casinos and grab some awesome bonuses.