Goa is a fabulous place for tourist, honeymooners and travellers. Bounded by state of Maharashtra to the north and Karnataka to the east and south and on its west you will find the great Arabian Sea. With the capital at Panaji and Vasco Da Gama as the largest city Goa is full of life with beaches, churches, wild flora and fauna, night life, as well as perfect place for casinos.
You can enjoy some of the best real casinos in Goa where you can play lots of different types of games like Black Jack, Rummy, Stud Poker, Baccarat and Flash Roulette as well as slots. Along with regular casinos on land, Goa also has numerous casinos onboard luxury liners. Here are some of the best real casinos you can visit and enjoy at Goa.
Deltin Royale Casino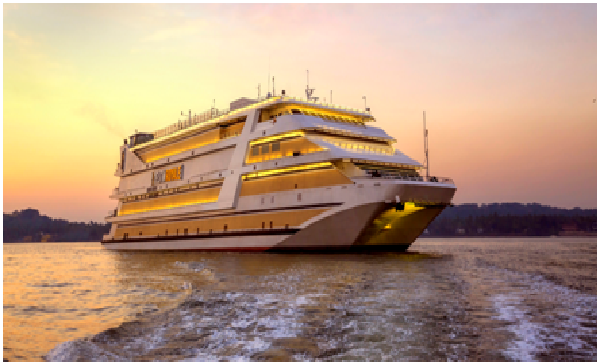 Deltin Royal is the first choice among casino players. This casino from Deltin Group is also known as "gamers' paradise" where you can find some wonderful Las Vegas experience. You can enjoy playing different types of card games popular being The Royale Poker Room where you can enjoy some poker games. Then also you will find Indian Flush, with the unique Taash Room (Indian Card game). One of the best casinos in Goa, Deltin Royale is a beautiful ship proudly floating on the placid Mandovi River. As soon as you join the casino you can grab free Rs 500 Play Chips.
The casino also specializes in serving delightful spread of gourmet with the most delectable buffet spreads from numerous cuisines for the casino guests. The stylish Whiskeys Lounge has the best collection of hand-rolled cigars and Single Malts.  For high rollers who want to stay while enjoying a game, the casino has the option of deluxe VIP Gaming Suites as well.
Deltin Jaqk Casino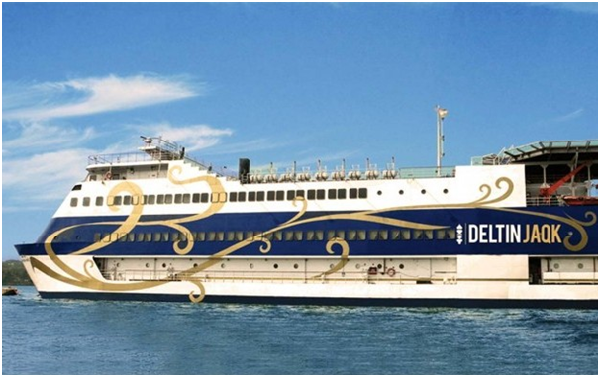 Deltin Jaqk casino is another casino at Goa from Deltin Group which is quite popular.  It has more than 350 different gaming varieties to play and enjoy like 3-card Poker, Roulette, Baccarat Andar-Bahar.  This stylish off shore casino perching luxuriously on the Goan River, Mandovi is bound to attract you. Also you can enjoy complimentary buffet dinner as a casino guest and have some wonderful drinks at the Aqua Bar too.
Casino Carnival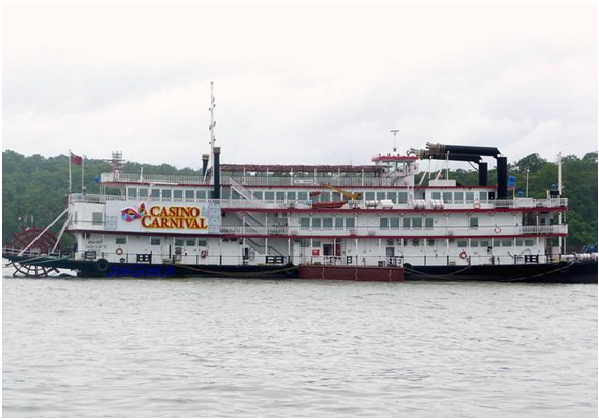 Casino carnival in Goa has two venues: one inside the Goa Marriott adjoining the Miramar beach, and the second is a boat on the Mandovi River. Spread across 4 classy decks, Casino carnival has something to offer for all age groups. It provides the best of gaming and entertainment experience to its guests where you can enjoy some of the best performances from the famous local artists as well as exceptional international artists.
This casino has some of the great slot machines all Vegas style to play and enjoy. You can also play Blackjack, Roulette, Carnival Stud Poker, Three Stud Poker, Texas Hold'em, Punto Banco and even Carnival Holde'm.
Casino Pride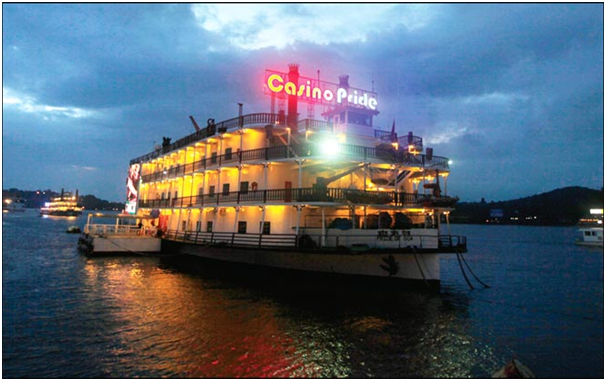 Casino Pride is another best casino of Goa on the waters of the Mandovi river where you can enjoy a thrilling and exciting gaming night. It also offers an exciting live gaming experience to more than 500 guests at a time. You can play some of the great casino games like Baccarat, Casino War, Roulette, Blackjack,  Rummy, 5 Card Poker, Mini flush, Flush, Andar Bahar  and Texas Hold'em Poker along with quite a few electronic slot machines. In this sailing casino vessel you will find Multi-cuisine restaurants with a well-stocked bar and a barbeque and other things to enjoy.
Casino Pearl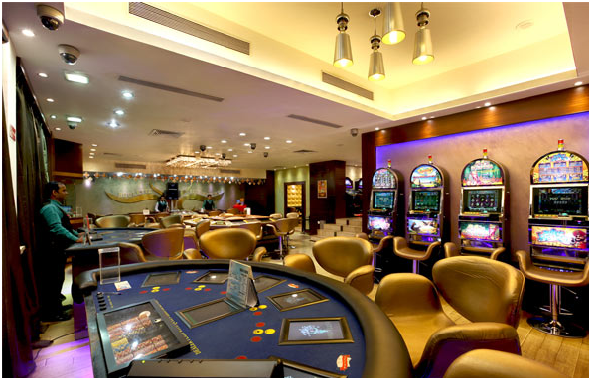 Casino Pearl is the largest casino in Goa where you can enjoy some of the exciting games like Tai-Sai, Black Jack, Roulette, Baccarat and slot machines. The robotic Arm Baccarat station is also highly appreciated by the guests. This casino is a part of the plush Bogmallo Beach Resort, a 5 star resort in Bogmallo. Being at a mere 15-mintues away from the Goa international airport, Casino Pearl is a favored choice for many tourists. Not only you can enjoy games here at the casino but also find great dining restaurants and luxurious spa and other facilities.
Casino Palms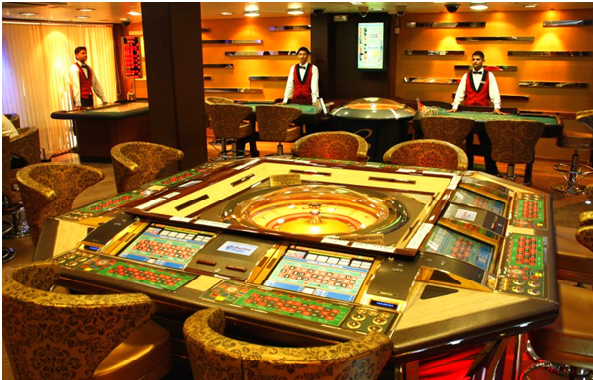 Casino Palms is hotel cum casino from the luxurious La Calypso Hotel. You can enjoy your stay here as well as have rich gaming experience. You will find complete variety of games like black jack, roulette, mini- flush and baccarat along with machine poker and slot machines to play and enjoy. You can also relish the best of the multi-cuisine restaurant which specializes in mouth-watering dishes from all over India.
If you are interested in some good drinks then La Pub and La Slash takes care of the drinking needs of all its guests.  Also to relax yourself you can indulge in therapy at the spa or an Ayurvedic massage or relax at the hotel's pool. There are also numerous beach activities organized by the casino for your entertainment.
Casino Paradise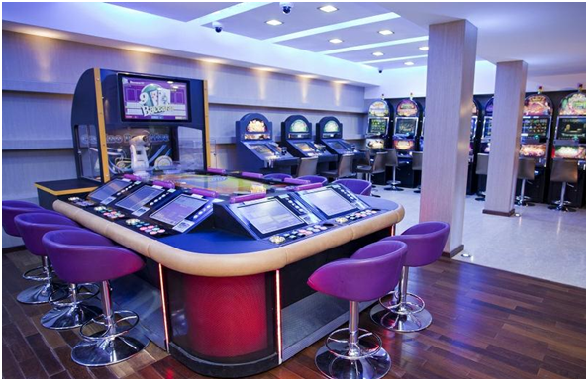 Casino Paradise is the the largest and the most luxurious of all casinos in Goa. You can enjoy some of the high-tech digital gaming experience here where you can enjoy the Robotic Arm Baccarat station along with black jack, baccarat and mini flush. Also there are numerous slot machines lined neatly for you to play and enjoy.
This casino is part of luxurious Neo Majestic resort and hotels in Goa. You can find three different restaurants namely Café M, Dim Sum and Spice Garden for your dine and wine. There is great pool at the casino to relax or take a steam or sauna at the casino.
Casino Dunes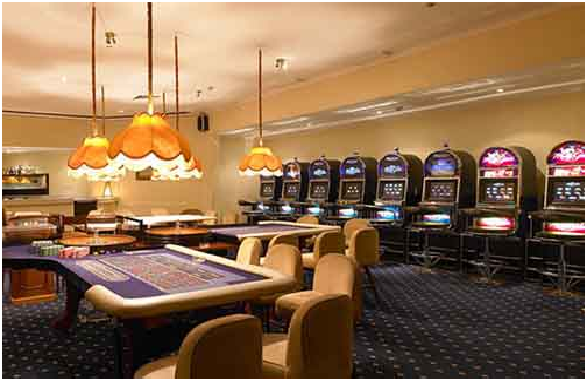 The Dunes Casino is the most luxurious casino and resort from the Zuri White Sands. You can enjoy lots of casino games full of rich experience right from roulette, black jack, baccarat, 3 cards Poker, mini flush rummy and others.  The complex of the casino is rich to pamper you with good food; drinks, pool game tables, video games, spa, beauty salon and even a gym for you to work out. In the midst of cool palm trees you can also enjoy a waterfall, swim up bar neatly decorated with wooden bridges and a kid pool too.
Chances Casino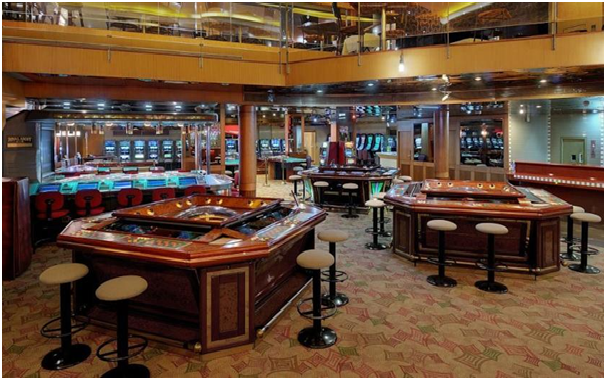 Chances Casino is one of the onshore casinos in Goa  situated in the serene Dona Paula near Panjim and is a part of chance resort. You can find wide range of casino games to play here like American Roulette, Commission free mini-baccarat along with electronic roulette, electronic black jack, slot machines and video slots. At the resort you can enjoy free dinner buffet specially for the players at the Chance Café. Also there are two more restaurant in the casino premise namely Gold Rush and Pan-Asian restaurant. Also you will be entertained through live music arranged by the resort from time to time. You can enjoy some of the best luxuries here like a spa and night parties.
Crown Casino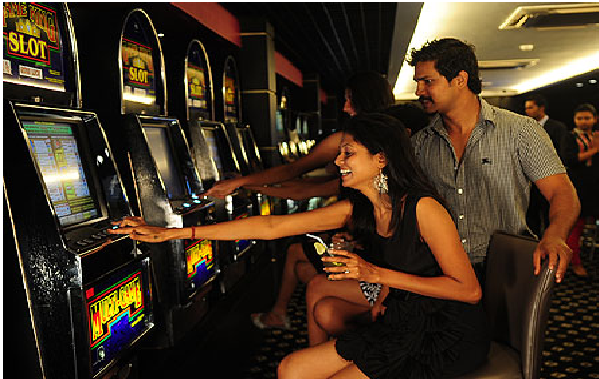 Crown Casino is the superb new casino in Goa. This casino is a part of the Crown Hotel in North Goa and the casino in this resort is  located on the first floor of this luxurious hotel which is a venture by SOL Entertainment Pvt Ltd.  The casino offers a wide range of games like Roulette, Black Jack, Three cards Poker and Ultimate Texas Hold'em together with Double Diamond, Lucky 7, Video Roulette, IGT Video Poker and Wheel of Fortune.
The interior of the casino is all of huge glass walls where you can enjoy a spectacular view of the Mandovi River too. Not only there are lots of games to enjoy at the casino but also relish some of the best of gourmet spread at the two exquisite restaurants of the hotel, Harbor Café and Hanging Garden. Also you can relax at the divine spa or swim at the resort pool and have fun.
Thus these real casinos at Goa offer great gaming as well fun and entertainment around the blue sea and make your trip to Goa a memorable one.