Mobile Casino India for Weddings and Parties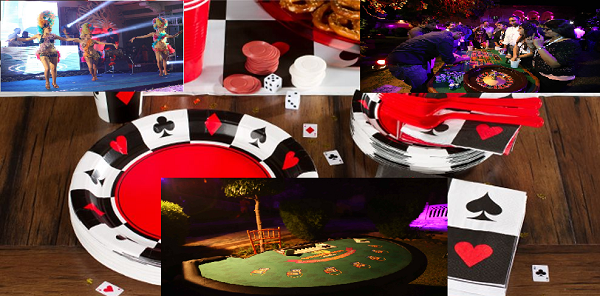 Indians love to have fun and entertainment and enjoy so many festivals all the year round.  Weddings in India is a full fledged event which lasts normally from minimum three to six days in each of Indian's culture and tradition. With pre- wedding enjoyment like engagement, tilak or goud bharai, sangeet, mehndi to post wedding reception party all the families gather to celebrate and enjoy.
Same goes for parties in India. Be it birthday party, retirement party, wedding anniversary party, new year party, Christmas party or just a get together Indians love to sing, dance and enjoy to the fullest. All the weddings and parties have now changed with time and are now in more organized form.
There are DJs to provide the music and the beats on the floor to dance, there are event organizers that create great theme based parties and weddings like recent being Pokemon theme parties. One of the most popular theme nowadays that people love to have and enjoy is Casino.
This gave rise to 'mobile casinos' or fun casinos that are arranged specially for weddings and parties in India. You can book such fun casinos and hire them to enjoy and have all the gaming experience and excitement as of a real casino along with the great celebration.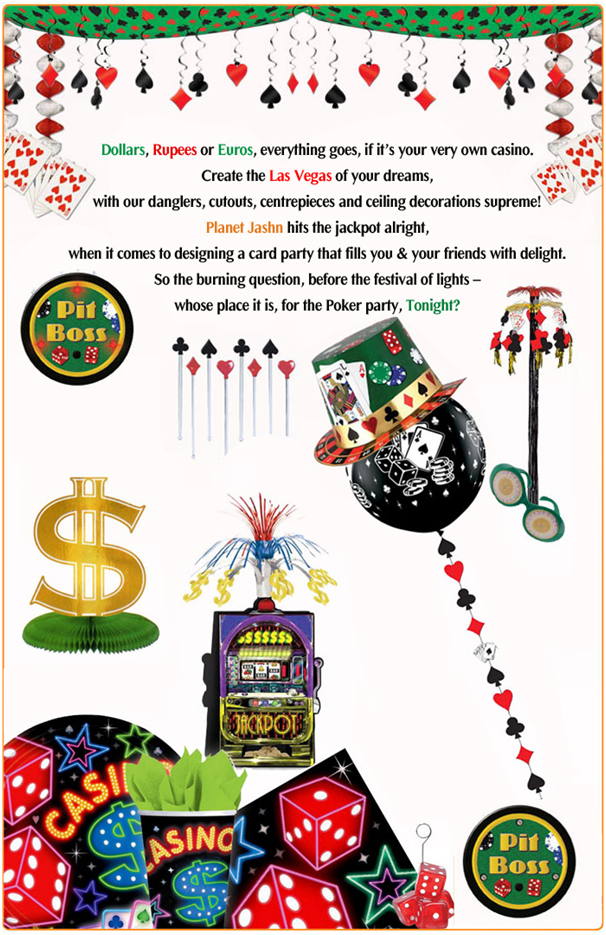 Real Indian Casino for Weddings and Parties
If you wish to enjoy your celebrations at some of the great real casinos in India then you need to book at the casinos in advance. Also if you are not in and around Mumbai, Goa or Sikkim then you need to make up to these destinations and need to book your flight or rail tickets to reach at these casinos. These casinos are great tourist places too to visit and enjoy the surroundings.
Though many wealthy Indian families hold wedding parties in Macau, the world's largest gaming destination, bringing affluent guests for the festivities and the gambling but now even casinos in India are center of attraction and are great party venues to have such celebrations.
You can enjoy at the Casino Royale Goa or Deltin Daman where here is as much action on the entertainment and dining floor as at the tables. Once inside the 24-hour casino, food and drinks are free, including for patrons who are not placing bets.
Remember at these real casinos you are allowed real gambling that means you can play with real money. Like minimum blackjack bets range from 200 to 5,000 rupees, with a maximum bet of 50,000 rupees. The top baccarat bet is 300,000 rupees. If you are new to the casino you will find dealers teaching to the newbie.
Such real casinos take care of your guests and  serve them with great food and drinks. Also they are given special casino type gifts like a box of poker chip shaped chocolate coins to take away. For kids the casino provides entertainment casino fun games just to enjoy and even plenty of toys.
If you kid is below 5 years the casino even has a creche where your kid is in safe hands playing and enjoying with other kids while you enjoy the party.
Mobile casinos for Weddings and parties
For those who cannot make up to the real world casino they can hire mobile casinos at their own destination. There are many event organisers where you can hire such mobile casino. You can book them online too. Some of the mobile casinos are listed below
Mobile casinos for Indians living abroad
 Evolves Wedding India having its presence in Facebook is another online mobile casino which you can hire anywhere in India. They provide great casino games and casino tables, poker, roulette, black jack, flash, along with professional dealers available at reasonable rates for you to enjoy.
There is other many local Indian wedding planners and event organizers that can provide you mobile casino for your parties or weddings which you can take full advantage and enjoy. Last but not the least, you can even plan to play some online games for fun at online Indian casinos and play with your friends at the party. Now enjoy!