What Are The Casino Solitaire Games To Play Online?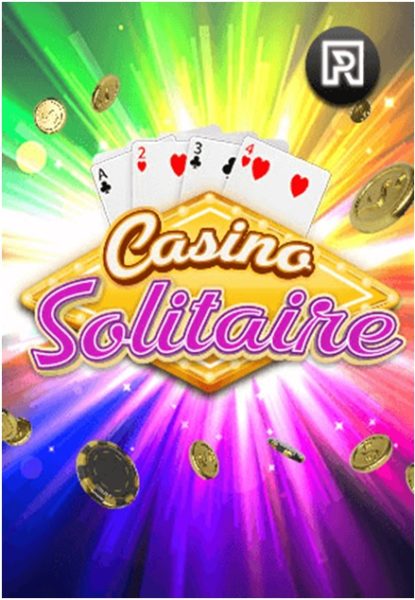 Casino Solitaire is the game of solitaire now available at online casinos to play. This table game is developed by Gamevy. The most played game in the world lets you win real money. Play Solitaire with your best strategy and win money for each card placed on the foundation pile.
Who invented solitaire card game?
Card solitaires originated toward the end of the 18th century, apparently in the Baltic region of Europe and possibly as a form of fortune-telling; whether or not a game "came out" supposedly indicated whether or not the player's desire would come true.
The game of Solitaire was invented by a French aristocrat during his imprisonment in the Bastille, or at least that is what some versions of the game's origin story claim, which would date it back to the first half of the 17th century, a time when King Louis XIV used the fortress to imprison nobles who were not related to him.
Solitaires are simple games that can be played anywhere and which allows one to kill the hours in solitude; hence its timeless popularity and long life.
Solitaire is a game you can play all by yourself—all you need is a deck of cards. And just as solitaire is a game for one, a single diamond in a ring is also a solitaire.
Another name for the solitaire card game is patience. There are variations on this game, but most involve sorting cards into suits by ranking numbers (king, queen, jack, ten, etc.). The Latin root at the heart of this lonely word is solitarius, "alone or isolated." Originally, a solitaire was a widow, and eventually the word came to mean any solitary person. In the 18th century, the "gemstone" and "card game" meanings evolved.
Types of Solitaire Games To Play
There are over 500 solitaire game variations in the world. The BVS collection, a collection of solitaire games, lists more than 400 of them, which isn't even the total number. If you decide to count those that don't use the standard deck of 52 cards, the number will be even higher.
BVS divides these games into general categories. As such, there are 10 FreeCell types, 27 Klondike Solitaires, 19 Spider Solitaire, and other popular and not-so-popular games. The popular Solitaire games to play are as follows:
1. Klondike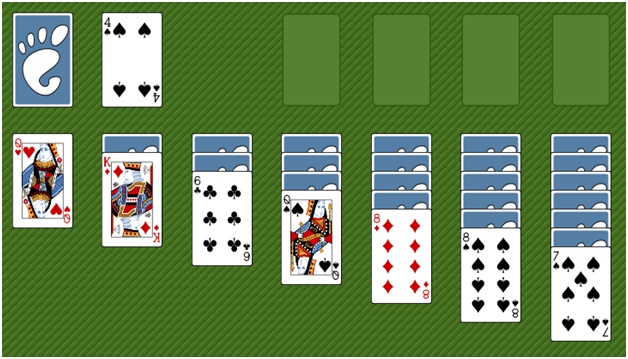 Klondike is the most common solitaire variant played with people around the world. Its popularity started after the gold rush that took place in Klondike, Canada. This patience game has several variations, such as the Tarot version that is played with 78 cards.
Klondike features seven columns where individuals deal cards with one facing up, which is usually the last card. Cards in a column should be the number of that column. For instance, column seven should have seven cards, six face downs, and one facing up. Players aim at building four piles with cards starting from Ace to King.
2. Spider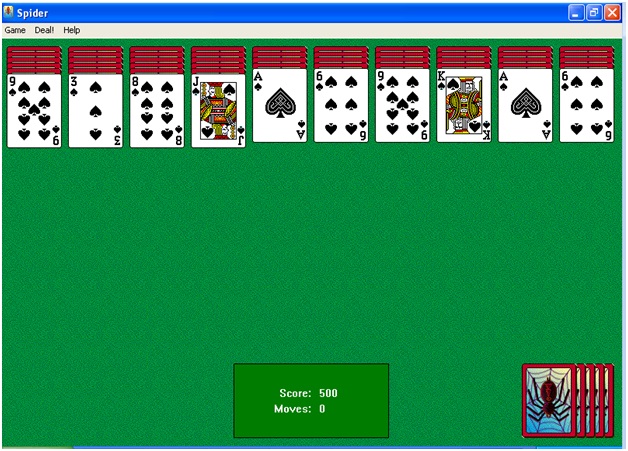 Spider Solitaire was made popular in 1995 by Windows. It's an addictive solitaire suitable for all solitaire enthusiasts regardless of their age. Players are given a lot of freedom here as they can decide the number of decks to include in the hardest level. You can complete a deck of Spider Solitaire within minutes, but more decks need more time to complete. However, note that most games only have two decks, which is the standard number.
The game also has several variations, which all depend on how many decks a player uses and its layout when starting this game. Variants include Open Spider, Wasp, Black Widow, Scorpion Solitaire, Spiderette, etc.
3. FreeCell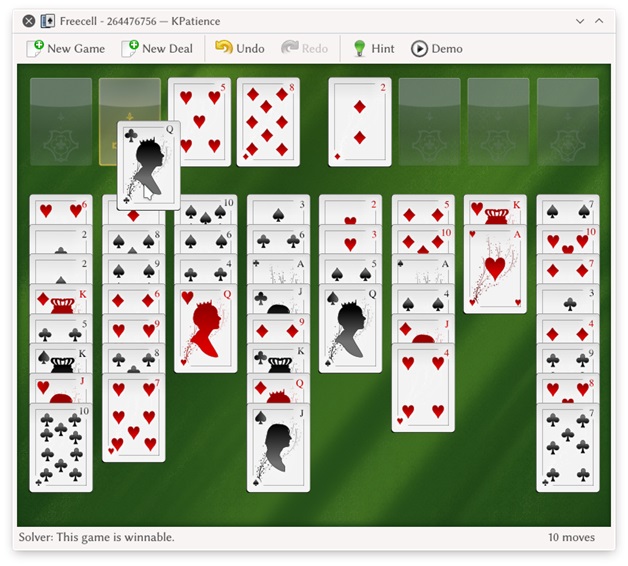 It is very different from other solitaire versions. Players deal with face-up cards in this game and are given free cells to store their reserve cards. FreeCell has the highest winnability rate. If you play your cards right, you'll find yourself winning most of the games. In fact, the chances of encountering an unsolvable game are 8/1000000. Yet other games have a rough estimate of 10-30%.
Like Spider Solitaire, this game was also made popular by Windows when it was introduced as a free entertainment game to Windows users. Types of FreeCell games include Baker's Game, Baker's Big FreeCell, etc.
4. Tri-Peaks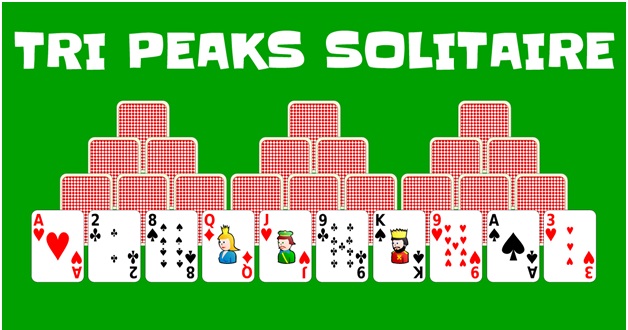 Tri-Peaks Solitaire features a unique card layout, consisting of 3 overlapping triangles with face-down cards and one row that has all cards facing up at the bottom. It was invented in 1989 by Robert Hogue, who proved that 90% of these games are winnable.
However, this game isn't included in the free entertainment package for windows. Instead, Microsoft includes it among its four subsequent packs, along with Fuji Golf, TicTactics, and WordZap. It's why it is not popular like the four we've reviewed above. Nevertheless, it has a solid place among solitaire enthusiasts.
How to play Casino Solitaire?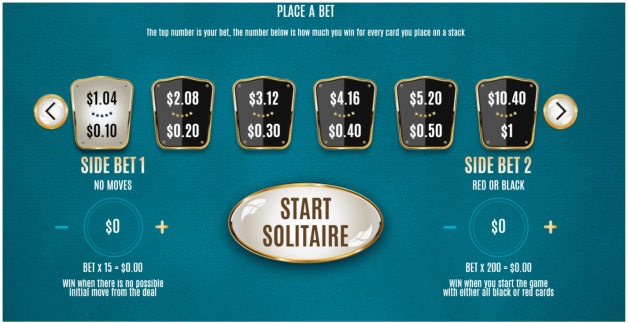 Casino Solitaire can be played at online casinos. This card game can be played with real money.
Join any friendly online casino to play this game.
The minimum bet is $1.04
The maximum bet is $52
As always, when it comes to Solitaire, there are seven columns of cards, which come from a standard deck of 52. Cards are shuffled at random and then dealt one at a time along the seven columns.
The first card out of the pack on the first column is dealt face up, and then the next six cards dealt face down from column 2 – 7. Once the cards need to start being dealt from the left again, they start from the next column after the first one dealt, with the first card always dealt face up and the following ones face down.
The remaining cards that don't get dealt into the table are kept back in a pile facing down to be dealt to see if they can be added to a column. You'll know if they can be added to a column because they are the same suit and one lower in value than one of the last cards on the seven columns.
Four empty spaces lie above the columns, and this is where suits need to end up eventually. Once you get an ace, it needs to be placed in one of these empty spaces. Once the 2 of the same suit appears, it gets placed on the ace. Then the 3 and so on, until you've filled the space with an entire suit. The game ends when all suit spaces are completely filled.
Game rules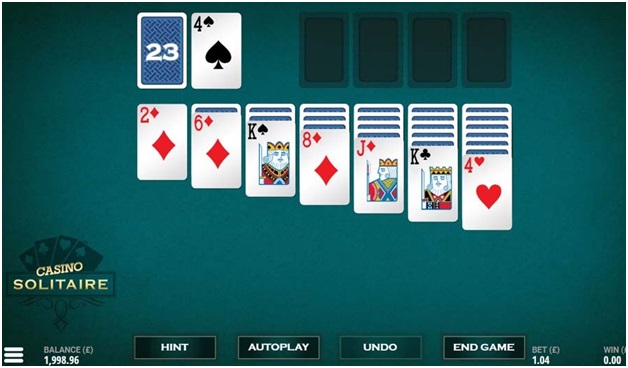 The rules of the game are same as normal solitaire rules. Casino Solitaire is played with a single deck containing 52 cards. The objectives is to stack the whole deck in 4 equal columns with the cards being ordered from Ace to King and of the same symbol. The game ends when you have reached the objective or when you press on the end game button. The sidebet 1 in the game will pay 15X if applied to the side bet and if you start a game that has no available moves. The sidebet 2 will pay 200x when applied to the side bet and if you start a game with all the starting cards having the same color red or black.
To play the game you can move any Aces to the suit stacks and build up any cards in the same suit in ascending order. Cards can also be stacked in the play stacks as long as they are in descending order and form an alternating color pattern example red, black, red.
FAQs
Q1. What is the game RTP?
Casino Solitaire Return To Player (RTP) is 96.80%.The expected return is the amount casino pay out to players relative to the amount of wagering on the game. In Casino Solitaire, this is based on the assumption that you choose the optimal strategy for each card.
Q2. Is real time betting involved in this game?
Yes real time betting is involved in this game. The way it works is that you choose your bet amount, and attempt to get cards out of the columns and dealing pile into the suit spaces. The betting screen will tell you how much you'll win based on what card you manage to get onto the suit spaces.
Q3. Are there any side bets in this game?
Yes there is a side bet in this game. You can bet on there being no possible move, meaning that you can't move a card from the dealing pile to the columns or suit areas for 15x your bet.
You can also bet that either a red or black card will be dealt for 200x your bet.
Q4. Where to play casino solitaire?
You can play casino solitaire at online casinos. You can play for free or with real money. Also there are many free solitaire apps to play this card game on mobile.