Three wonderful deals that will help promote gaming in India to the next level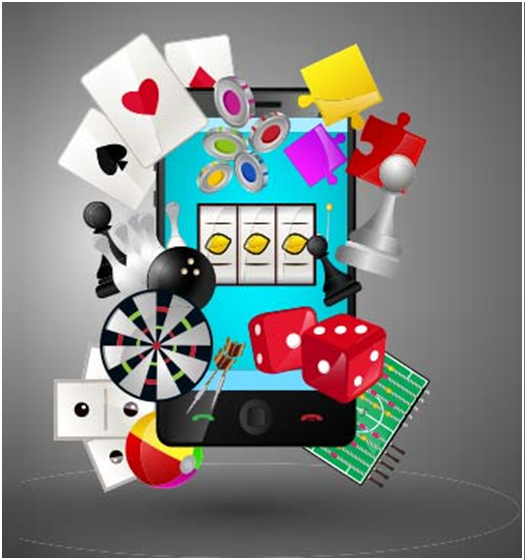 Indian Gaming Industry is fast moving forward with upcoming online gambling sites, new payment modes for Indians to fund their online casino account to play slots, poker and rummy as well as new games to enjoy. Recently there were three wonderful deals in Indian gaming news that will surely promote gaming in India.
The first deal made way to a new payment gateway for India Punters when 11wickets signed payment gateway deal with Amazon Pay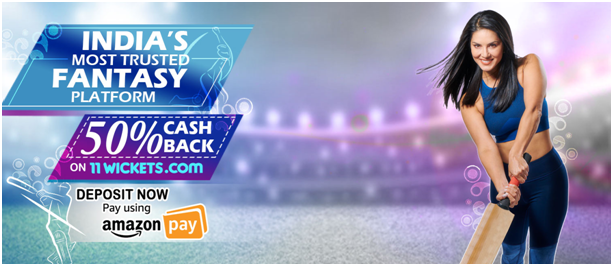 Kolkata headquartered gaming company Ability Games Pvt. Ltd., which operates poker and fantasy sports websites  signed an agreement last month with payment services provider Amazon Pay for its fantasy sports portal 11wickets.
11wickets which is a new  fantasy sports portal, boasts of having actress Sunny Leone as its brand ambassador and claims to have garnered a database of 10 lakh registered users so far. The website is also a title sponsor of Team Nangarhar Leopards of the Afghanistan Premier League and an associate sponsor of South Africa's Mzansi Super League.
According to news sources this deal will help the audience enjoy skill-based games and earn cash back at the same time. This association will improve awareness in online games. 11wickets.com aims to be part of this evolution by providing a modern twist to traditional games.
As part of an introductory offer, 11wickets is offering a 50% cashback to users depositing through Amazon Pay on its website or mobile app. Apart from 11wickets, Ability Games operates online poker website PokerLion and will be soon launching its rummy brand, Rummy24.
The second deal is by Dream11 that became official fantasy game partner of Australian Big Bash league and now 129 cricket matches scheduled by the cricket league.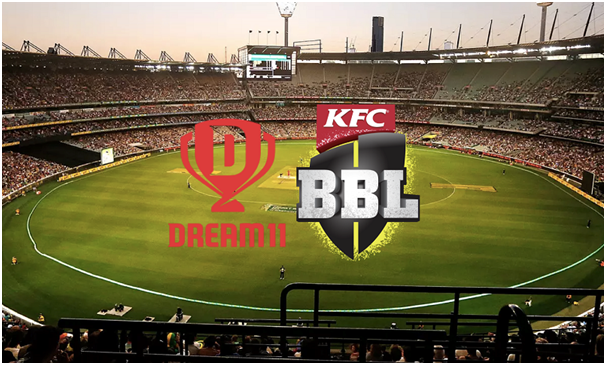 Dream11, signed a three-year partnership agreement with and KFC Big Bash League (BBL), the Australian professional Twenty20 league established in 2011 by Cricket Australia.
According to the arrangement, Dream11 is now the 'Official Game Partner' of Women BBL and BBL for three years till 2021. There are 129 cricket matches scheduled by the cricket league during this time period. The partnership kick-started with Women BBL matches.
Cricket fans can select their Fantasy cricket teams through Dream11 during KFC BBL and WBBL matches. The scores of each player in users' fantasy teams will go in line with players' on-field performances, and accordingly users' fantasy teams will win or lose.
Note that there are over 800 million cricket fans and 50 million fantasy cricket users and India has become the largest fantasy sports market in the world. Also Dream11 signed a five-year exclusive partnership with the International Cricket Council (ICC) till 2023. As part of the deal, Dream11 will develop and operate fantasy league games for all ICC global events including T20 matches, World Cup and test matches. Dream11 also signed a four-year partnership with The International Hockey Federation (FIH) from 2019-2022 to operate fantasy games for FIH Pro League (2019-22), FIH Series Finals (2019 and 2021), Olympic Qualifiers Men & Women (2019), Junior World Cups Men and Women (2021) and World Cups Men and Women (2022).
Digital gaming is on the rise and the third deal is made by Viaan Industries who owned Game of Dot signs strategic distribution agreement with Chandigarh-based firm.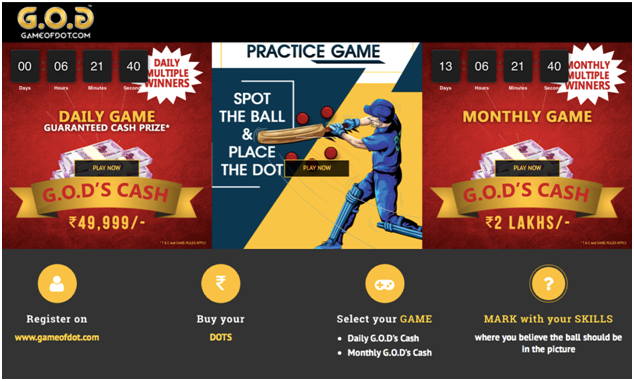 This strategic distribution deal with Chandigarh based B Square Global Inc Pvt. Ltd.  is represented by entrepreneurs Kunal Bhandari and Girish Bhayana, who have diversified interests and business portfolios.
Game of Dot  (GOD) is a digital game where you have to spot the ball in a digital picture. This easy-to-play 'spot the ball' game was launched by Viaan Industries about eight months ago, and as per the company's claim, the game has grown organically since its launch.
The game, which involves judging the position of the cricket ball in a picture within 60 seconds, has been played offline for decades, and has now been digitised and monetised by Viaan Industries. In this  digitised old school game, has the game-of-skill element that use cricket pictures in the game, with live judging. The platform will launch hockey and football spot the ball games in future.  This strategic distribution deal will help expand their touch points for the game to over 3000 locations over North India.
For more gaming news stay tuned here.