Quizistan App now offers new features for Indian punters to play Quiz and win unlimited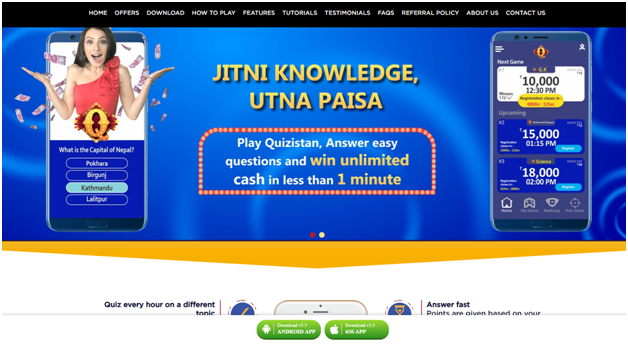 Quizistan is a live Quiz/Trivia game app for Indians to play and win real cash prizes. You can play every minute and get a chance to win prizes. The game is hosted live through their advanced servers. The game does not involve any type of live video streaming. You can win real money by answering questions. Points will be given based on how quickly you answer the questions and your rank will depend on your score.
Lately, "Quizistan" announced its new feature where players are allowed to play against each other 24*7 for real money. The feature is called "Challenge a friend" or "Challenge a Random Person". You can enter your friend's username and send him a challenge. If you don't have any friends online on Quizistan, you can send the challenge to a random person. You can challenge any amount ranging from Rs. 5 to Rs. 5,000, where 4 questions are asked and whoever gets more points wins the challenge and has an option to immediately withdraw the money to his/her Paytm account.
Features of the Quiz App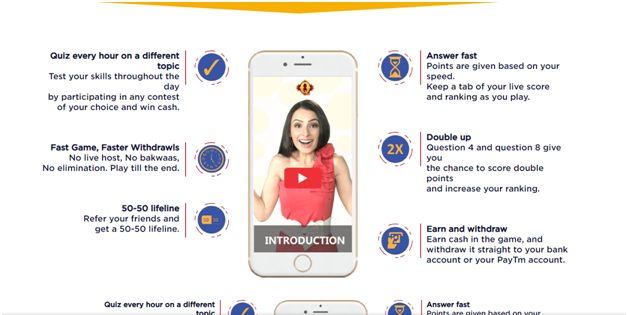 Though there are wonderful features of the Quiz App, the best ones are that you get to play a quiz every 5 minutes on your favorite topic. Participate in the quiz of your choice and win cash prizes. You have to answer the questions asked. This is a fast play-through without any host, streaming or elimination. Play until the end.  The 4th and 8th question in each quiz offers you a chance to double your score. You will get a 50-50 lifeline in each quiz and you can earn more by referring the game to your friends. Points and cash prizes are given as per your speed to be fast. Your live ranking and scores are shown to you with each progress and at the end of the quiz. You can directly transfer the winnings to your bank account and withdraw it any time you want.
How to play the quiz with Quizistan App?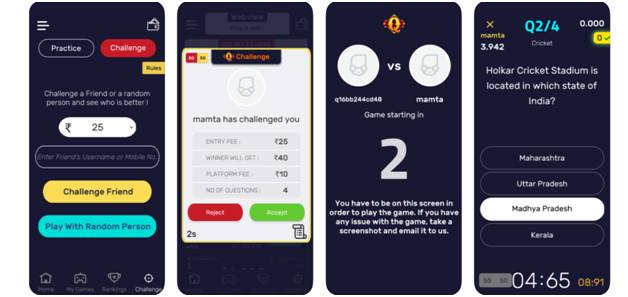 You can play to play quiz with Quizistan App with your mobile be it Android or iPhone. This means you need to download this quiz app first on your mobile.
You can see the game schedule on the home screen. Push the 'Register' button and choose a quiz.
If you have not added money to your 'Quizistan Wallet', you can do that at the time of playing as well.
Now, push the 'Join' button and you are good to go.
Once the quiz is started, you will get points for each question.
You can see your live rank and score after every 2 questions.
Your final rank would be given at the end of the quiz
The new feature requires Team Quizistan to have a large pool of questions. They claim to have more than 3,00,000 questions of their own and have an in-house team that curate more than 50,000 questions each month.
Live Quizistan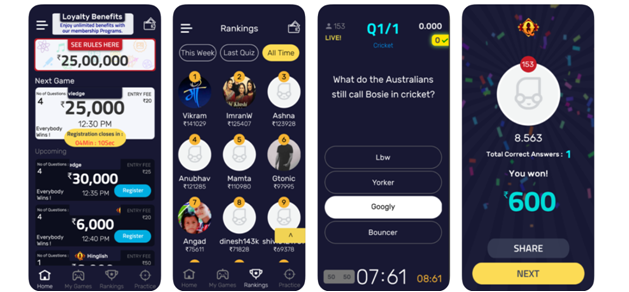 More than 1,000 live tournaments are hosted each day in a gap of one minute which gives users the chance to play at any point of time. The entry fee of the games range from Rs.10 to Rs.10,000. On an average each daily active user plays around 4-5 games a day.
The live tournaments that are currently held on Quizistan are easy to play. You open the application, chose the tournament of your choice, pay an entry fee and get ready for the question to be asked. You answer correctly and you win money. You get an option to immediately withdraw to your Paytm account or you could place a request to withdraw your winnings in your personal bank account.
The number of questions asked on live tournaments on Quizistan range from 1 to 8 and the tournaments are on different topics ranging from Maths, Cricket, Jumbled words, Bollywood, etc covering more than 150 topics.
About Quizistan
Play Quizistan Quiz Game & Win Cash Prizes Every Hour !!
Download Quizistan android version from our website: https://t.co/DH3LScS4Rq. All apple users can download it from the Appstore.#QuizistanGame #QuizistanApp #Trivia #Game #Prizes #Quiz #ipl2019 #cricketquiz #iplquiz pic.twitter.com/XxKibux3Xt

— Quizistan (@QuizistanLive) May 4, 2019
Quizistan which is a product of Inquizitive Games Private Limited is a real money trivia platform which was launched in September 2018 and has since gathered more than 7,00,000 downloads. Quizistan currently has approx 75,000 to 80,000 monthly active users.
According to founder of this app former ISB Hyderabad Graduate and co-founder of Quizistan, Harshdeep Sethi, the reason for the success of any real money game is cost of customer acquisition, revenue generated and customer retention. He added that their biggest achievement in the past 14 months is that they have formed a passionate team and have got the perfect combination of Acquisition, Revenue and Retention. Launching the "challenge a friend" feature would increase their retention and revenue by multiple folds. Many exciting new features coming up as well example a "Quiz Poker" which you can stay tuned to play and win. Click here to know more about Quizistan.