Prakash Raja won the championship of Indian Rummy Challenge 2018 at Deltin Royale Goa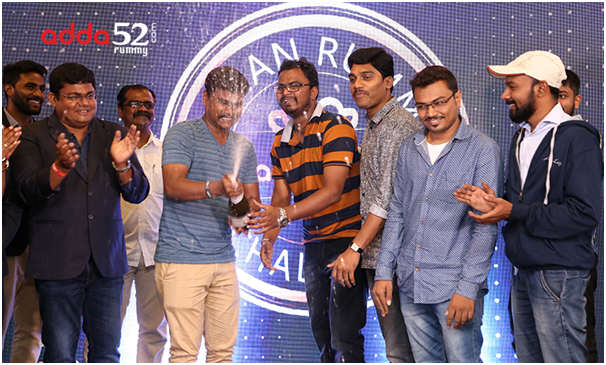 This month Adda52 Rummy hosted a live Rummy Tournament called the Indian Rummy Challenge 2018. The finals of the rummy tourney took place on 14th and 15th July at the Deltin Royale Casino- a luxurious floating cruise casino in Goa. After weeks of online qualifiers, the 130 finalists flew down to Goa from different parts of the country to play the live finale. The tournament had a massive prize pool of INR 25 lakh and a total of four rounds were played over 2 days before the final 6 players contested the final table.
Finally it was Prakash Raja who walked away with the biggest prize of all – INR 15 lakh. He won this along with the champion's trophy and it was only these final 6 players who shared the INR 25 lakh prize pool. Here's a look at the final pay-outs of IRC 2018:
Prakash Raja – INR 15 lakh
Yandluri Sreenivasulu – INR 5 lakh
Madhu Sudana – INR 2 lakh
Raghav Nisana Siddalinga – INR 1.5 lakh
Siva Sankar Medida – INR 1 lakh
Arun Kumar Davendra Gohil – INR 50,000
The selection of the players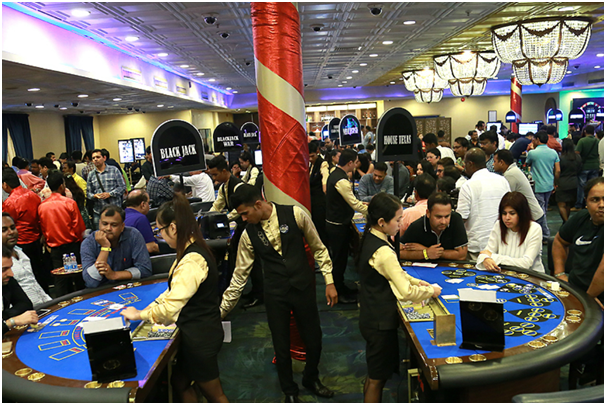 The July edition of IRC was promised to be bigger than ever as this spectacular event was certainly more successful than all the previous editions as it drew in a record-breaking 130 entries from all over India. The field was comprised of players from all walks of life including professional and non-professional players who participated in this grand event to win their share from Rs. 25 Lac prize pool.
The tournament is organized by India's leading online rummy website – Adda52 Rummy, owned by Gaussian Networks Pvt. Ltd.
The Main Event participants were selected through Indian Rummy Challenge satellites. Adda52 Rummy hosted multiple daily satellite tournaments for its users. The top finishers then participated in the online Daily Qualifier tournament and the winners received the ticket to IRC Main Event.
As an alternative, the website also provided the option to take a direct entry to the Daily Qualifier tournament with Rs. 2500 entry fee for the users.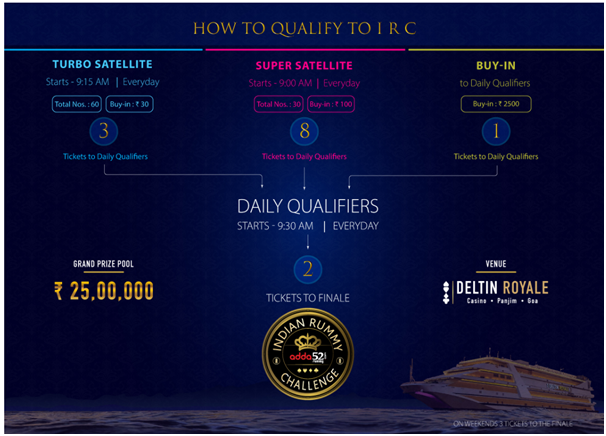 After four rounds of relentless battle, six players managed to reach the final table of the Main Event. Everyone played their best game but it was Prakash Raja whose persistence and patience finally paid off and he managed to outlast all the fellow participants.
As per Binand Sethumadhavan, the Chief Operating Officer of Adda52 Rummy, "We received an overwhelming response from the rummy community across India for conducting Indian rummy challenge. All I tell my online players at Adda52 Rummy, is there is a lot more to come keep playing, keep winning."
This was said to be India's biggest live rummy tournament and online satellites to this mega 13-card format tournament began at just INR 30! After a success of this tournament, Adda52 may consider hosting such live rummy tournaments more often at the Deltin Royale.
About Adda52 Rummy
Adda52 Rummy is an exciting rummy online site that offers rummy cash games and tournaments, and hosts satellites and qualifier tournaments for major live rummy events where players can participate with minimal buy-in and win an enormous variety of prizes.
Adda52rummy offers 13 Card and 21 Card rummy formats exclusively for Indian rummy players. They have been pioneer in introducing 21 Card rummy format for the first time in India. Adda52rummy has been certified from iTech labs for fair game play and random number generator (RNG).
The site also allows gamers to choose from various safe and secure payout options and follows ethical gaming practices within legal framework of Indian Law.  Adda52 Rummy App is also available which one can download on their smartphones to play rummy games anytime and anywhere.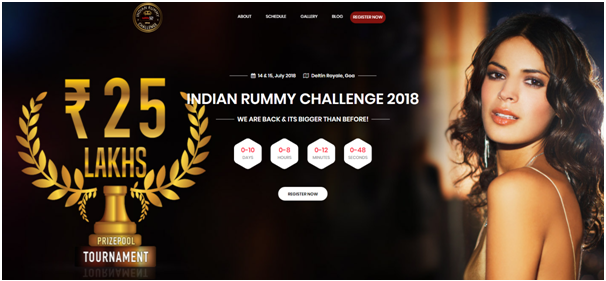 Indian Rummy Challenge has established itself as one of India's most prestigious offline rummy tournaments. What makes IRC so special is that it provides rummy fanatics the opportunity to pit their skills against some of the country's best rummy players. It is one-of-a-kind tournament which offers a mammoth guaranteed prize pool along with the chance to play rummy at India's largest offshore casino-Deltin Royale in Goa.
IRC's last edition was held in December 2017 aboard Deltin Royale where Mr. Vikesh Divakaran bagged the first prize worth Rs. 10 Lac and second prize of Rs5 lac was won by Mr. Rajasekhara Reddy.