Leo Vegas Chambre Separee and Game Shows in INR to play and win

Leo Vegas is best Indian online casino when it comes to live dealer games. These live games start as low as Rs 10 and can be staked as high as Rs1000 or even more.

The games are categorized into 6 live sections: Popular, Chambre Separee, Roulette Online, Blackjack Online, Game Shows and Baccarat online.
Popular Live section offers 42 games
Chambre Separee 15 live games
Roulette Online- 51 live games
Blackjack Online- 35 live games
Game Shows- 12 games
Baccarat online- 15 games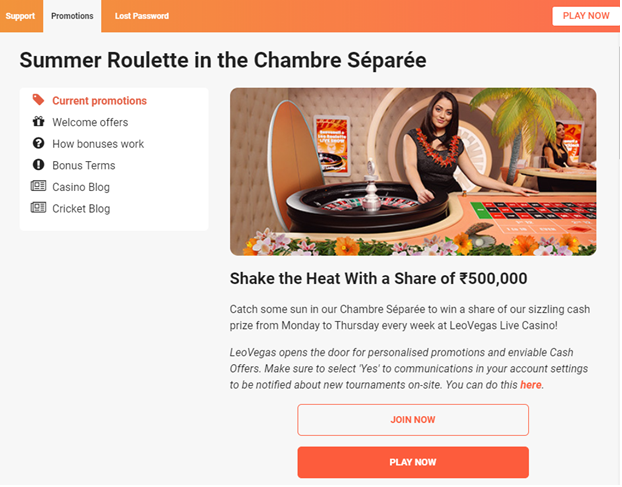 Leo Vegas online casino if offering currently an awesome live game Summer Roulette in their exclusive live casino Chambre Séparée, where a total of ₹500,000 was up for grabs, recently playing summer roulette.
To have a chance at the big pile of rupees, you'll want to play either LeoVegas Live Roulette or Leo Roulette Show between 20:00 and 23:59 on Mondays, Tuesdays, Wednesdays, and Thursdays at this online casino.
Every ₹100 won on the games after your wager amount has been deducted, counts as one point to the leaderboard.
Just to be clear, there's one tournament every day.
In other words, you have the chance to take home four huge cash prizes!
The daily cash prizes
1st place: ₹40,000
2nd place: ₹10,000
3rd place: ₹5,000
4th place: ₹5,000
5th place: ₹2,500
LeoVegas Live Roulette
The flagship roulette table at the LeoVegas online casino is the LeoVegas Live Roulette table.
Tailor-made for the site and exclusive for LeoVegas-players, this table delivers high-quality roulette entertainment.
The table uses a classic European roulette wheel and has bet limits from ₹50 to ₹500,000.
Leo Roulette Show
The Leo Roulette Show table is a unique take on roulette, where one dealer and one co-host host the table.
The dealers will speak Italian, and the focus of the table is to offer great entertainment in addition to that of a regular European roulette table.
The table offers the same bet limits as the standard roulette table, ₹50 – ₹500,000.
Points are calculated on net winnings, and the player's currency is converted into euro before points are calculated. Only gameplay on LeoVegas Live Roulette and Leo Roulette Show qualifies for this promotion.
There are various other games to play and win even if this promotion ends soon.
Chambre Séparée, meaning private room or room apart in French, is LeoVegas' own bespoke live casino studio filled with exclusive tables and extraordinary promotions. LeoVegas' pairing with Evolution Gaming's studios in Latvia, brings HD live table games to players' mobile displays every time. Professional live dealers, unique promotions and tables to suit every desire await inside.
Chambre Séparée live games include:
LeoVegas Live Roulette
LeoVegas Blackjack (3 tables)
Celebrity Party Blackjack
Dansk Celebrity Party Blackjack
The Chambre Séparée premium area hosts:
LeoVegas VIP Blackjack
Silent Blackjack
Because of Chambre Séparée, an exclusive studio environment dedicated to their live casino enthusiasts. Over here, you will find unique concept tables ranging from roulette, blackjack, casino card games and more! Note that Chambre Séparée is only available to LeoVegas players meaning that you cannot find the same games in any other live casino! Sign up today with a Welcome Bonus giving you up to ₹80,000 to treat yourself to real luxury in Chambre Séparée.
Game Shows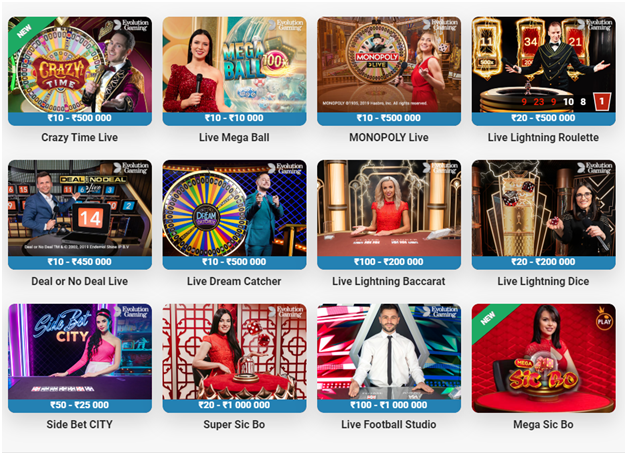 Leo Vegas offers live Game shows which are simply amazing. Step up to the hot seat and start playing the games. Take part in the following Games Shows:
Crazy Time Live
Live Mega Ball
Monopoly Live
Live Lightning Roulette
Deal or No Deal
Live Dream Catcher
Live Lightning Baccarat
Live Lightning Dice
Side Bet City
Super Sic Bo
Live Football Studio
Mega Sic Bo.
All the Game Shows start from as low as Rs 10- Rs 10,0000
Click here to join the casino now and experience the live casino even on your mobile with real rupees to play and win.
As a new player there are various bonus offers.  Depending on the amount of your 1st online casino bonus, you will receive a bonus amount in the 'My Offers' section, which will become available to you once you wager the offer amount.

Example 1: You make a ₹1,000 deposit and get an extra ₹1,000 once you've wagered the offer.
Example 2: You're depositing ₹5,000 which gives you an extra ₹5,000 once wagering is complete.
As you get a feel for which games you like and find your favourites, this is when your second deposit offer comes in handy! Casino offers up to ₹20,000 extra, which is great to play with! You have full control of the amount of the mobile casino bonus you will receive, so it is all up to you.

Third time's the charm as you reach your final step in their welcome offer. For the last casino bonus on deposit, once again you have the chance to reach up to the fantastic amount of ₹40,000!

The casino welcome offer gives you the chance to enjoy a large selection of casino table games, where you are guaranteed to find something suited to your taste! Whether you're ready to play a few hands at poker or blackjack, place your bets on your favourite numbers on the roulette wheel or give the slot machine reels a spin, casino bonus makes it easier for you to experience them all.