How To Play Mega Ball At Online Casinos?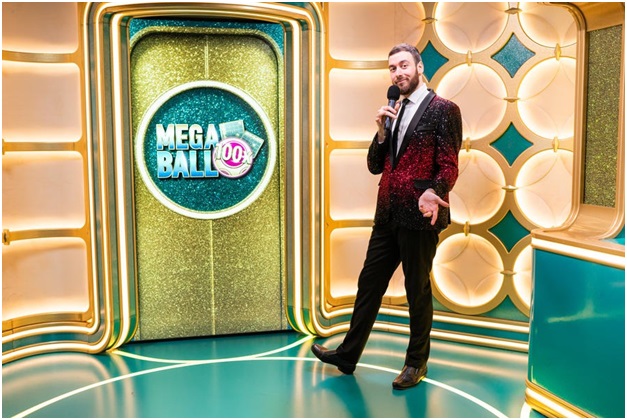 Mega Ball is an awesome and fun game to play at live casino online in India. Mega Ball launched by Evolution gaming software which brings you this live game show right on your gaming device be it PC or mobile smartphone or tablet. Mega Ball is ball-hopping game keno to you in a portable and action-packed format. This live dealer experience has the chance of paying out up to 10,00,000x your bet in winnings!
How To Play Mega Ball At Online Casinos?
To play Mega Ball at online casino join any Indian friendly online casino that offers live games. The best Indian live casinos are:
And others
Now register yourself and make a real money deposit at the online casino cashier.
Now grab the bonus and head to live casino
Find Mega Ball game show and tap or click to play.
Mega Ball is really easy; there are no special skills needed to enjoy this game. Similar to lotto, bingo, and keno game, in Mega Ball, you'll purchase playing cards with a random set of numbers.
The goal is to line up as many numbers on the card with the numbered balls as possible. More filled lines mean higher winnings!
Now Set your card value and purchase one or more cards. Activate up to 200 cards per game round!
Watch as the 20 balls are drawn, their numbers being marked off on your card(s).
Next watch as the Mega Ball multiplier of up to 100x is generated.
Now see what you've won!
In Live Mega Ball, dealers are known as game presenters and are guiding you through each game round in a fun and exciting way.
The Rules To Play Mega Ball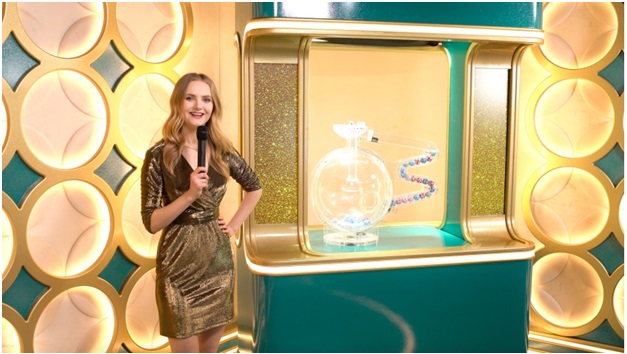 The rules of Mega Ball are few, and only takes you a few seconds to learn!
Cards are valued from ₹10 to ₹10,000.
Purchase one card or more to participate in the draw.
For a win to occur, one or more of your cards will have to show a full line of drawn numbers. Lines can occur horizontally, vertically, or diagonally.
It's possible to land several winning lines on the same card.
The Mega Ball multiplier is added to a randomly selected ball. If the Mega Ball matches the number included in one of your winning lines, that line is multiplied.
Each card purchased is considered a "bet" in Mega Ball. This means that you can place up to 200 bets per game round.
Payouts are determined by the number of filled lines on your cards and the possibility of one or two Mega Balls being drawn. Payouts per round are capped at ₹5,00,00,000.
| | |
| --- | --- |
| Number of lines | Payout range |
| One | 1-99:1 |
| Two | 4-499:1 |
| Three | 49-4,999:1 |
| Four | 249-24,999:1 |
| Five | 999-99,999:1 |
| Six or more | 9,999-9,99,999:1 |
This game of Mega Ball has an RTP that ranges from 95.05% to 95.40%.
Mega Ball- Game Play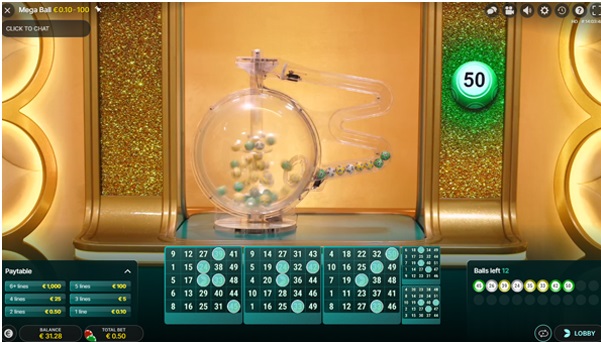 Before the bingo machine starts drawing numbers, you need to buy Mega Ball cards first. You can set the value of the cards and buy up to 200 of them at once. The value of cards ranges from €0.10 to €100.
Once the drawing starts, 20 out of 51 balls are quickly drawn from the machine. If any number matches the one you have on your cards, it will instantly be highlighted and when a winning line forms, your winnings per card will be updated and displayed on the screen. Also, you will see the card closest to winning displayed at the top.
After all 20 balls get drawn, a random multiplier ranging from 5x to 100x will be generated and an additional ball will be drawn — the Mega Ball. If the Mega Ball number is among your winning lines, the payout will be multiplied by the previously indicated multiplier.
Mega Ball Game Features
This game has Fast-paced draws
An incredible 1,000,000x multiplier
The game covers Bingo-style mechanics
Live chat available in this game to interact
You can use Autoplay feature
Also get set large betting range
You can get Up to 200 cards that can be purchased for a single draw
The maximum prize pot you can win is €500,000 or a corresponding sum in another currency.
As is the case with all live casino games by Evolution Gaming, Mega Ball, too, is streamed live and in HD quality. Camera angles shift from a wider frame to the close-up of the drawing machine to monitor all balls being drawn. You will see neither standard nor slow-motion replays as the game's live action is happening quickly and there is no time to waste. Mega Ball's dealers communicate in English, but Evolution Gaming is known for offering a wide choice of languages when their live casino games are concerned, so further language options might become available.
Most Android and iOS mobile and tablet devices will run this game without issues from browser websites and app casinos in India.