Diwali at Poker Lion has best of Dhamaka offers this month of November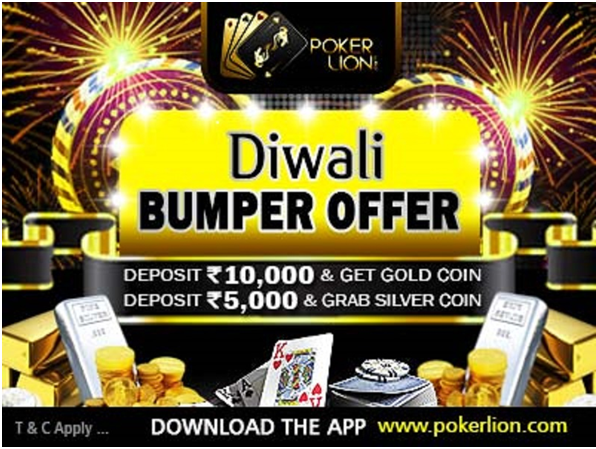 Most of you are celebrating Diwali today. Gambling at Diwali is one of the things that people do in various parts of India specially on Dhanteras day where punters believe it to be a day of wealth and fortune. This celebration of wealth and prosperity occurs two days before the festival of lights.
The tradition of gambling on Diwali also has a legend behind it. It is believed that on this day, Goddess Parvati played dice with her husband Lord Shiva.  She decreed that whosoever gambled on Diwali night would prosper throughout the ensuing year. Whether it is true or not but Indians have made gambling for fun and for real money on Diwali. Also Diwali lottery bumper tickets are sold on the legal gambling states of India. Same goes for online casinos and online poker and gambling sites that are offering special Diwali Bonuses and play tournaments for Indians to enjoy and win cash prizes.
Click here to find the diwali bonus at online casinos
Click here to find about Indian lotteries and how to win.
Poker Lion one of the popular online poker sites is offering best of Dhamaka offers this month of November.
As Tash, poker and other card games like rummy are quite popular in Diwali hoping that Goddess Lakshmi will bring home gold and silver coins, Poker Lion has so many promotions this month to celebrate Diwali with full enthusiasm.
Start collecting Gold Coins at Poker Lion
The offer will start with you depositing Rs. 10,000 or Rs. 5,000 and playing a raked hand every day for the next 30 days. In this new offer, the users maintaining Rs. 10,000 or Rs. 5,000 as minimum balance in their PokerLion account and playing one raked hand will get a gold and silver coin respectively at the end of the time period. So, whenever your Night Party or Diwali Party gets over, just make way to PokerLion online site and play to get hold of this unique offer this month.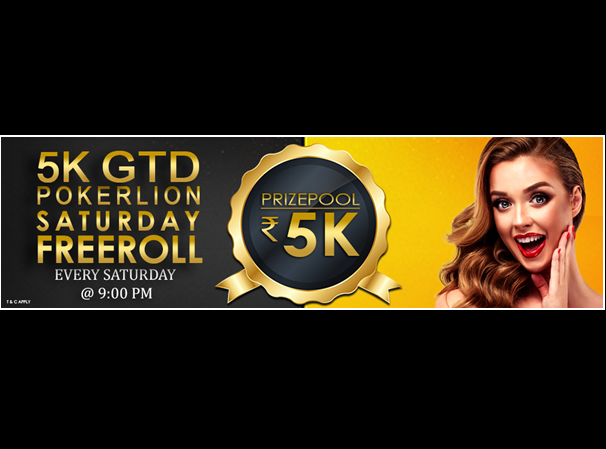 If that's not enough of the poker action, poker players can also multiply their Diwali earnings by participating in various Freeroll Tournament offering higher prizepool. So, all the registered players – new and existing need to buckle up and play poker online every day to win gold and silver coins and make their festival month ever more blessed.
Top Three Depositors get Instant Bonus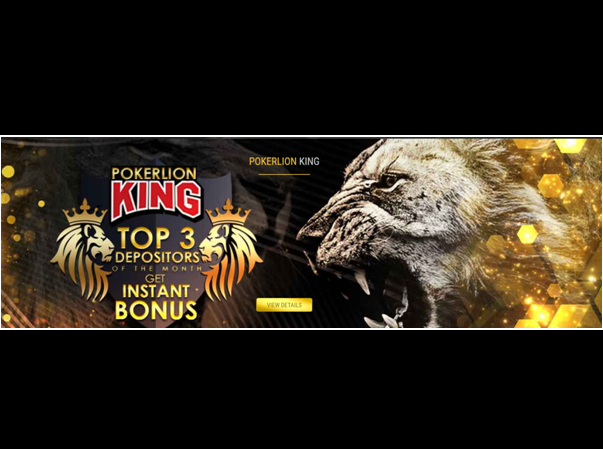 At poker lion you make a deposit & get instant bonus of Rs. 5000.
At first position grab 2500
On second grab 1500
Third position fetches you 1000
The bonus is a one-time Bonus and will be an Instant bonus which will get converted into cash balance as and when adequate game play is made. This offer is valid till 30th November 2018.
Click here to join the Poker Lion Now
You can play with Poker lion app on your mobile or play on your PC or tablet.
Register yourself by clicking on Join Now or Sign Up on the home page
Make an initial deposit of Rs 100 or more. The minimal purchase for Fixed Limit tables is ten times the little wager (the wager on the initial two wagering rounds). For instance, on a ₹10/₹ 20 tables, the base purchase in would be ₹100. For No Limit and Pot Limit poker delights, PokerLion offers distinctive purchase in sums for various tables. Standard tables have a most extreme purchase in of 100 major blinds and a base purchase in of 20, 30, or 40 major blinds. The tables marked 'Short' and 'Top' permit purchase ins of in the vicinity of 20 and 50 major blinds. 'Profound' tables offer an upfront investment scope of 100-250 major blinds.
Once you are done with the deposits and have verified your account you are ready to play. In case you find any difficulty you can contact their help support at email info@pokerlion.com or call +91 704-445-5551 or whatsapp number +91 704-445-5551.