The Jaldi 5 Lotto Lottery- With Jackpot of 5 lakhs to win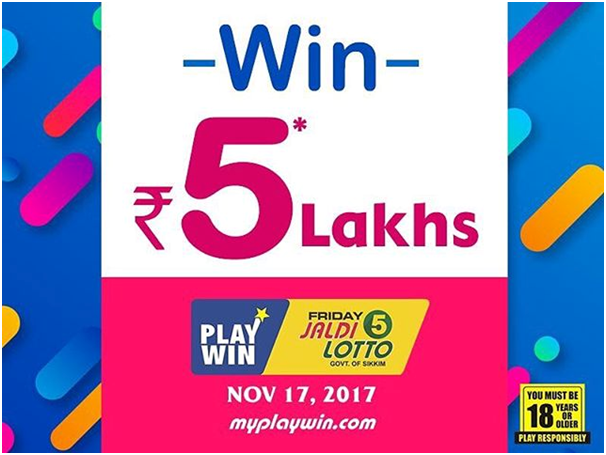 Jaldi 5 lotto is lottery game played by many Indians. Everything is Jaldi here so you need to move fast every Friday.  The jackpot prize of this  Jaldi 5 Lotto is Rs. 5 lacs and each ticket is worth Rs. 13/- If you match 5 numbers with the 5 numbers drawn, you will win the jackpot. If nobody matches all the 5 numbers drawn then the entire collection for that draw or Rs. 1 lakh whichever is higher will be roll-down to all Match 4 winners. The maximum winning after roll-down per winner of Match 4, shall be restricted to Rs. 9000/- and then the balance will be roll-down Match 3 winners.
How to play Jaldi 5 Lottery?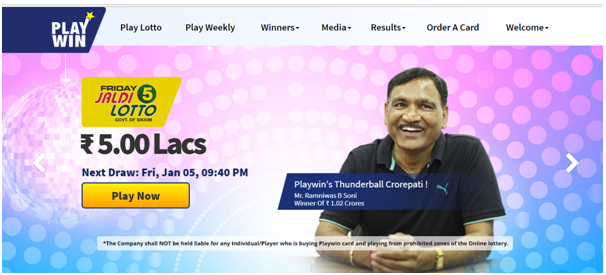 You can play this lotto online at lottery site called myPlaywin and purchase your lottery tickets.
So just type the url of this lotto site on your mobile or PC browser https://www.myplaywin.com and enter the homepage.
There you need to register yourself at the online lotto site to open your account with real money to play lottery games.
For this you need to order your card once you login with your details at the site after registration.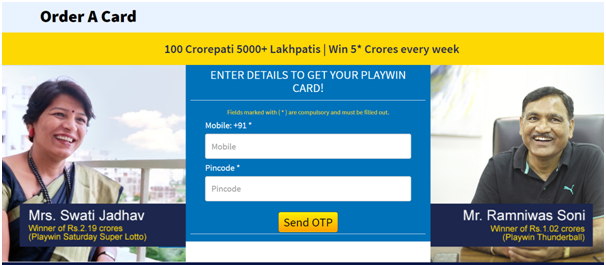 You enter your mobile number and Pincode (the state where you live to check the legality whether you are allowed to play or not as only few states that of Punjab, Maharashtra, Kerala, Sikkim are allowed to play lotteries).
Once done you can order your card, select the game you want to play, enter your choice of numbers or choose the lucky pick or quick pick option, enter the 12 digit account number and 4 digit password displayed at the back of your card. Now you can play or check your card balance, favorite numbers and past transactions. You can also log in to 'My Account' to see your card details.
Cards come in the set values of Rs. 200, 500, 1000 and 5000 and you can do online payment method to get this card to play Jaldi lottery.
So to play Jaldi 5 lottery select 5 numbers (between 01-36) per panel. A panel represents one game ticket. You can choose their numbers in three different ways:
Self Pick where you can choose 5 numbers as per their choice, by just clicking the number on the screen.
Lucky Pick where you can opt for this option if they wish to select numbers through random machine which will select these 5 numbers. These numbers will not visible to the Player at the time of placing a bet and will have "LP" written on respective number spots.
Quick Pick where can opt for this option if they wish to allow randomizer to select their numbers. The numbers will be selected in a random pattern and will be visible to the player. A player can either choose to keep a number or change it accordingly.
A player can select up to ten tickets at one go using the 'Add to list' tab. The numbers can be selected using any of the above three methods.
Once done selecting, you can check and review your selected numbers. In case you want to select new numbers you can delete a complete bet panel by clicking on the remove button. In this step, you can also decide to place a bet for an advance draw by just selecting the number of draws – 1, 2 and 3. The player can only buy tickets for a maximum of 3 advance draws only.
To buy the selected tickets, your will have to click on submit button after filling in your Playwin card account number and password at in respective tabs. In this step, you can also check your card balance by clicking 'Card Balance' tab and you can also view the transaction by clicking 'View Transactions' tab as said above.
How to get Playwin Card?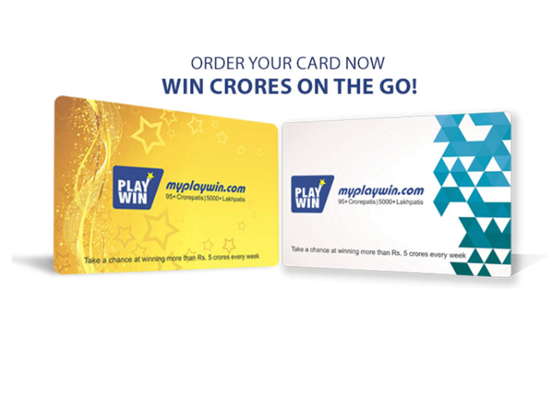 Playwin card is a tool which allows you to participate (play) in Playwin games from anywhere. Through a MyPlaywin.Com card you can play on the Internet / SMS
Myplaywin.com cards are available in denominations of Rs.200/, Rs.500/-, Rs 1000/- and Rs 5000/-.
These cards are valid for 12 months from first usage. On the Back of each and every card, there is a scratch unit, under this scratch unit is a 12 digit Account Number and 4 digit password and 12 digit Serial Number.
Playwin cards are available at all Playwin retail Outlets. To locate your nearest outlet, Sms PRO <space> PINCODE to 57575 You can also use the MyPlaywin.Com shop locator to find your nearest outlet. Or just Sms MPHOME to 57575, a representative will get in touch with you at the earliest.
Also your Playwin card is just an email away, email at help@myplaywin.esselgroup.com card, provide your detailed address and telephone number.
Buying lottery tickets by other methods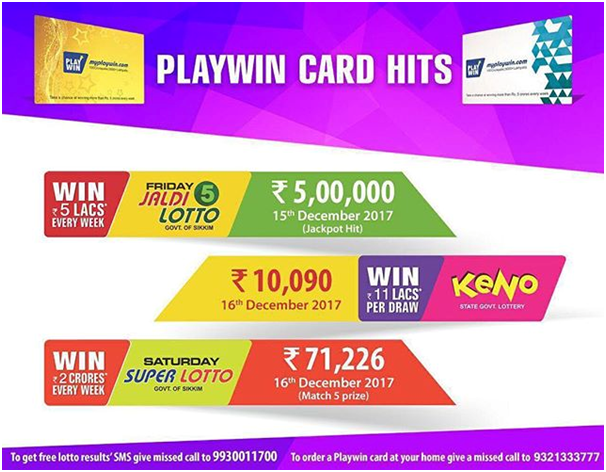 Lottery tickets for Jaldi 5 game can be purchased online at the official Playwin site but before you can purchase online tickets you will need a Playwin card which are available at all official lottery retailers or by SMS and email as described above Also Jaldi 5 game can be played in person at an official lottery retailer. Simply pick up a play slip, fill in the numbers you wish to play, or tick the Lucky Pick option if you prefer not to select your own numbers, choose the number of draws you wish to play and hand the play slip to the cashier who will process your ticket and hand you back a proof of purchase. Keep the ticket safe as, should you win a prize, you will need to show it to lottery officials in order to receive your winnings.
You can also send the following SMS (pro postcode) to 57575 to locate your nearest Playwin outlet. Or SMS:  http://mobile.myplaywin.com
But buying your Jaldi lottery tickets online is not only safe and secure but also means you don't have to queue at a retailer to purchase your ticket. In addition, any prizes you win are automatically added to your Playwin card for you to either redeem or buy future lottery tickets with.

Checking the lottery result
You can check the lottery result at the myPlaywin website online by clicking here or with the myplaywin app or get the results by SMS or email.
Also the result draw for this game happen every Friday between 10.00 – 10.30pm and is telecasted on Zee 24 Taas.
The Jaldi 5 prizes are valid for a period of 90 days so it is advisable to check your tickets as soon as possible after the draw so that any prize can be claimed immediately.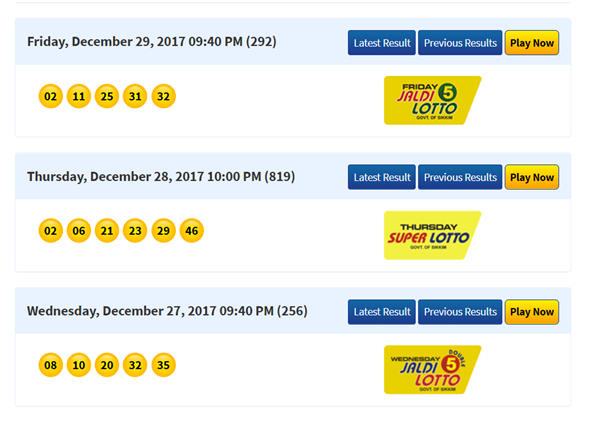 Claiming prizes
You can claim all prizes up to Rs. 10,000/- in cash (tax free) from any authorized Playwin outlet. All Prizes above Rs. 10,000/- will be paid by cheque (Tax deducted).
For all prizes above Rs. 10000/- (on a single ticket) you need to fill a claim form, along with all relevant details. The claim form can be submitted to the claims department at any of the Playwin offices or through their regional distributors.
You need the following documents to claim the prize
Claim Form
Original Playwin Card & Password Number (Original Ticket & Claim receipt– this is incase of lottery played on terminal)
Notarized Affidavit on Stamp Paper (Mandatory) & (IN English Only)
3 Photographs attested by Bank / Any Gazette Officer/ Notary. (Photos must be stamped)
Pan Card Copy (compulsory)
Proof of Identity (Copy of any of the Following)
Passport Copy
Voters Id Card Copy
Driving License Copy
Proof of Residence(Ration Card Copy/ Electricity or Telephone Bill)
You can send the documents to Pan India Network Ltd. Kohinoor City 613, A-Wing, Off. LBS Road, Kurla (W), Mumbai – 400070 or call them at Tel: +91-22-67541400