Rummycircle or Junglee Rummy – Playing Rummy Online in India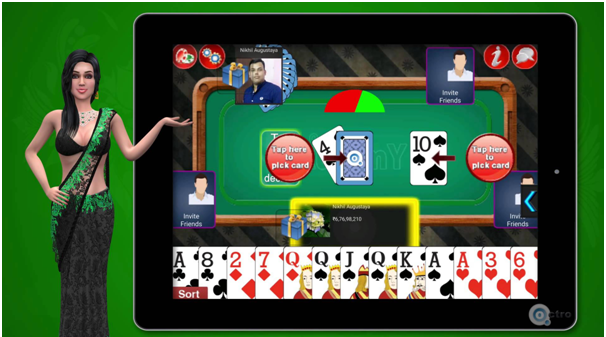 Rummy is favourite pass time for Indians. One can see people specially older men sitting under tree shades, at home, in village fields playing this card game. Indian women too love Rummy and play this game in clubs and kitty parties. For those who don't know what this game is all about then know that it is a group of matching card games notable for similar gameplay based on matching cards of the same rank or sequence and same suit. The basic goal in any form of rummy is to build melds which consists of sets, three or four of a kind of the same rank; or runs, three or more cards in sequence, of the same suit. You can also have mixed runs in all types of rummy so long as all 7 cards are in order.
The original form of rummy is called Sai rummy, Straight Rummy, Standard Rummy, Traditional Rummy, or Basic rummy. The Mexican game of Conquian is considered by games scholar David Parlett to be ancestral to all rummy games, which itself is derived from a Chinese game called Khanhoo and, going even further back, Mahjong.  The Rummy principle of drawing and discarding with a view to melding appears in Chinese card games at least in the early 19th century and perhaps as early as the 18th century and is, in fact, the essence of Mah-jong.
It is most likely that Indian Rummy is an extension of Gin Rummy and Rummy 500 which originated from the USA. It is played with 13 cards, one or two decks, two or more players and with or without jokers.
How to play Indian Rummy?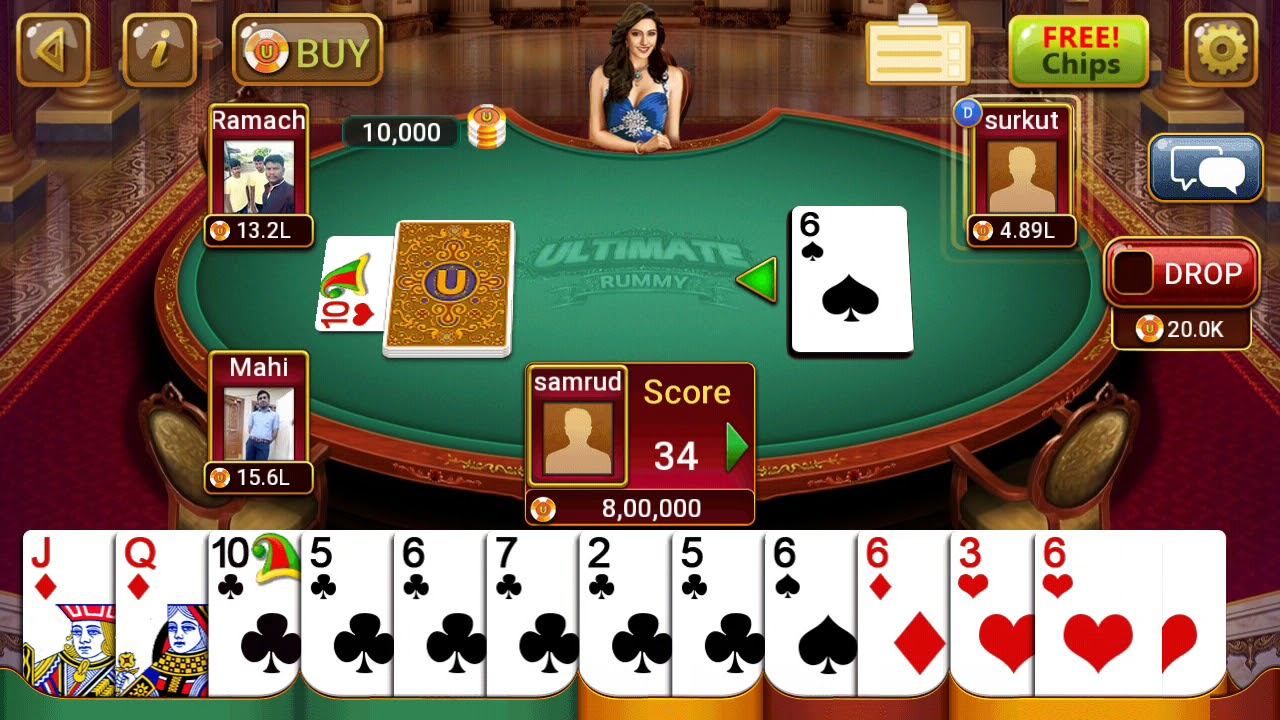 Indian Rummy or also called Paplu is a little variation from original rummy. This game involves making valid sets out of 13 cards that are distributed among every player on the table. Each player is dealt 52 cards initially; if number of players are 2, then 52 cards deck is chosen for the game and if there are 6 players, two decks of 52 cards each is combined for the game play. Each player has to draw and discard cards by turns till one player melds his/her cards with valid sets that meet the Rummy validation rules. It could be that Indian Rummy evolved from a version of Rummy in South Asia, Celebes Rummy, also called Rhuk.
Indian rummy is played with 2 deck of cards with 13 cards distributed to each player.
Players can be 2 to 6 players and need to make sequences and sets.
The dealer is chosen at random at the beginning, and then each player takes turn to deal the cards.
Once the cards a dealt, a random card is selected from the deck that is called the Joker. A Joker can be used as a substitute for any other card in Rummy.
There are 2 printed Jokers as well that can be used as substitutes while making sets or sequences.
Cards rank from low to high: Ace, 2, 3, 4, 5, 6, 7, 8, 9, 10, Jack, Queen and King. Ace has 10 points, number cards have value equal to their number and J, Q, K have 10 points each.
Ace is used as point 10 when making sets in rummy.
To finish or declare this 13 card game you must have at least 2 sequences (of which one must be pure) and remaining cards can be arranged as sets.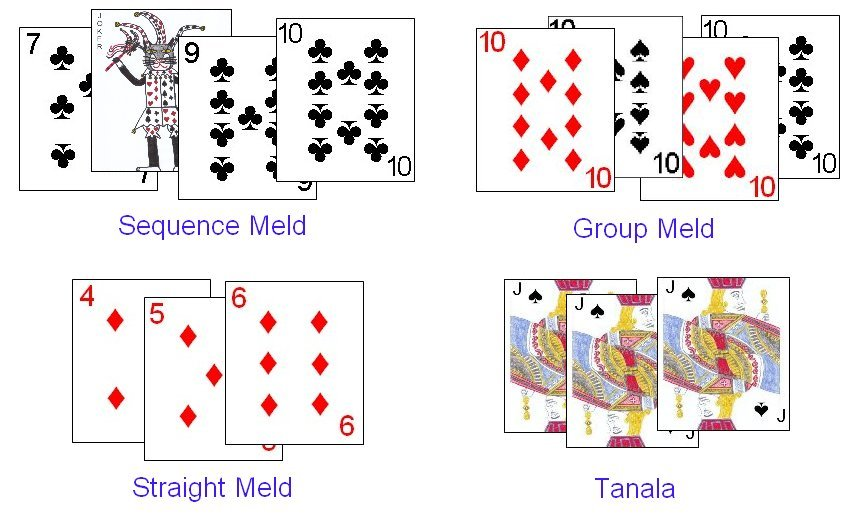 Two kinds of sets are possible: a run of consecutive suited cards, and three or four of a kind (with no duplicate suits.) The basic requirement for winning a hand is at least two sequences, one of which must be "pure", i.e., made without any jokers.
Every player picks/discards a card from the closed/open deck to complete sets or sequences in a clockwise manner. The basic 13-card strategy is to make valid sequences and sets before one's opponents.
Once either player discards a card in the discard stack, the game will end. The players needs to arrange the cards and then place them on the table to show their hands to other players. If the players hand meets the objective, he is declared the winner. If not, the opponent is declared the winner.
At the conclusion of the hand, the unmade points held by the losing players are totalled. Scoring is generally rounded off to the nearest five (for example, 62 points becomes 60).
Types of Rummy popular in India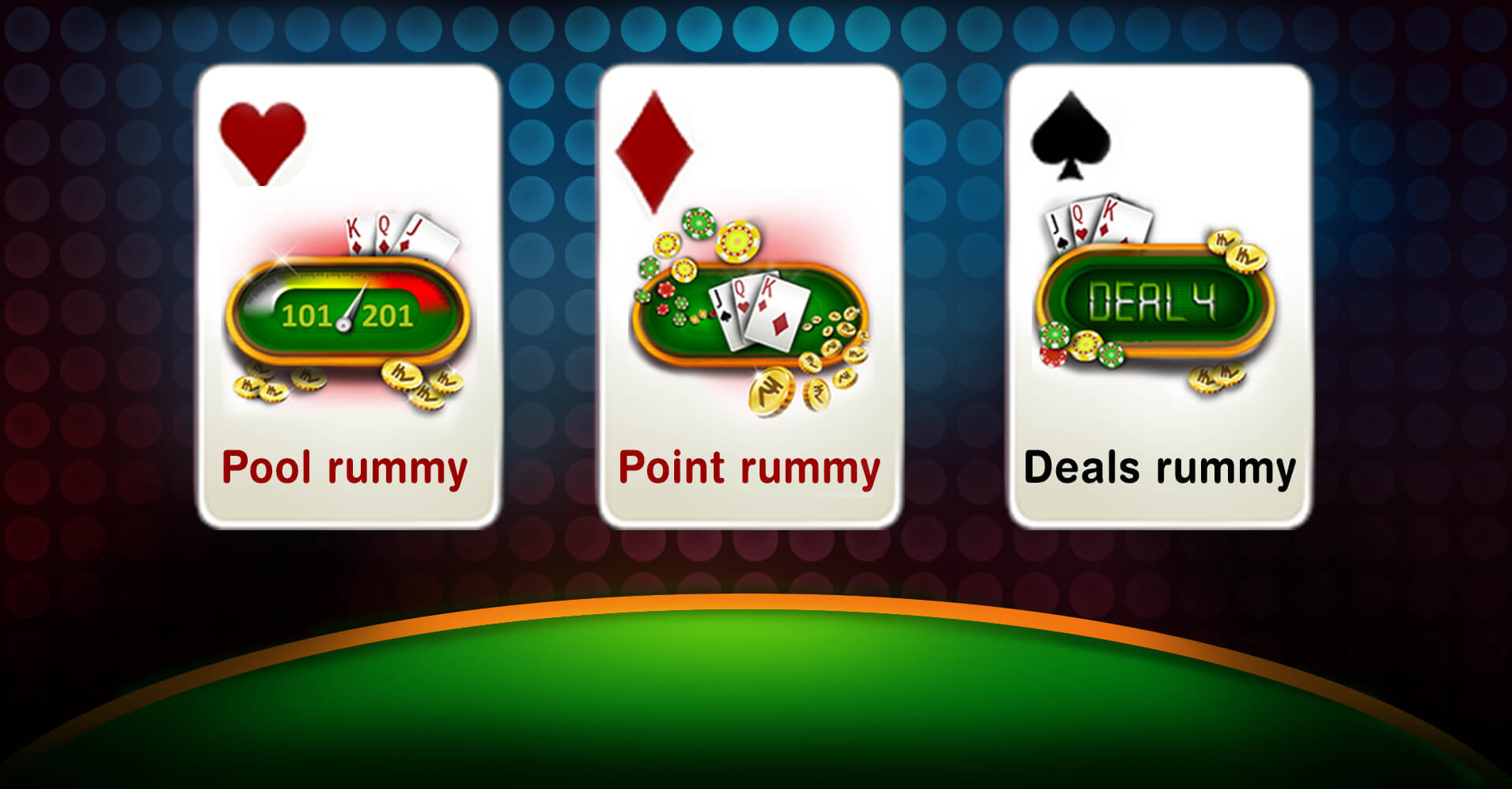 The three most popular Indian Rummy Variants that follow a similar pattern of play, based on the draw and discard of cards are:
Points Rummy: Games in which the monetary value associated with each point is preset at the beginning. The player who finishes first wins the amount as: (sum of points of all opponents) x (monetary value of 1 point).
Deals Rummy: Where games in which the number of deals (game rounds) is preset at the beginning and the player with the maximum points at the end of all the deals is the winner of the game.
Pool Rummy: In this games the upper limit (101/201) for the points is preset at the beginning. The player who remains till the end, after all the other players have been eliminated on crossing the preset limit, is the winner.
In addition to the standard jokers in the deck, one player selects a card out of the stock. This card determines an additional set of jokers for that hand in the following manner:
The same rank regardless of the color.
The same rank but of opposite color known as opposite joker.
The next higher card of the same suit is called a "paplu". This card functions as a joker, but the holder is awarded an additional bonus from each player at the conclusion of the round. Generally, this is 10 points from each player (25 points if two paplus are held).
If the selected card turns out to be a printed joker, all aces become the joker for that particular rummy game.
How to play Rummy online?
These days it is common to find online game of Rummy to play and enjoy. The Indian version of rummy is also available online and is being liked by Indian families along with young generation, which forms a professional circle of skilled rummy players. The two well known and popular online web portals that provide this game are:
Rummy circle and Junglee Rummy
1. Rummy Circle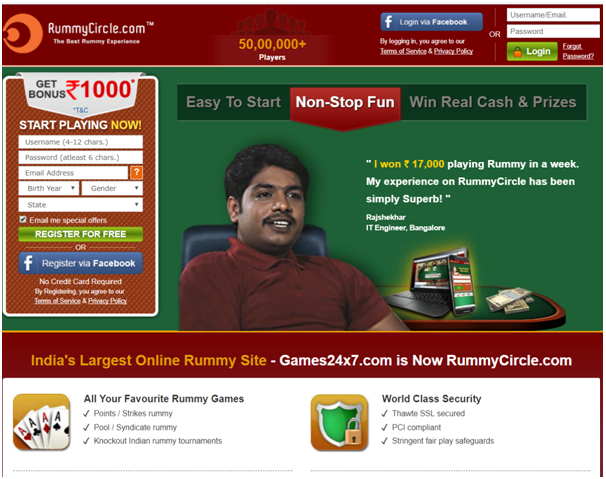 RummyCircle is an online rummy website, fully owned and operated by Play Games24x7 Pvt. Ltd.
Launched in 2012, Play Games24x7 operated this Rummy site and was known as Games24x7.com. But seeing the enormous popularity of Rummy in India it was renamed as Rummy circle.
To play Rummy at this site you need to register yourself online either by your mobile, tablet or PC.
Simply visit by typing the url of the online site https://www.rummycircle.com on your web or mobile browser.
Next look at the home page of the site and you will find two places on left and right to register and open your account. (see the red arrows in the image below). Also you can login with your Facebook account.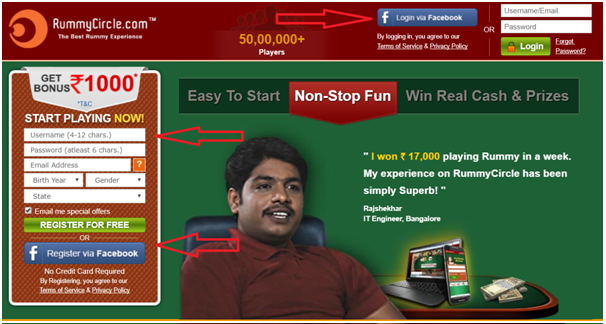 Next you need to make a deposit. There are two limits on cash deposits. One is monthly limit and other is 24 hour limit.  A default monthly Add Cash Limit is set by the system, which depends on your history with us. You can increase or decrease your Add Cash Limit up to a certain maximum amount (Maximum Add Cash Limit).
A dynamic 24 hour limit is set by the system, which depends on the level of your account validation. This limit, unlike the monthly limit, is a rolling limit. e.g: Say you have a 24 hour limit of INR1000 and you have added INR300 at 12:00 PM on the day. In the next 24 hours, that is till 12:00 PM next day, you can add INR700 to your account.
You can make the deposit by various banking methods like credit/debit cards, online netbanking from over 50 Indian banks or by Paytm. All the banking transactions are safe and secure as the site is SSL secured.
The minimum deposit to get started is Rs 25 to play online Rummy here.
You get Rs 1000 as welcome bonus to new players at the rummy online site when you make the minimum deposit and play real money rummy. Also there are daily and club bonuses on offer. Click here to know the latest promotions.
If you win you can withdraw similarly  and payments are processed every 24 hours. Get payouts through quick online transfers or through cheques that's your choice.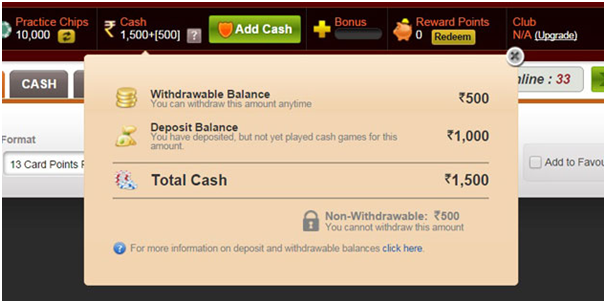 As per law, tax deduction at source (TDS) may be applicable on your winnings. TDS is currently applicable at the rate of 30% on winning above INR10,000 and the rate of TDS and/or the exemption limit are subject to changes from time to time as required by law.
You can Withdraw Cash at any time by going to My Account page and clicking on Withdraw Cash.
You are then asked to enter an amount you would like to withdraw.
You can only withdraw an amount less than or equal to your withdrawable Balance. This will be shown to you on the withdraw Cash page.
Note that the minimal withdrawal amount is Rs. 100. You can withdraw all the money in your withdrawable Account at any time. The balance in your withdrawable Account includes all your cash winnings, any bonuses you earned as a cash player as well as any deposited amount you have used for playing cash games.
You can see your account balances by hovering on the 'Cash' entry in the header section of the website.
You can enjoy many variants  and types of Rummy at this website.  Play Indian Rummy, 13 cards Rummy, Gin Rummy, Kalooki Rummy, Oklahoma Rummy and 500 Rummy.
2. Junglee Rummy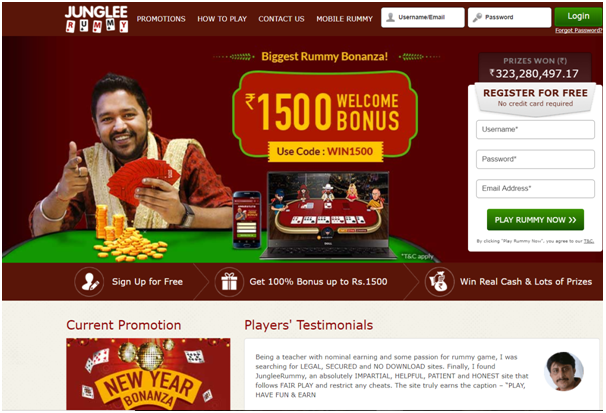 Junglee Rummy is another popular online site to play Indian Rummy. It offers a world class gaming experience to play online rummy games. Built on a secured platform, you enjoy a seamless 24×7 gaming experience replete with wonderful features in the comfort of your home. Just log in and play on your desktop computer or visit the site on your mobile devices to play rummy games on the go.
Like Rummy circle to get started you need to register yourself at the site with your PC or mobile.
Type the url of the site https://www.jungleerummy.com and enter to play rummy. You will find on the right side of the home page the short form to register as a new player to get started. (See the red arrows in image below)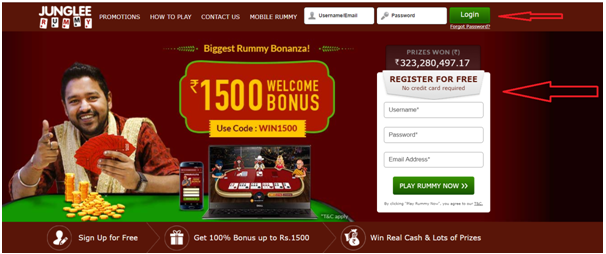 You can play for free and have fun or play with real money that's your choice.
If you wish to play with real rupees you need to make a deposit for that.
There are various deposit modes to fund the website to play rummy like you can make deposit with VISA, MasterCard, Pay U or Netbanking.
It is very easy to add cash to your account. Click on "Add Cash Instantly" or follow the steps mentioned below to add cash to your Junglee Rummy account:
Log in to your account and click on 'My Account' or on 'Add Cash Instantly' button on the games lobby. Fill in the information required to process an online transaction.
Select any amount between Rs.25 and Rs.5000.
Now grab the awesome welcome bonus of 100% up to Rs1500/- to play Rummy online. Also use code WIN1500 to get this bonus instantly even on your mobile.
Click here to know the latest promotions
Now choose the game you wish to play.
If you win like adding cash, it is also easy to withdraw cash from your Junglee Rummy account. You can only withdraw an amount that is equal or less than the amount shown on your Account Details. Just follow the steps mentioned below to withdraw cash from your account:
Log in to your account and click on 'My Account'
Click on 'Withdrawal' and choose the modes of transfer – Cheque or Online Transfer
Enter the amount, fill in your details and then click on 'Continue'
You can withdraw a minimum amount of Rs. 100 from your Junglee Rummy account.
Note: It is mandatory to upload your PAN card for verification while placing a withdrawal request.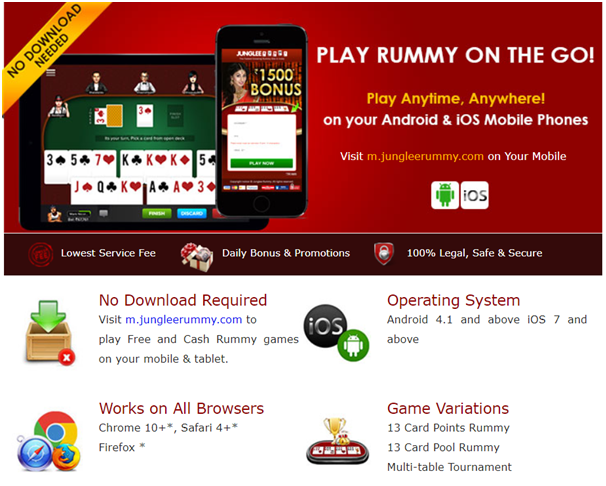 There are many Indian Rummy variations and other Rummy types to play or take part in Rummy tournaments or weekend freerolls where you can win over Rs2 lacs. There are over 30 types of rummy to enjoy here online even with your mobile as the Junglee rummy have its own app free to download for Android and iOS smartphone and tablets.
Playing rummy online is also legal in India so you can enjoy playing rummy online at these two superb online portals. Rummy has been declared by the courts of law to be a game of skill or mere skill. Such games are excluded from the applicability of laws prohibiting betting and gambling in all states to the exception of a few. However, the states of Assam and Orissa have not provided clear rulings on this matter and are thus ambiguous territories. There are numerous other online Rummy sites to play and enjoy rummy. Always check the online website authenticity or legitimacy before you join to play, read their reviews online, get players feedback, see how smooth and often players can cash out their wins and whether the online site process the withdrawals on time or not. Good luck playing rummy.