What Are The Three Popular Video Poker Games That I Can Play At Online Casinos?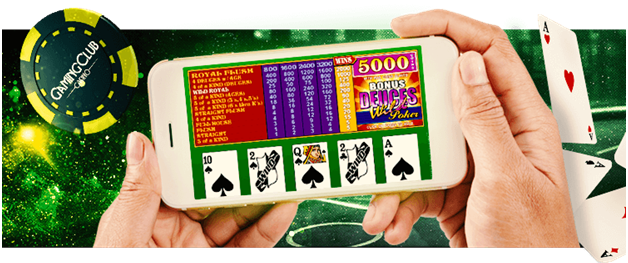 There are hundreds of video poker games that you can play at online casinos. The three popular Video Poker games that you can play at online casinos are:
Jacks or Better Video Poker
Tens or Better Video Poker
Deuces Wild Video Poker
How To Play Video Poker?
Video poker games are based on the traditional poker five-card structure, although they are usually only paired down to two stages: deal and draw. Online games also usually eliminate the requirement to beat other players or the dealer. All you need to do is a place a bet.
Once you've selected your bet, you typically hit "Play". At this stage, your five cards will appear. If you get a winning hand, this combination of cards will be held. If you want to hold any other cards, you'll generally click them and then "Draw" new cards. Your final hand will be assessed for a win. For quick strategy, the smallest potential win is a usually a pair of jacks. Three of a kind, four of a kind, full house, straight, flush, and straight flush are the next winning hands. A royal flush is the max win, which may lead to a massive jackpot.
Let's explore these video poker games in detail to find out more about them. You can play all these video poker games at Gaming Club Casino, Jackpot City Casino or Spin Casino. As these games are powered by Microgaming software, you have to join one of these online casinos to play video poker.
1. Jacks or Better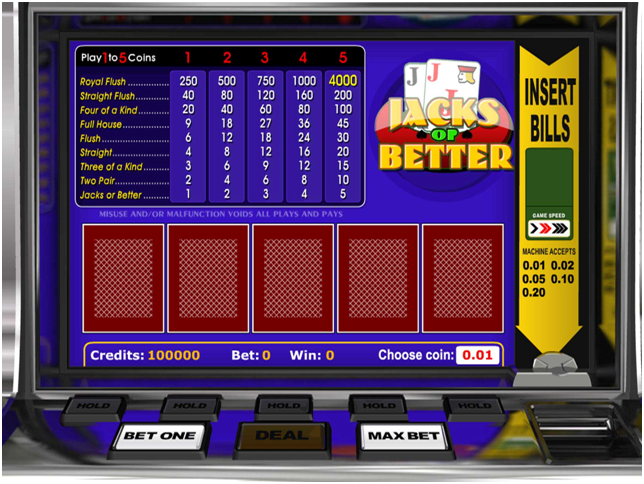 The rules for Jacks or Better video poker are the same as for five-card draw poker. However, there is no raising or bluffing and you're not really playing "against" other players. You just make a single bet at the beginning and your goal is to have a hand that includes a pair of jacks or better. Otherwise, the house wins.
To play, you select a number of credits you want to wager from one to five on the hand. The credits can be worth $0.25, $1 or more apiece, depending on the machine.
The computer deals you five cards and you select which you want to keep and which you want to discard to draw new cards, just as in five-card draw.
Then you are dealt replacement cards and your final hand decides whether you win or lose, and how much.
You will win more the better your hand is, so make sure you know the ranking of poker hands.
Like all games you play against the house in a casino, it is nearly impossible to actually win in the long term. However, video poker offers some of the best payouts for a pokies-type machine when played well. Also when combined with an online casino bonus and comp schedule, you can actually make a profit due to the freebies given out.
Best strategy to play Jacks or Better Poker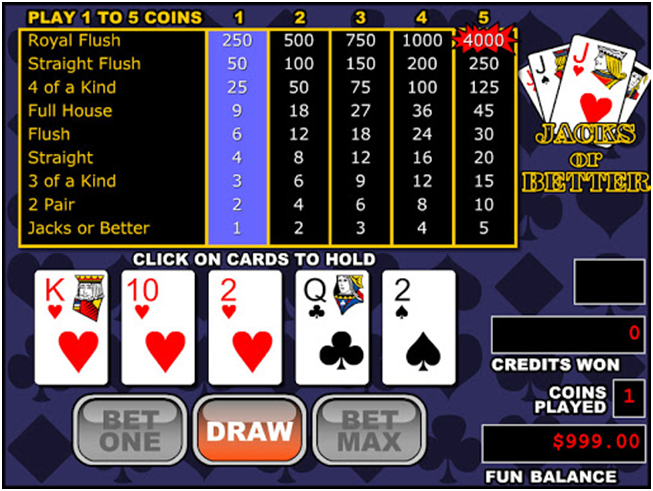 Your game will be improved by using a strategy chart prepared by expert players according to the rules of probability. You can buy a strategy card at many casino gift shops or use a chart from an online site. These charts will show you how many cards to hold or discard based on what you are dealt in your initial video poker hand.
Like as an example
Draw four cards if you have only one high card.
Draw three cards if you have any pair.
Draw two cards if you have three of a kind or three cards to a straight flush
Draw one card if you have four of a kind, two pairs, or four cards to a straight or flush.
Do not draw any cards if you have a straight, flush, full house, straight flush, or royal straight flush.
It is for the hands in between where a strategy chart can help guide you.
You can also practice playing Jacks or Better online or with a mobile app . By practicing and consulting a strategy chart, you will be able to remember the best selections to make for each starting hand. This will improve your odds of winning at video poker.
2. Tens of Better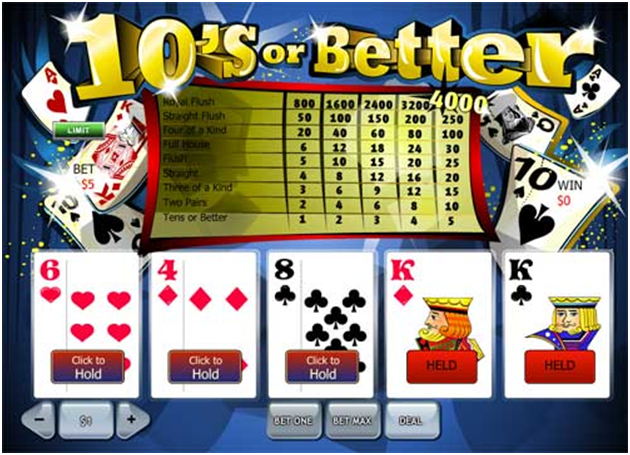 Tens or better is a popular video poker game from Microgaming resembling Jacks or Better video poker game. However, in Tens or Better, you will not receive a payout unless you make at least a pair of tens, which makes it incredibly easy to complete your video poker game several times richer than you were upon starting.
Tens or Better is a game in which you compete against the machine rather than against other players. It is a 1-hand game and player's goal is to have at least a pair of 10's among the cards dealt. The best paying combination is the Royal Flush.
In order to get started, you are supposed to place the desired bet. Then, you will be dealt five cards. You are free to keep all of them or discard as many as you want. When you click on the Draw button, the cards you have discarded are replaced and your payout is determined in accordance with the pay table. Although the rules below may vary from machine to machine, here are the details you have to pay attention to before you start playing Tens or Better.
Game Rules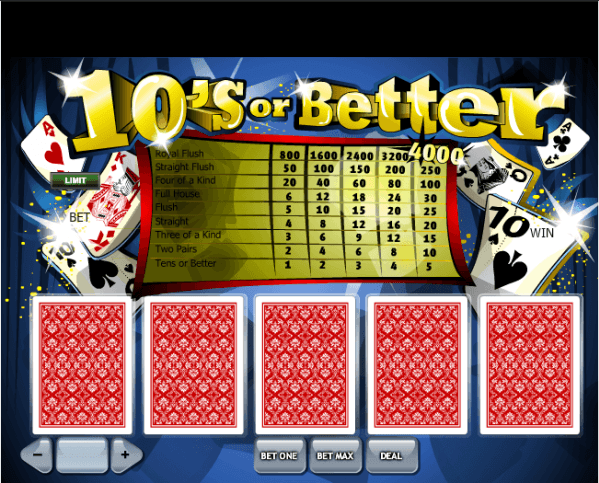 You should have no trouble finding Tens or Better in the lobby alongside the other video poker variations. After the game launches, you'll need to decide how many dollars or cents you want to wager. So begin by placing your bet. After deciding how much real money you want to wager, hit the deal button to receive your five face up cards. Choose which cards you'd like to keep and those you would like to discard. Click Hold for all cards that you want to keep; the rest will be discarded and new cards will be dealt in their place once you opt to deal again. Remember, you only need a pair of 10s to be eligible for a payout.
Tens or Better video poker game always let you play between one and five coins. In addition, you'll be able to adjust the value of each coin for added flexibility.
Symbols and Features
Symbols on the video poker game are obviously the cards. The list below shows all the possible winning hands for Tens or Better video poker and what they entail, ranked highest to lowest.
Royal Flush: A hand that contains A/K/Q/J/10 of same suit. This is the highest paying hand in Tens or Better.
Four of a Kind : Four cards of the same face value.
Straight Flush: Five cards in sequence of the same suit.
Flush: Five cards of the same suit.
Straight: A hand with five cards in sequential order, but not necessarily the same suit.
Full House: Three of a Kind plus a Pair.
Three of a Kind
Two Pairs
How to win
Having a proper strategy ensures your session will be both entertaining and profitable. If you do not have much experience, here are a few tips that might be useful:
As you know, the lowest winning combination is a pair of 10's. Therefore, the low pairs will not be useful and you should discard them.
Never break up an otherwise paying hand unless you have four of the five cards you need to hit a Royal Flush.
Low Pairs (that is a pair lower than 10s) and are only potentially worth paying if they are part of a Full House. Because the probability of making a Full House is lower than making a Flush or Straight, discard low pairs and go for a more likely paying hand.
Always keep a pair of 10s or higher when you have absolutely no other hand to play. A pair of 10s will at least help you to get your bet back.
Aim for big payouts as most of the time you will be better off chasing a Straight Flush or a Royal Flush over an already made Pair or Straight.
Always keep a Four of a Kind, especially if they are high cards.
Keep a Straight, a Flush, a Full House, or Three of a Kind.
Keep Two Pair.
Keep all four cards to a Flush
Keep two suited high cards.
Keep all three cards to a Straight Flush.
Keep all 10s or better.
In case you are dealt cards that are not likely to create a winning combination, keep those that have a value higher than 10 and you can eventually make a pair of 10's.
The payout for Royal Flush and a wager of 5 coins is really generous in this game and the most sensible thing you can do is to always place the highest bet.
You are not advised to break up a paying hand except for the cases when you get four or five cards that form Royal Flush.
Jackpot
The maximum jackpot is 4000 coins, which you will win if you land a Royal Flush – in other words, a Ten, Jack, Queen, King and Ace of the same suit.
3. Deuces Wild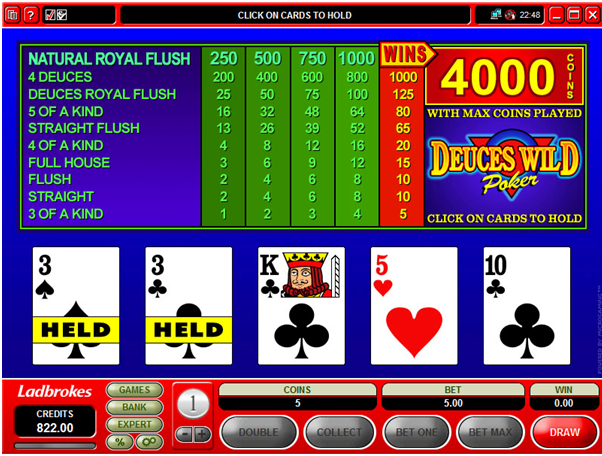 Deuces Wild is a popular version of video poker that can be found online and with the version from Microgaming. Players will enjoy having the chance to win a 4,000 jackpot and many other payouts. This game can be played as a single or multi-hand version of video poker, so there are many betting options to suit the needs of many. It is played with a standard deck of cards and all Deuces will act as wilds to replace any other card in the deck. This can greatly increase the chance of getting winning combinations, however, the payouts are a bit lower than with games that do not use any wild cards.
The game uses a standard deck of 52 cards. In this video poker variant, deuces (2s) are wild, and they substitute any other card on the deck to form a winning hand. This, therefore, makes winning in this game far much easier, but consequently, the paytable is a bit tighter than other video poker variants such as Aces and Eights or Jacks or Better.
This version of the game can be played like any other and the only difference between it and a game of Jacks or Better is the different pay table and the wild cards. Players can enjoy the game for bets that range from $0.25 per hand all the way to $25 per hand, so it will fit nicely into any casino budget. When selecting the multi-hand version of the game, players will have to bet on each hand that is in play.
Clicking on deal will present the initial five cards and players will then have to choose which to hold in order to create the best possible hand. Payouts with this game will start with three of a kind and there is a special payout for getting four Deuces. All rewards will be credited to the balance and the game also offers an autoplay feature for the ability to play multiple hands at the same wager.
Symbols and Features
Symbols on the video poker game are obviously the cards. Players may hold all five or discard up to five cards to receive new cards in the quest for a better and winning hand.
Deuces Wild Paid Hands
Natural Royal Flush
Four Deuces
Wild Royal Flush
Five of a Kind
Straight Flush
Four of a Kind
Full House
Flush
Straight
Three of a Kind
The highest paying hand is a Royal Flush, and the lowest paying hand is Three of a Kind.
Deuces Wild Hand Rankings
Royal Flush without a Deuce: This is the highest paying hand in Deuces Wild video poker, and it consists of Ace, King, Queen, Jack, and 10, all the same suit.
Four Deuces: This is the second highest paying hand, and it consists of four 2s.
Wild Royal Flush: This is actually a Royal Flush, but contains two or more 2s.
Five of a Kind: Is a hand containing five cards of the same value (four cards plus one 2).
Straight Flush: Contains five successive cards of the same suit (e.g. 8H, 9H, 10H, Jack of hears, and Queen of hearts).
Four of a Kind: Consists of four cards of the same value.
Full House: Consists of three cards of similar values and two cards of different values.
Flush: A hand with any five cards of the same suit, but not necessarily in consecutive order.
Straight: Consists of five successive cards from different card suits (e.g. Jack of Hearts, 10S, 9S, 8C, and 7D).
Three of a Kind: A hand with any three cards of same value.
Note that Two Pair and a Pair do not pay in Deuces Wild video poker.
The presence of 2s (deuces) in Deuces Wild video poker is what makes this variant truly exciting and far more volatile than other online video poker games.
How to win
If you are dealt a hand with four deuces, hold all five cards, as you cannot improve this hand anyway.
If you are dealt a hand with three deuces, which is highly unlikely, then you can choose to hold all five cards or go for Five of a Kind or a Royal Flush.
If you are dealt a hand with two deuces, keep the two deuces and draw new cards; or keep any of the four cards to a Royal Flush. Always hold any Four of a Kind or better.
If you are dealt a hand with a single deuce, keep four cards to a Royal Flush, four cards to any Straight Flush, any Three of a Kind or better, three cards to a Royal Flush, three cards to a Straight Flush if the other two cards are suited connectors, or in all other cases, just keep the deuce.
If you have no deuce, hold the highest paying hand. As you do this, never hold four cards to a Royal Flush if you already have a lower paying hand.
Hold any three cards to the Royal Flush.
Hold any four cards to a Straight Flush.
Always hold a four-card Flush.
Hold any Two Pair if the Full House pays the same as Four of a Kind.
Always hold a four-card Straight.
Always hold three cards to a Straight Flush.
Always hold deuces.
Keep any pair unless you are one card shy of a Straight or Flush.
Discard all five cards if you do not have a deuce, a Pair, or any other paying hand.
Jackpot
This video poker games has a maximum jackpot of 4 000 coins, which is awarded for the highest-paying combination – Royal Flush, at the highest bet level. The Royal Flush must be natural, meaning it should not have wild cards in it. In most games with wilds pairs are not winning hands and since all the Deuces here are wild cards, the lowest winning hand is three-of-a-kind. There are no double or other extra features, which makes for a clean-cut and simple gameplay.