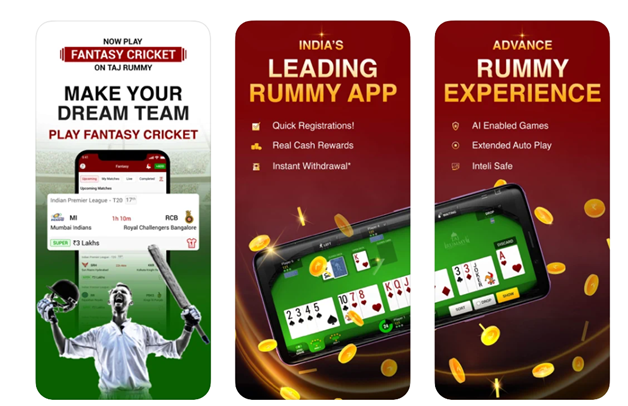 Taj Rummy is one of India's leading online rummy playing platforms. It was launched in 2013 by Gurugram based Gridlogic Group and lately Taj Rummy swooped into fantasy sports.
To play Taj Rummy you can either visit
https://www.tajrummy.com/ on your mobile or PC
or
Download the app on your smartphone
Next Fill up the 'Quick Sign Up form' on their homepage
Set your account with a unique username and password (one which you'll easily remember)
Enter your email address and mobile number.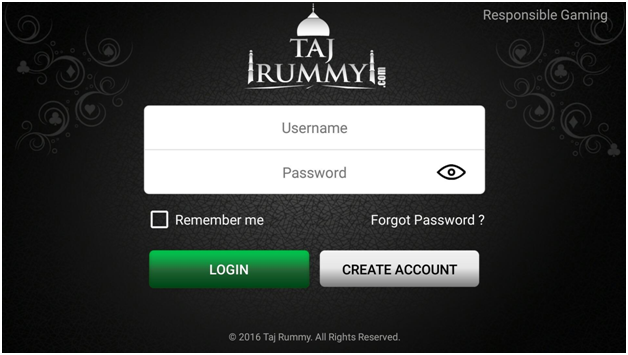 Once logged in, proceed to verify your email address and mobile number, fill in your date of birth, state and gender. Now, you've successfully created your account!
You can proceed to experience all the fun and excitement at Taj Rummy!
Note that you must be 18 years of age or over to legally sign up and play games at Taj Rummy. Underage players are not allowed to play at Taj Rummy.
Also you need to enter your PAN card details
Pan Card details are an integral part of your account details that need to be provided to them when you register to create an account with Taj Rummy. As such, your account details will be deemed incomplete unless the PAN section is filled up as well.
To complete the PAN section in your account, log into your account and click on 'KYC'. After this, enter your PAN Number in the box provided, and then upload an image of your PAN Card, click on 'Submit', and you're done!
If for any reason you do not possess a PAN Card, you may enter the following text: 'UNIRV1234N' into this field in your account section. Now, you will be able to carry out transactions, such as depositing money into your Taj Rummy account, placing bets in cash games, and even successfully withdrawing winnings.
Now to play Taj Rummy in real time you need to make a deposit.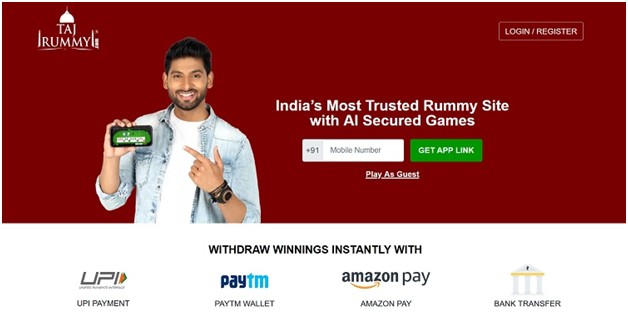 Making a deposit into your Taj Rummy account is really simple, and can be completed in just five simple steps.
Log into your Taj Rummy account
Click on the "Add Cash" button (on the right hand side of the header)
Select a predefined amount, or alternatively enter an amount you wish to deposit
Select any applicable bonus or coupon code in the box provided
You can choose the method of deposit that is either by credit or debit card, netbanking, RuPay, Paytm, Ola Money and others.
The minimum deposit amount at a given time on Taj Rummy is Rs. 100.
The maximum deposit amount at a given time on Taj Rummy is Rs. 20,000.
Select a suitable payment method on the left, and click the 'Pay' button to complete the deposit!
At Taj Rummy, you will find a wide variety of online Rummy games, to play.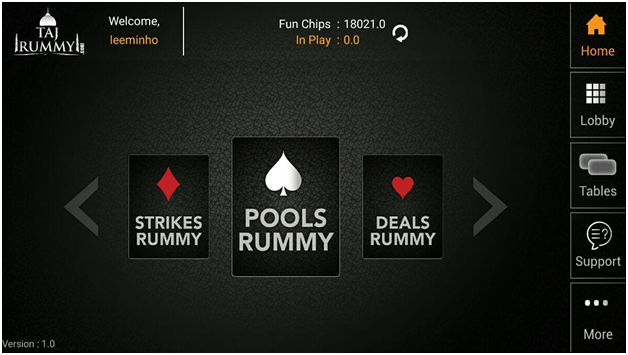 Pools Rummy: 101, 201, & Best of 3
Points/Strikes Rummy: With Joker & Without Joker
Deals Rummy: Best of 2 & other frequent Tournaments
The new users get an amazing Rs. 2500 as a Welcome Bonus and also Rs. 3000 as Instant Cash!
Taj Rummy Game Play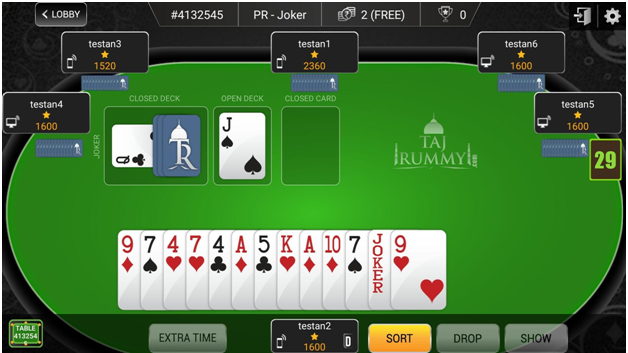 The object of the game, for each player, is to create sequences and sets from the cards they have. The first person in a game who creates valid sequences and sets is deemed the winner. So, therefore, if you want to win the game, you will have to be the fastest to create sequences and sets.
That aside, scoring the fewest points, or indeed zero points, in a game of Rummy is the ultimate objective of each player. As such, forming sequences and sets are a means to achieve the ultimate objective of scoring as few points as possible, or zero points.
Rummy can be played between anywhere from two and six players at a time. To play Indian Rummy, you will require two complete decks of cards. To begin with, 13 cards will have to distribute to each player Each of the cards bearing these symbols are part of separate suits: Diamonds, Hearts, Clubs and Spades.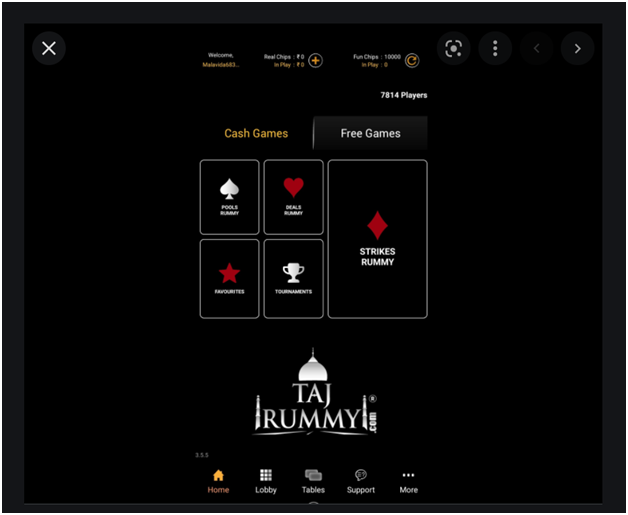 Following the strict rules of Indian Rummy, the Sequences you form should follow the following order:
Ace, 2, 3, 4, 5, 6, 7, 8, 9, 10, Jack, Queen & King. A valid sequence is considered to be a group of three or four cards in consecutive order (The order is clearly described in the preceding point), and from the same suit. In a sequence, an Ace can be used as a face card or a '1' card.
A set is comprised of three or four cards, of different suits, but where each of the cards bear the same number or face card.
In an Indian Rummy game, where Jokers are used, a Joker can be used or deployed as a substitute for another card to form a set or sequence.
Essentially, there are two kinds of Jokers that are used in the game of Rummy: They are:
Printed Jokers: These can be understood to be the cards with the word and the picture of the joker on them
Wild Jokers: A Wild Joker is a card chosen at random by the players in the game from the closed deck, and it is denoted to be the 'Wild Joker' for that particular game
The rules concerning Jokers apply to both Wild and Printed Jokers.
A Joker can be used to make impure sequences, but not to make pure sequences.
At the start of the game, the two decks of cards should be thoroughly shuffled
After the cards are shuffled, the Dealer should go ahead and deal 13 cards to every player in the game, in a cyclical motion
Once 13 cards are dealt to every player, the remaining cards are placed face down on the table. This stack of cards is known as the 'Closed Deck'
Now, that all the players have their 13 cards, and the closed deck has been placed face down, a wild joker is chosen from the closed deck at random, and we're ready to play!
Before gameplay begins in a Rummy game, a random card selected from the deck serves as the Wild Joker. On the off-chance that a printed Joker is picked up during this process of choosing the Wild Joker, all the Ace cards from all the suits will duly serve as the Wild Joker for that particular game.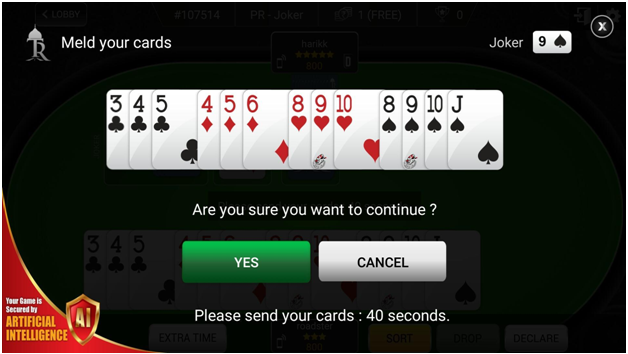 Now gameplay can begin! The players go around the table in the designated order, and should now draw a card, i.e., pick up a card from the closed deck, and let go or discard one card from their hand into a new pile of cards on the table called the 'Open Deck'. The cards in the open deck are placed 'face up' unlike the ones in the closed deck. Players can choose whether to pick up cards from the open or closed deck depending on the sequences and/or sets they are trying to make. Do note that every time a player picks up a card from either the closed or open decks, he should drop one card from his hand into the open deck.
With this, the actual gameplay is in full-swing, and all manner of manoeuvres are at play, as each player now looks to make his or her sequences and sets before all the other players.
This process of picking up and dropping cards by players, continues till one of the players successfully manages to form valid sequences and sets from the cards in his or her hand, and declares or shows it to all the other players. This act is called a 'Show' or 'Declaration'.
After one player makes a 'show' or declaration, he or she should wait for every one of the other players at the table to make a 'show', as well. This essentially brings the gameplay to an end.
How to win the game?
The object of the game is to score as few points as possible, and where achievable, to try and score no points at all or zero points.
In a way, Rummy works in the opposite way to most games, where the player who scores the most is deemed to be the winner. This isn't the case with Rummy, in fact it is the very opposite.
The winner of the game is the player with the fewest points or the player with zero points.
The second player in the game who makes a valid declaration will be awarded two points
The points of a non-winner is calculated as follows:
If the player does not declare two sequences, one of which should be a pure sequence, then all of the numbers on their cards are added together so as to arrive at their points total. The maximum number of points penalty that can be awarded in this case is 80 points.
If the player does show two or more sequences, one of which is a pure sequence, only the cards that are not part of sequences will be considered. As such, all the numbers on their cards will be added up to arrive at their score.
Also be careful while making declarations, as a wrong declaration will result in the player being awarded an 80 point penalty.
Click here to play online rummy at casinos.
Customer support
In case you need any help playing Taj Rummy you can contact their dedicated team. Their Customer Support representatives are available 24 hours a day, 7 days a week. You can email them support@tajrummy.com.