What is Live Football and How it can be Played?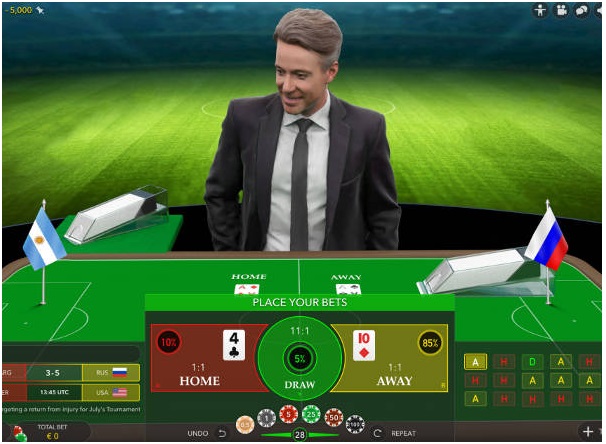 Live Football was launched by Evolution gaming at the time of World Cup June 2018 so that players can enjoy the feel in card type game right on their PCs or Cell phones. All you need to do is simply bet on which of the two cards dealt will be the higher card, or whether the deal will result in a Draw. Set in a football-themed environment, the game hosts engage in match commentary, goal celebrations and football chat whilst you deal the game. Live Football Studio is sure to appeal to football or soccer fans.
How to play the game?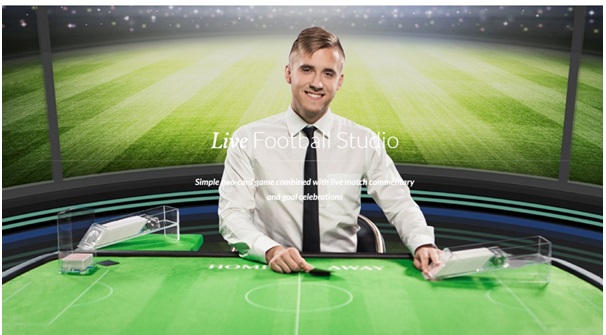 As said above Evolution Live Football Studio combines a super-fast, simple card game with live match commentary, chat and goal celebrations focused on actual top-class live football fixtures.
Play this live game at any Evolution powered online casino like Royal Panda or Jackpot City, or Betway Live Casino
Open your real money account and make a deposit to play this game
You can bet as low as Rs 100 and as high as Rs10,000
Just two cards are dealt, face-up on a football pitch-style table in games linked to real live football fixtures. Players simply bet on a Home Win, Away Win or Draw.
Football-enthusiast Game Presenters host the game in a sports commentator style. Whenever a live top-class football match is being played, the card game — and the Game Presenter commentary — is linked to the live match. With one eye on the live football action on their studio monitor, they keep card-game players up to date with live match action, react to the big moments in matches and prompt lively chat.
So you join a Football pitch shaped table where one card is dealt to the away tem ad one card to the home team. The highest card wins and in case of draws or ties it is paid 11:1 while a win is paid in even money.
Note that there will be no world cup games that are streamed and the commentator or presenter will have a monitor that he /she will watch. As well as being available as a generic table, Live Football Studio is available as a dedicated table offering exciting customisation options. This allows live casinos to tailor everything from game name and studio décor to the bet spots and UI to their brand and their players.
Gaming table is set in front of a big video-animated blue screen, used to enhance the gameplay. The playing interface will also contain information of current matches being played and a history of previous results but no actual games will be streamed. The general idea is that presenter engages players in chat about the World Cup and the specific games and also to react to big moments that occur in games. So, the presenter will have one eye on the table and one on the monitor. The presenter is going to be a Sports loving commentator and keep players up to date in a sports commentary style. With the launch of Live Football Studio, this top tier provider only proves their determination to meet all the players' needs and expectations.
Rules of the game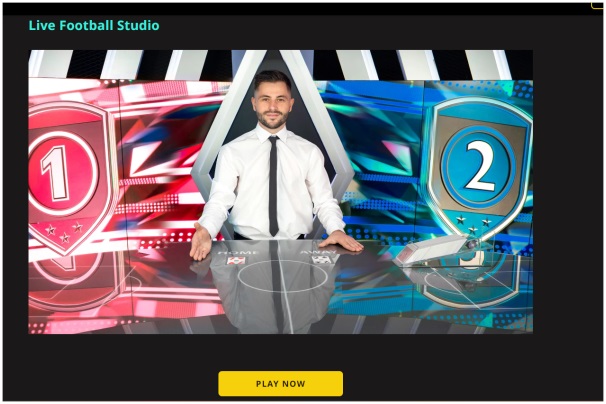 The main focus of the dealers in Live Football Studio is understandably the English Premier League as it's the biggest, most recognisable league on the planet, however, you can also expect conversation around the La Liga, the Champions League and International football.
Live Football Studio fits within a group of games called "Top Card" and is very similar to Live Dragon Tiger. It is basically the same game with a different skin. A winning bet on either of the two sides pays out even money, whereas correctly picking neither and going for a draw pays out 11/1.
Behind the dealer will be able to see a large scoreboard which keeps track of the current score over the last five hands, players needn't worry about this as it's purely cosmetic.
There are no other mechanics for players to worry about whatsoever other than correctly picking one of these three choices, it really is that simple.
When you launch live football-themed studio, you will find it complete with video animation, live match commentary and chat from friendly presenters, with goal celebrations. In this game all you need is to simply bet on a Home Win, an Away Win or a Draw.
If you love football, you are going to love Live Football Studio. Live Football Studio is very simple to play. Each game round you bet on either a Home Win, an Away Win or a Draw.
Two cards are then dealt face-up on the football pitch-style table: one to the Home betting position on the table, and one to the Away betting position. The position that gets the higher card wins.
Aces are the highest-ranking cards, with the rest of the cards following their natural values – king the next highest, with two the lowest card.
The highest card always wins, regardless of the suit. If you bet on the draw and the two cards dealt are the same, then you are paid out at odds of 11:1.
Winnings are paid for the winning bets at the end of each game round.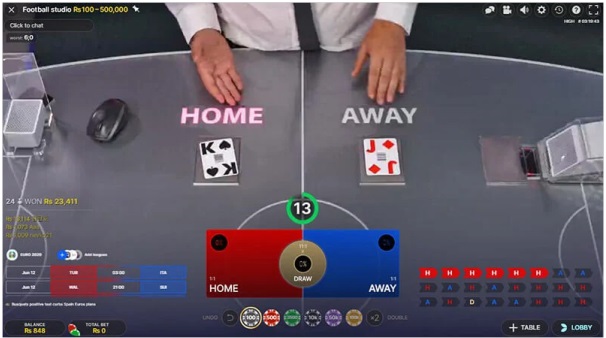 Live Football Studio is available and optimised for all devices, in many different languages. You can even customise your table in Hindi if you want. In terms of specific value, payouts will vary from round to round based upon the player's bet.
That being said, payout rates remain stable depending on the specific type of win achieved by the player. For example, a winning bet on a "home" or "away" card results in an Even Money payout rate.
A home or away win has a payout of 1:1, meaning you will receive double your original stake. Betting on a home or away win has a very fair RTP of 96.27%. A draw, on the other hand, has a much higher payout of 11:1, but of course a lower RTP.
Live Football Studio Payouts
| | |
| --- | --- |
| Bet Type | Payout |
| Home Win/Away Win | 1:1 |
| Draw | 11:1 |
Game RTPs
The theoretical percentage return to player (RTP) in Live Football Studio is as follows:
| | |
| --- | --- |
| Bet Type | RTP |
| Home Win/Away Win | 96.27% |
| Draw | 82.17% |
FAQs
Q1. What are the main features in Live Football Studio?
The main features are as follows:
Football Results & Fixtures: You can add football leagues to show upcoming fixtures and results. Click the "Add League" button and choose your favourite leagues to view as you play.
Dealer's Predictions: The presenter for the game will have their thoughts on upcoming games! You can find their predictions in the table to the side of the game.
Football Chat: If you love chatting about football, the presenter will be more than happy to share some banter. The dealer is just as passionate about the game – and will discuss transfer news, match results and much more. They may even have some valuable betting tips.
Q2. What Is The Maximum Payout And Bet In Football Studio?
Home – 1:1 Away – 1:1 Draw – 11:1. The maximum payout in the game is 11:1 on the Draw betting option.
Q3. What Is Live Football Studio Strategy?
Focus on the Home and Away results – they have the best chance of winning and are compatible with strategies like the Martingale. Don't worry about betting on the Draw – which has a high probability of losing!
Q4. Where Can I Play Football Studio?
You can play Live Football Studio and other Evolution live casino games. You don't need to download any extra software to play – log in to your account and enter the room.
Q5. What Multipliers Can I Win?
The game does not include multiplier features – but you can win up to 11x from the standard game betting options.
Q6. Is It Possible To Play On Mobile?
Football Live Studio is a online casino game that can be played on a computer as well as on a mobile phone or tablet. The game is optimized on all platforms in order to offer the player the same experience, regardless of the location and the medium.