Top Five Free Sic Bo Apps To Download On Your Android Mobile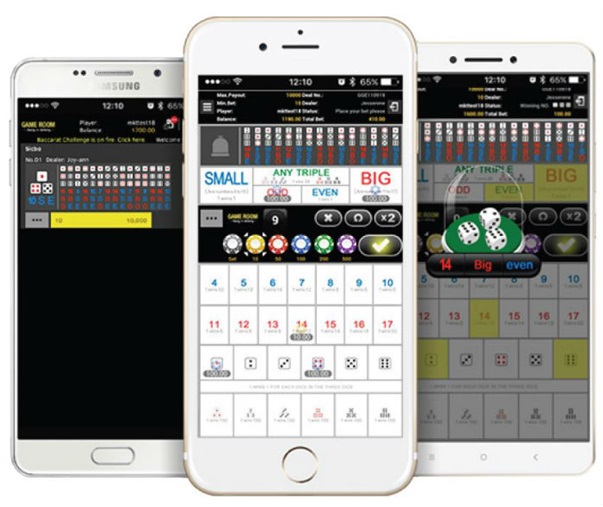 Sic Bo game apps are good for new players because one can learn and understand the game better before indulging in real time gaming with INR. These apps are mostly free and all you need is an Android mobile handset to download them. Here find such five Sic Bo Apps to enjoy with your Android smartphone.
1. Hall of Sic Bo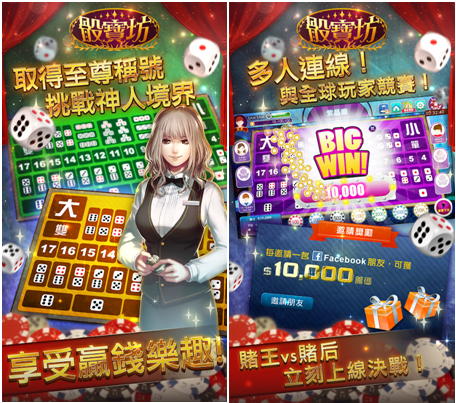 Hall of Sicbo is like traditional Sicbo's gameplay having lots of features
You can face new challenges and have maximum bets.
You get free chips when you join the game each day
You can login with your Facebook account and get more free coins
Play with friends or solo
Also there is a lucky wheel when you spin and get 1,000,000 chips.
With the retro feature of previous 10 result for roll of dice, you can be a professional player!
Download "Hall of Sicbo" now and experience the real and exciting multiplayer online Sicbo gameplay
This is a social gambling game, which do not provide real money gambling nor any opportunity to win prize with any monetary values.
 Practice or success at social casino gaming does not imply future success at real money gambling.

This app requires 4.1 and up device to play the game
2. Sic Bo
Download this app now
This Sicbo app has simple rules to play. You can show your skill to the players worldwide when you get on the top winners leader board. Also get free chip bonus each day to play. This app requires Android 4.1 and up mobile to work on this game.
3. Sic Bo Dice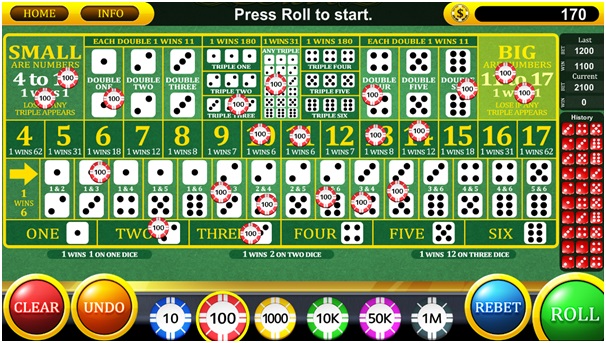 Sic Bo game has been developed by top gaming companies like Microgaming, Playtech, Real Time Gaming, Boss Media, Grand Virtual, World Gaming, and Gambling Federation software. The game often is not allowed for bonus play due because it is possible to simultaneously bet on winnings and losing outcomes. It is a good choice for Microgaming Clearplay bonuses, if it counts 100% towards wagering.
After placing your bets, three dice are rolled. Any winning bets are paid according to the listed payout. Possible bets are listed below. The Small / Big bets typically have the lowest house edge.
Microgaming offers improved payouts on many of the bets. Boss Media offers an improved payout on the Two Dies bet. Grand Virtual offers improved pay on 3 of the bets. The other common software do not offer sic bo.

Simply choose one of the low house edge bets, roll the dice, and see if you have won or not. The lowest house edge bets are Small / Big with the standard paytable. With the improved Microgaming and Boss Media paytables, the Two Dies bets and Small / Big bets have the same house edge.
4. Sic Bo
Download this app now
This Sic Bo app is a challenging dice game for your android that offers you to have fun and predict the number of dice with the Macao rule. Compete with players from the whole world. This dice game will challenge you to predict the number of dice using the Macao rule. This fun number game is a game in which the number of dice is randomly generated by the server, and it is a dice common to whole world. This classic dice game with number prediction is quite challenging, offering you to exercise your thinking skills while having fun playing.

Playing this dice game on your android can be quite difficult and yet highly entertaining if you like to play with dice numbers and number prediction. On the game dice you are able to see 5 pieces of dice history that are free of charge, and also you can see 5000 pieces by charging. These pieces will raise your ability to predict the number of dice correctly and win the number game. When you log every day in this dice game you are getting coins for free.

The coins you collect every day for free on this classic dice game can be used to be part of competitions with other players from the whole world. Use the coins you get to play with players worldwide, test your number prediction skills and become the ultimate player of this challenging and highly fun dice game for your android.

This app requires android 5.0 and up mobile to work all smooth.
5. Sic Bo Multiplayer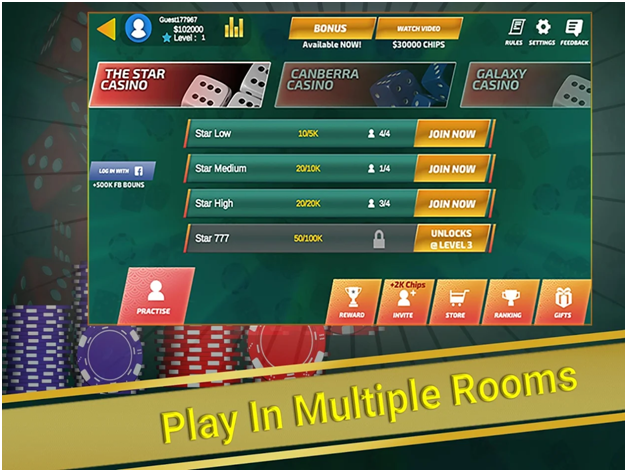 Sic-Bo is often called hi-lo and dai siu or tai sai in Asian casinos. Play with your Facebook friends on modern multiplayer tables. There are various tables to choose from as you cross Levels and unlock bigger Casino rooms.
The betting options available at Sic Bo are formed by the various combinations obtained with three dice. These wagers and their payouts are reproduced on the gaming table. Players may wager on as many combinations as desired per game. The dice are shaken by dealer, by means of a vibrating platform under a round shape glass cover. After all bets have been made, the dealer activates the dice shaker. The outcome of each of the three dice appears on the display.

There are 8 different ways you can bet on. You can bet on one number which must appear on all three dice named as three of a kind. You can bet on one number, which must appear on two of the three dice and is called a Two of a Kind.
You can bet that the same number from 1 to 6 will appear on all three dice and is called Any Three of a Kind. There is an area called Small, that pays even money, where you bet that the sum of the three dice excluding a Three of a Kind. Similarly, there is an area called Big, that also pays even money, where you bet that the sum of the three dice excluding a Three of a Kind.

You can bet on two different numbers, which must appear on at least two of the three dice. This bet is called Duo, and it pays 5 to 1. The last type of bet is called a simple One of a Kind, where you bet on a single number that must appear on one, two or all three dice.
This app requires 4.1 and up Android device to play this game all smooth.
For real money Sic Bo Apps join Indian friendly online casino to play Sic Bo dice game.
Now enjoy these free game of Sic Bo on your mobile and enjoy.