How to play Monkey Keno at Spin Casino India?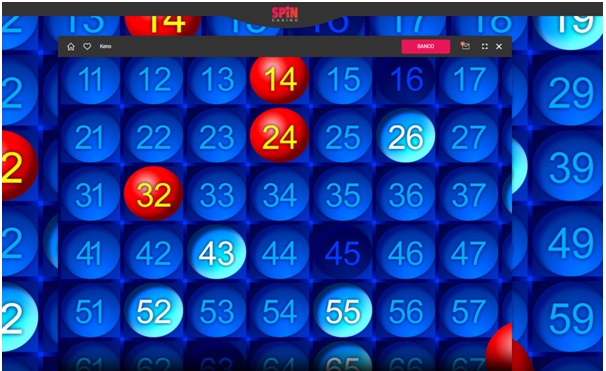 Spin Casino offers over 1000 awesome casino games as well as a wonderful live casino section for Indian punters. This casino is licensed and regulated by the Malta Gaming Authority and which means punters can enjoy a legit casino online and play all types of slots, table games of Blackjack, Roulette, Baccarat as well as have a taste of sports betting too at their Spin sports site.
If you want to enjoy some simple games to relax and have fun then Keno is one such lotto game provided at Spin Casino for players. All the games at Spin Casino are powered by Microgaming and including keno games to play instantly without any download even on your mobile
There are standard keno games and video slot type keno games. Monkey Keno is a video slot Keno game to play at Spin Casino.
Simply type the word Keno on the search bar at the Spin Casino games lobby and the Keno games will be listed for you to choose.
Or go to other games and find Keno to play.
Standard Keno at Spin Casino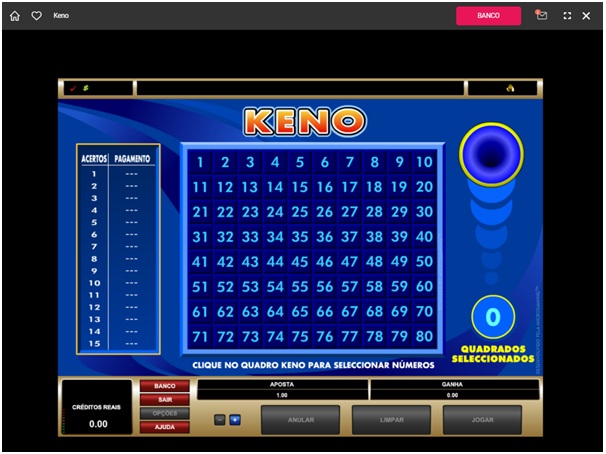 The Standard Keno at Spin Casino is powered by Microgaming. Here you will find the keno game board with balls marked with numbers from 1 to 80. Twenty balls are randomly drawn per game. You can choose to place a bet on up to 15 of the 80 numbers on the game board per game.
The game payouts are dependent on how many numbers you select on the keno board.
To start your play choose either to play for real money or play as demo game first to understand the game and its rules.
The navigation is quite easy. Simply click + sign to increase your bet or – sign to decrease it.
The minimum bet is Rs.1 and the maximum is Rs.200
Click a number on the Keno board and the number you select is highlighted. You can deselect the number by clicking on the same number you selected before.
Now select 15 numbers
Tap or click on play button
Click Clear to clear the board to have new numbers.
On draw, the selected number changes color when it is matched with a drawn ball number. When all 20 ball numbers are drawn you are paid out according to the number of matches made.
The RTP of this game is 94.90 %
Monkey Keno the slot Keno game at Spin Casino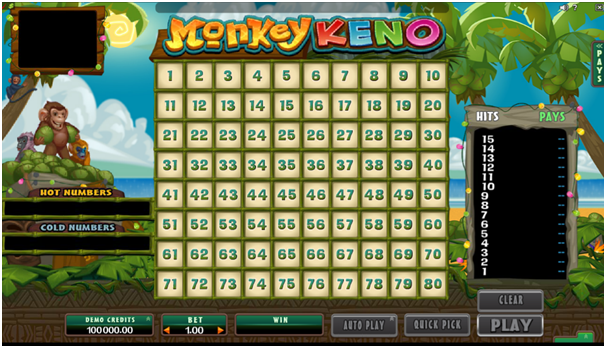 Monkey Keno is powered by Microgaming at Spin Casino. This keno game board with coconuts marked has numbers 1 to 80. You have to mark up to 15 spots on the board. Twenty numbers are randomly drawn per game. A hit is when a spot marked by you is one of the drawn numbers.
To play first select a bet amount, the minimum is Rs1 and the maximum is Rs 200
Then select spots that can be marked by clicking on the spots. When you have picked 15 spots you click to play and start the game. There are special features in this game like Hot and Cold Maps where it lists the 10 most drawn numbers and 10 least drawn numbers. Clicking on either the hot or cold numbers sections will use all the numbers as spot selections.
You can use the quick Pick feature and randomly select spots to play. The number of spots selected is determined by previous play or use Auto Play,
To change the game options like graphics and sound settings and you can click on tab on the bottom right of the play screen
Then click on options
Next, choose the required settings and click on OK
Finally remember it's your choice to play real money Keno or play for fun. The real money keno involves making a real deposit at Spin Casino which is Rs 100 as minimum amount for Indian players. This you can do by friendly Indian banking options available at Spin Casino. You can use credit or debit card like VISA and Mastercard, E Wallets like Neteller and Skrill, Ecopayz and others.
But first you need to open a casino account as a new player by registering yourself at Spin Caisno and then make a real money deposit. Don't forge tto grab the aweome welcome bonus which is Rs 10000 to play any choice of game here.
If you wish to play Keno for fun then no need to make any deposit but simply click on the game demo mode and begin to play.
Click here to read the full Spin Casino Review here.
Click here to play at Spin Casino Indian online casino.