How Does Jackpot City Slot Give You A Chance To Win Big?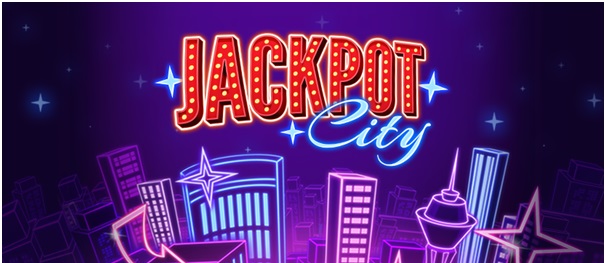 Jackpot City Slot is a game app brought to you by Big Fish Gaming company. This slot app gives you the chance to really big win where you can also play live with your friends and win huge jackpots. Jackpot City gives you all the thrill of Las Vegas with hourly tournaments as well. If you are looking forwards to as how this app works then keep reading below for the complete guide which is sourced from Big Fish games.
As a first step you need to download the Jackpot City Slot app from iTunes app store for iOS smartphone or iPad and from Google Play store for Android users.
Once you register yourself with this app you will find that there is a colourful lobby where you can find a lots of features.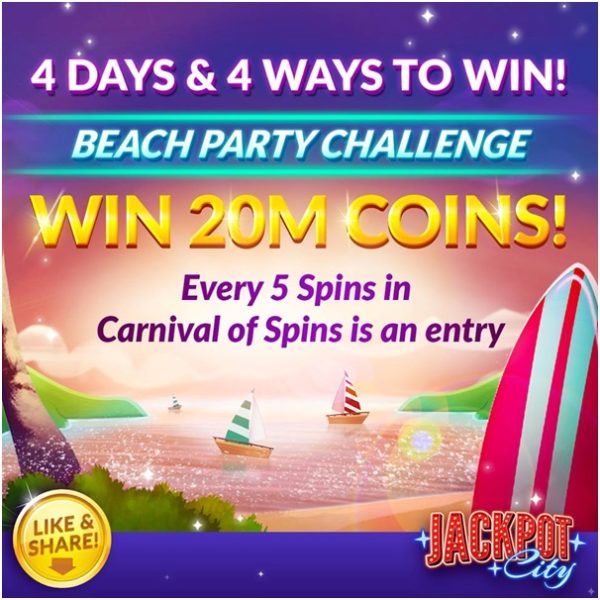 You can access the Shop, Leaders, Slot and a variety of other things from the Lobby. Just look at the image above and see what all you can see there. (features are marked with symbols to explain)
View your Profile (here marked as @).
You can select the gear icon (A) to access Game Settings, Account Settings, and Game Help. Game Settings lets you adjust the volume and sound. You can also enable notifications from here.
Account Settings contains the App Version, your Friend Code, Privacy Policy and Terms of Use. Give your friend code to other players so they can add you as friends; give it to customer service if you need them to access your account for any reason.
Use the Inbox (B) to stay connected with your friends by sending and receiving direct messages. Select 'Message a Friend' and then their avatar. Type a message at the bottom to send them a private message.
Access Public Rooms, Private Rooms and Friends Only Rooms here (C).
View all available Slot Tournaments and your winning tournament history here (D).
Select the Shop button to purchase extra coins and gain VIP status (E).
View the Leaderboards by selecting the Leaders button (F). It shows your current rank amongst your friends and people on Global.
The Slot button is the same as being in the Lobby; you can view all the available Slot Machines here (G).
View your Friends, Suggested Friends, and All Online Players (H) and Collect your Bonus (I).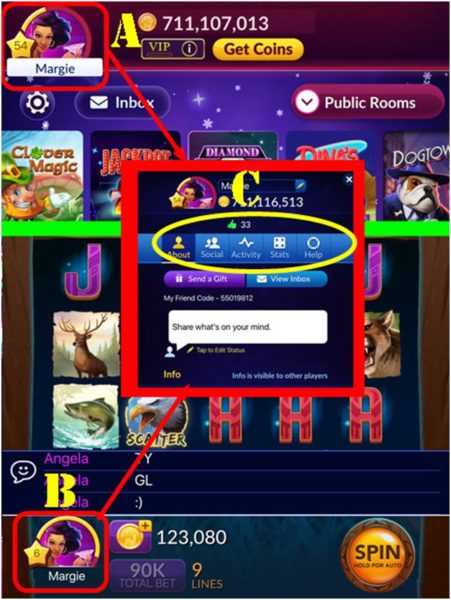 Select your Profile in the Lobby (A) or during play (B). There are five tabs in this section: About, Social, Activity, Stats, and Help (C). As you scroll down the page, the next tab automatically opens.
Tap your avatar (D) and then select the photo to edit. You can upload three images to reflect your various moods. Select a photo (E) and choose to upload from the camera or select a stock image. Choose 'Set Picture' to finish.
Under 'Share what's on your mind', pick something to say about yourself or put a catchy phrase. You can also choose to share your Age, Gender, and Location below.
Now choose a game in the Lobby to begin.
Set the lines and bet amount here (A) (the bet lines may be locked on some machines). Scroll up and down (B) to view all available options and then select Confirm Bet (C).You can choose Bet Max (D) to play the maximum amount of lines and coins for that slot without scrolling through the options.
Hold down the Spin button (E) for a few seconds for Auto-play to begin. You can stop Auto-play by selecting the button again or it will stop spinning automatically once you reach the next level. Don't leave the game unattended when Auto-play is on.
Your winnings for each spin are shown in different areas of the board depending on the game. Some are shown in a slot marked 'Winnings' or some just appear in the center of the game (F). Invite players to join your game by selecting the Invite button (G).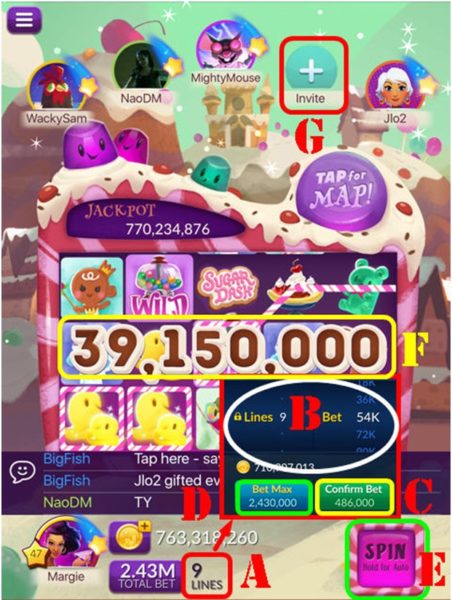 Join the conversation with other players in the room by selecting the screen (H) to bring up the keyboard. Type your message on the keyboard and press Send (I). You can also keep an eye on the screen to view pertinent information about your current game; jackpot wins, scatters etc. You can exit to the Lobby or get playing instructions here (J) for your current game. Swipe right and left to read all the information. Select a player in the room to view their information, add them as a friend or to send them a gift (K).
A Blue Hand will appear next to an avatar once you win 20x the amount of your current bet (L). Your total winnings for the day are at the bottom of the screen (M).
The current jackpot amount is shown here (N). The location of the Jackpot value varies per game. There are two types of Scatters; the ones in which scatters trigger a prize or mini game for yourself or the ones in which the whole group benefits when other people get scatters (O).The higher the bet, the higher the reward.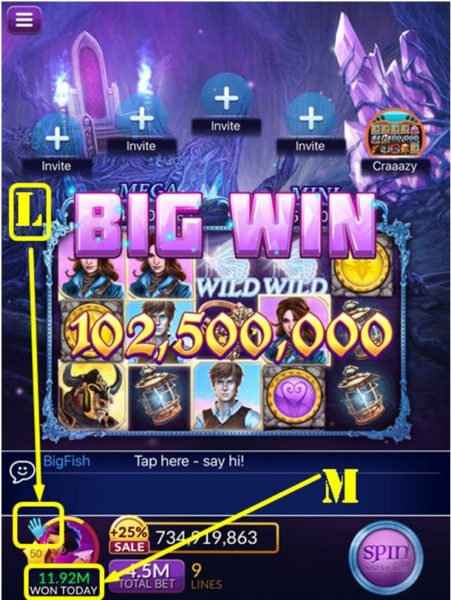 To play tournaments select Slot Tournaments (A) in the Lobby to view available tournaments along with their starting times (B) and ending times (C).
Your spins on that machine only count towards the tournament while the tournament is live. Pay attention to the timer showing when it ends. You can spin as many times as you want. Keep spinning to increase your chances of winning.
There are five types of tournaments:
Your Top 5: The score is determined by your 5 highest win amounts at that slot machine during the tournament.
Your Best: The score is determined by all of your win amounts at that slot machine during the tournament.
Scavenger Hunt: The score is determined by the total number of Scavenger Hunt symbols you collect during the tournament. You can see the symbol to collect for that specific Scavenger Hunt tournament by pressing the Tournament Ranking button in the Slot lobby. The symbol must appear on an active pay-line to count towards your collection.
Tally-Ho: The score is determined by the number of pay-line wins you collect during the tournament. Each pay-line you bet and hit a win on is collected for the score; the win amount does not affect the collection.
Share the Wealth: The score is determined by each contribution you make towards the Pot Scatter at that slot machine during the tournament.
How to earn free coins?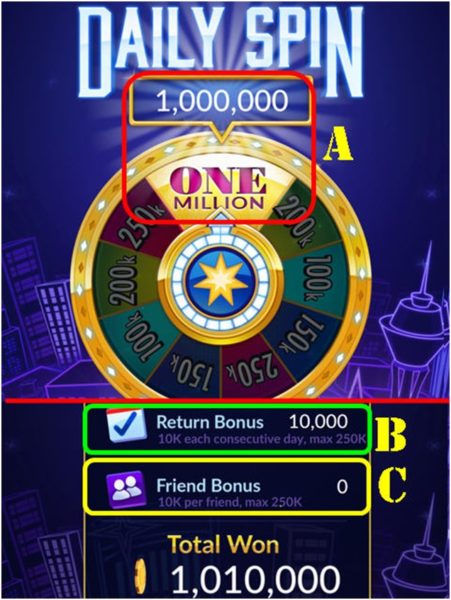 There are a variety of ways to earn free coins in the game.
Log in every day to Jackpot City Slot to spin the wheel and earn a random reward (A). In addition, you will receive 10K bonus coins (B) for each consecutive day you return (25K max). This is combined with an additional 25K coins (C) for each Facebook friend (250K max). If you miss a day, the Return Bonus will reset.
You can get a free Bonus every four hours in the Lobby here (D). Once you collect it, the timer will count down to the next time it's available. You can turn on the Notifications on your device to be alerted each time the bonus is available.
If Your Bonus is ready while you're in the middle of playing a slot, you will get a notification during the game. Select 'Claim' (E) to get your Bonus without having to leave your current game. The number of free coins depends on your VIP status and the higher your status, the higher the bonus.
Earn free coins by watching videos or completing a promotional offer (F). Once you've viewed the complete short video, you can choose to install the app or just exit that ad. The coins will be automatically added to your total.
VIP Rewards Program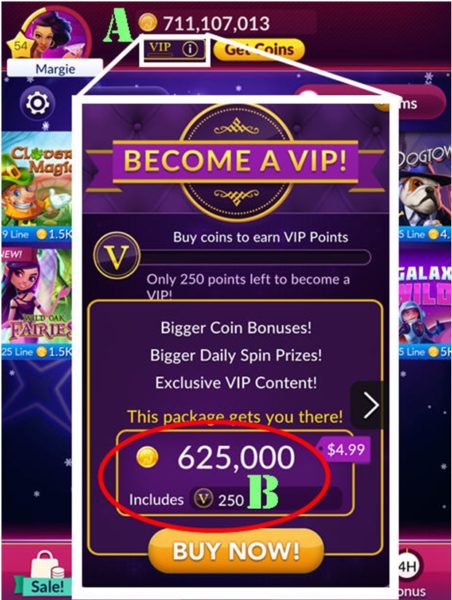 The VIP Program is a rewards program which gives you exclusive benefits for Jackpot City Slot such as greater bonuses, exclusive slot machines access and exclusive VIP-only tournaments. If you're not already a VIP member, you can use the link provided in the app for more information and know the minimum amount needed to get to the first tier.
You can earn VIP points by buying coin packages in the Shop. Once you reach a tier, you will remain at that tier even if you don't buy another coin package. The tiers do not reset. You will earn points faster as you move up the tiers.
You can also like a player's profile by selecting its avatar and then 'View' to see their profile. Liking a player is an offer of congratulations or thanks to that particular player. Press the Like button to send them thumbs up! Select the Gift button to give one player a gift by selecting 'Buy One' or select 'Buy Round' to gift everyone in that room at the same time.
Select the Friends Button in the Lobby. Select the 'Invite Friends to Play' button to access your Facebook friends. If you know your Friend's Code, select the Add Friend button and enter their code. There's also a Suggested Friends list which you can press and go to their current room. You can view All Online Players and access any Friend Requests too.
What's new in Jackpot City?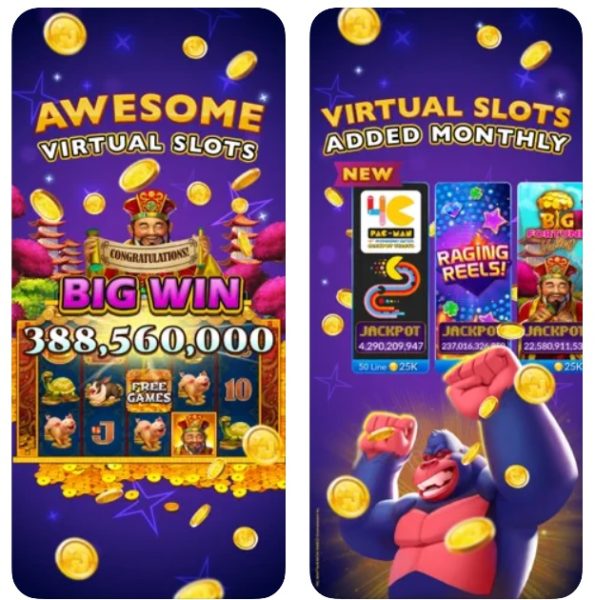 You will thus play free Vegas style slot machines and get an amazing 1,000,000 free coins. Download and play best games and social online tournaments. Blackjack, poker and betting are old-fashioned so enjoy the brand new BAYWATCH slot machine to win big. BAYWATCH follows devoted lifeguard Mitch Buchannon (Dwayne Johnson) as he butts heads with a brash new recruit (Zac Efron). Together, they uncover a local criminal plot that threatens the future of the Bay. Join other players with latest feature — Clubs. Team up to win BIG PRIZES while playing your favorite slot games. Make a fortune with huge jackpots, free daily games, slot bonus games, Vegas slot and more. Win big with 4 levels of jackpots. Hit Flaming 7's for multiple jackpot levels in Jackpot City. Fame and fortune await you in Spotlight Millionaire. Follow the yellow brick road for an adventure in Road to Oz or Click your heels together 3 times and you're in the magic world of Jackpot City slot. Note that there are in app purchases within this app and offers virtual jackpot wins.