Halaplay- The best portal for Fantasy Sport in India
Get ₹50 signup bonus & 100% first Deposit Bonus
In a recent news India's only listed gaming and hospitality company, Delta Corp invested Rs. 15.50 crores portal HalaPlay Technologies Pvt. Ltd.- the company that operates fantasy sports, for a 15.52% stake (at a post money valuation of around Rs. 100 crores) in the company.
Halaplay, a fantasy sports portal founded by Swapnil Saurav, Prateek Anand, Ananya Singhal and Aman Kesari claims to have around 2 million registered users on its portal and had reported total revenues of Rs. 2.98 crores for the financial year 2017-18.
The company is touted to be the second largest fantasy sports portal in India, after Dream11. In November 2017, early-stage investment fund Kae Capital and social gaming company Nazara Technologies Limited had invested an undisclosed amount in HalaPlay.
Halaplay Fantasy Games and Sports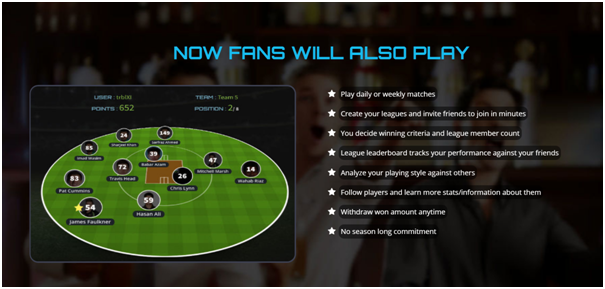 Halaplay provide different types of leagues in all International, Domestic ODIS, T20s, Test matches in Cricket, English Primere League(EPL), La Liga, Champions Trophy, World Cup, Euro Cup, Copa America in Football and all Indian domestic leagues in Kabaddi.
There are public, private and reverse fantasy league for all the sports they offer.
The public leagues offers Grand Prize Leagues, Head to Head Leagues, Double Up, Triple Up Leagues, Free Entry Leagues and user created Leagues
The private leagues offer Head to Head Leagues where the user decides number of entries and decides entry fees as well as winning criteria and invites friends to participate.
The reverse fantasy leagues offer Grand Prize Leagues, Head to Head Leagues, Double Up, Triple Up Leagues, Free Entry Leagues as well as user created Leagues. Click here to know the game rules
Normal and reverse fantasy leagues differ in the way you will create your team. For normal leagues, you have to use your skill to create a team with best performing players, while for the reverse fantasy leagues, you will have to create a team with the players not expected to perform well in the match. Their scoring rules also differ.
Note that Public Leagues are open for all to participate in; whereas Private Leagues let you invite & challenge your own friends in the same League. You can invite your friends by email or through Facebook!
How to get started at Halaplay?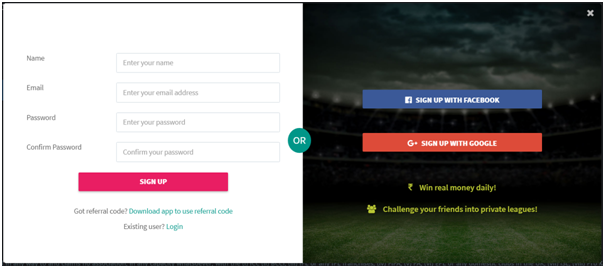 You can play on your PC straightaway on your web browser be it Chrome or Safari.
Try playing with  Mobile by downloading the Android mobile app of Halaplay.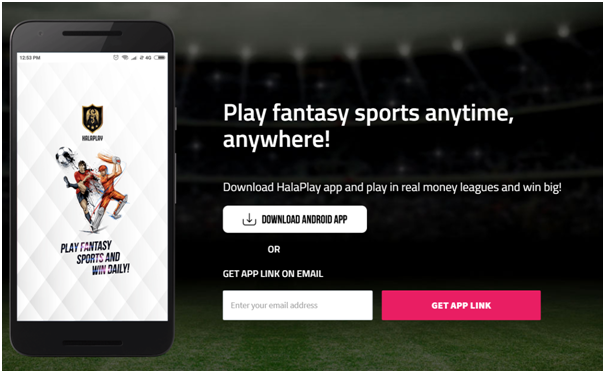 On the homepage click on Sign Up
You can do this by simply clicking on Sign up with Facebook account or sign up with your Google Account
Once you have logged in or registered on Halaplay, click on the particular match you want to join in Match center section or directly select from leagues in the league centre section.
There are multiple formats of leagues available to choose from with detailed information mentioned therein.
Select your Fantasy Team of 11 players (including a Captain) within the virtual budget of 100 Cr from all the players in the particular match.
Join Paid Leagues of your choice. Paid Leagues let you win Cash and require an entry fee for which we provide multiple payment methods such as Credit Cards, Debit Cards, Net banking, Mobile Payments and Cash Cards.
Once the Live match starts, your Fantasy Team starts earning points on the basis of actual performance of the players selected by you. Final points, rankings and winners are declared after the end of the match.

The Fantasy Game's points are calculated using live feeds from data partners. You will score points depending on how the players in your HalaPlay Team perform in the live match(es). Fantasy Points are usually updated every few minutes and you can check out the live leaderboard for your joined leagues. The final points including your team's total and your rank are updated once the match gets over.. Winners are declared and Winnings are distributed within a few minutes afterwards.
Anyone from India except resident of Assam, Odisha and Telangana can play on HalaPlay for real money. Due to restrictions by the state of Assam, Odisha and Telangana, resident of these states can only participate in free leagues and not paid leagues. You should be also 18 and over years to play here.