Double Ball Roulette Game and Best Features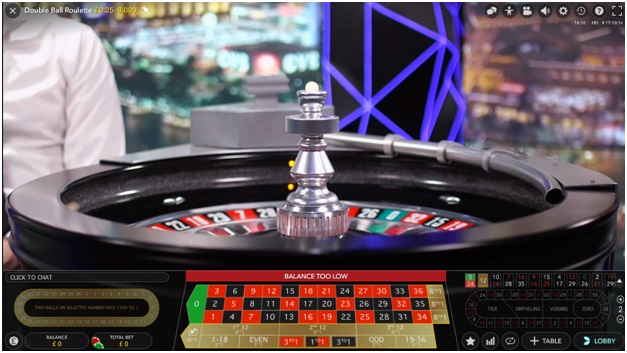 Double Ball roulette game is brought to you by Evolution gaming at online casinos. This game is similar to any standard roulette game with the difference that it is played with two balls. At real casinos the game uses compressed air to shoot the two balls out of a tube almost simultaneously. They travel at the same speed so the second ball always trails the first one.
At online casinos two balls deliver two winning numbers from a single spin. At the push of a button the live dealer sends the two balls shooting from a special patented device. There are new and exciting betting opportunities and more frequent payouts of up to 1,300 to 1. 
The betting layout is mostly the same as standard roulette. With the inside bets, the player has two chances to win, but the pays are less. On the outside bets, both balls must win, but the pays are more. In addition the player may bet that both balls will land in any one number.
Double Ball Roulette Game Rules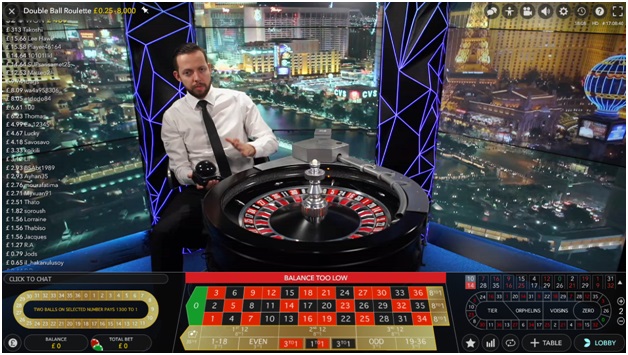 As the name suggests, this table is played using two roulette balls that are dropped simultaneously onto a European roulette wheel. The game is streamed live, and a live croupier is present at the table at all times. Once betting is completed, the dealer sets the wheel in motion and shoots the two balls onto it using a one-of-a-kind contraption attached to the wheel. The only new rules you'll have to learn are the unique betting limits and types for Double Ball Roulette.
As said above there are inside bets, where you place bets directly onto the numbers, and outside bets, where you place bets on grouped sections of numbers. In Double Ball Roulette, you win an inside bet — such as a corner bet, split bet, or single number bet — if either of the two balls lands on your number.m However, to win an outside bet, both balls must land in the right spot. Like if you bet on black, you only win if both balls land on that color.
Double ball payouts
Due to the higher chance of placing a winning bet, payouts are adjusted for the game.
Double Ball inside bet payouts
| | |
| --- | --- |
| Bet Type | Payout |
| Straight-up | 17:1 |
| Split | 8:1 |
| Street | 5:1 |
| Corner | 3,5:1 |
| Line | 2:1 |
Double Ball outside bet payouts
| | |
| --- | --- |
| Bet Type | Payout |
| Column | 8:1 |
| Dozen | 8:1 |
| Color | 1:1 |
| Odd/Even | 3:1 |
| Low/High | 3:1 |
Double Ball Gold Bets
Double Ball Roulette table offers two unique types of wagers called gold bets. One of these gold bets pays 35:1 and requires the two balls to land on the same number. The second gold bet requires both balls to land on the same number, a number that you've selected. The latter pays a massive 1,300:1, which means that with a high enough bet, this table has crorepati potential!
Though the inclusion of two balls doesn't change the odds of a single ball landing in a certain slot, you're twice as likely to win an inside bet in this game. This means you can place a variety of conservative and aggressive bets and have a good chance of winning at least one of your bets per round.
Click here to know more about this game
Where to play Double Ball Roulette online?
You can play Double Ball Roulette online at friendly Indian casinos like Leo Vegas Casino, Spin Casino, Royal Vegas Casino, Jackpot City Casino and various others that offer Evolution live casino games. Created in partnership with Games Marketing, this premium game is available only to Evolution licensees that opt for the Games Marketing side bets.