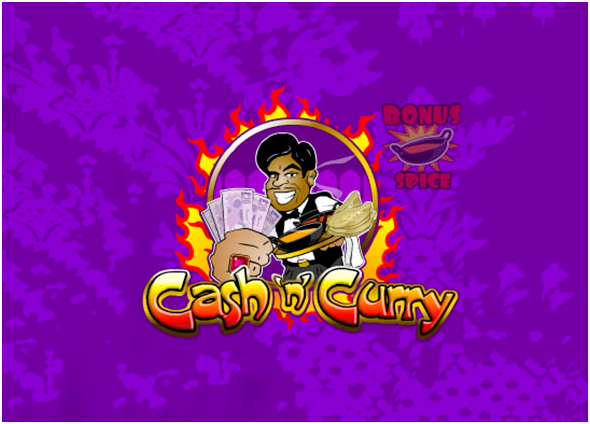 Cash 'n' Curry is Microgaming slot game to be enjoyed at online casinos. As Indians love cash as well as curry to add spice to their life this game is themed on one of the typical Indian restaurant or 'Dhaba' to relish some of the spicy curry dishes. One thing unique you will find in this game is that you will also enjoy plenty of wins too.
This slot game runs on 3 reels with 5 paylines in total running in all directions across the screen. You may not love the purple background of the game but certainly you might get hooked to flashing buttons and attractive display of Indian taste.
The game's music is fascinating and includes classic fruit machine features such as Nudge, Nudge hold, Nudge Repeat, Gamble Nudge and the Hold feature which you can expect from classic fruities.
How to play Cash n Curry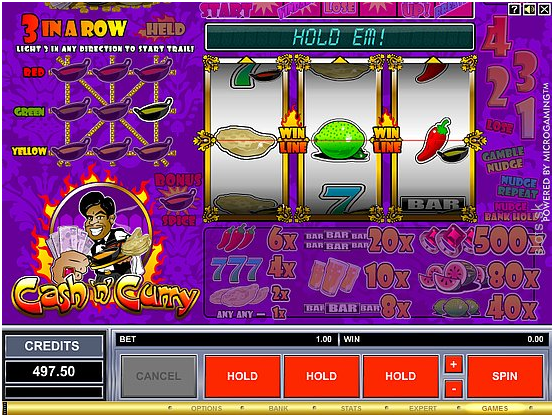 What all you need is as you spin the reels you have to form winning symbol combinations on the paylines in order to hit the corresponding cash prize. You can adjust your wager with the (+) and (-) buttons of the command bar, then let the reel spin loose. The coin size ranges from 10p to $10 which means you can wager according to your pocket. The more you bet or wager larger your wins so take a bit of risk to get yourself rewarded.
When you spin you will find besides the traditional single and double bar sign and sevens, a selection of pita bread, limes, chilli peppers and some refreshing beer to quench your thirst.
The largest wins come with the equally refreshing slices of watermelons and the golden ring symbols. These precious rings are worth no less than 500 times the size of your wager. Also there are many surprises which come as rewards in this game.
Bonus Game in Cash n Curry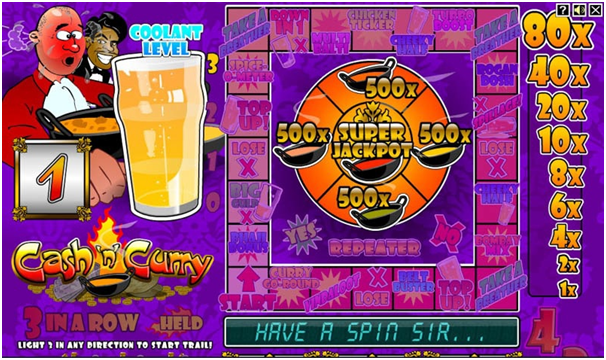 Cash 'n' Curry has a very good bonus game called Bonus Spice and in the top left hand corner of the screen you will see a grid displaying red, green and yellow balti (bucket) curries. When you fill a row of 3 balti's, you will trigger the bonus game. You will be taken to a new screen where you are presented with 24 squares. Depending on the number you get, you will move around the board. If your 'Coolant Level' goes down, the bonus game will stop. The Coolant Level goes down every time you land on a square and if you run out of coolant, you will collect the prize for the square you are on.
The squares on the board will display the following:
Start- where you need to start the game
Bhaji Bonus – if you land on this square and 'collect' you will return to the game and the reels with form a winning combination for you.
Big Gulp/ Lose/ Down In 1/ Spillage – landing on these squares will end the bonus game.
Top Up – this will top up your 'Coolant Level'.
Spice-O-Meter – if you land on this square, you will see a meter with 9 sections. You need to click 'Stop' and you will stop on 1 of the levels. Each level has a multiplier value on it and will multiply your original stake by the multiplier value.
Take a Breather – this square doesn't do anything but will let you continue.
Multi Balti – if you decide to collect the Multi Balti, you will be presented with 3 multiplier values. They are moved around and then you choose 1. Whichever one you get will multiply your original stake by the value.
Chicken Ticker – if you land on this square, you will be taken back to the game where you will need to stop the reels to get a winning combination.
Cheeky Half – your coolant level will increase.
Turbo Boost – this will propel you on a new square randomly.
Rogan Dosh – you will be taken back to the game where you need to hit 'Stop' to highlight a reel. Then you will have to hit 'Stop' again to select the symbol of which will populate the remaining reels to guarantee you a win.
Bombay Mix – if you land on this square, you will see a flashing meter which you will need to 'Stop' to get one of the multipliers on offer.
Belt Buster – this will take you back to the game and present you with a series of winning spins. You will to 'Stop' depending on what winning combination you want to collect.
Vindaloot – if you landing on this square and collect, you will be sent back to the game where you will get a series of winning spins which are totalled and added to your balance. We managed to win an impressive $86.00 from a $2 stake here.
Curry Go-Round – this is the square to land on. Hit 'Collect' as you will win 500 times your original bet and the chance of another 3 repeat wins.
Yes or No Repeater – if you manage to land on the 'Curry Go-Round' square, you have the chance to repeat the 500 times win up to 3 times.
The bonus game is triggered quite frequently too so make sure to 'Collect' when you can.
Other features and the Jackpot to win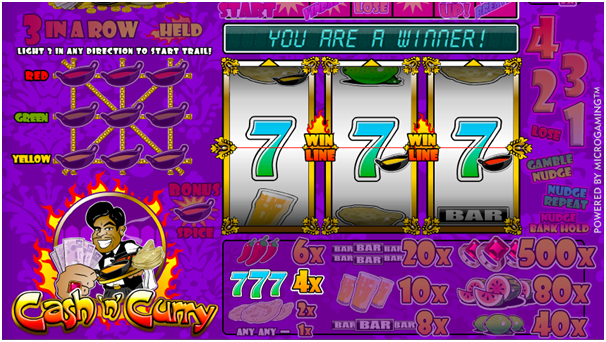 You will find some other interesting features in this game. Small red, yellow or green chilli icons appear randomly next to the reel symbols during the base game. When you up several of the same colour on a payline, you earn point towards triggering a rich extra feature.
When this happens, roll the dice to trigger a mini game and win bonuses. You might earn the ability to hold or nudge one or more reels to score more cash wins, free spins, extra big cash prizes and much more. The base game might be classic yet original, the real scope of the game shows when the bonus feature is triggered and this increase your chances of hitting the jackpot of 5000 or more.
Where to play Cash n Curry Slot Game
You can play Cash n Curry slot game at online casinos that accept Indian players. You can try your luck at Spin Palace Casino, Indio Casino, Jackpot City Casino and other online casinos of repute. Remember to grab the welcome bonuses offered at these online casinos which will make your game play more exciting and rewarding.